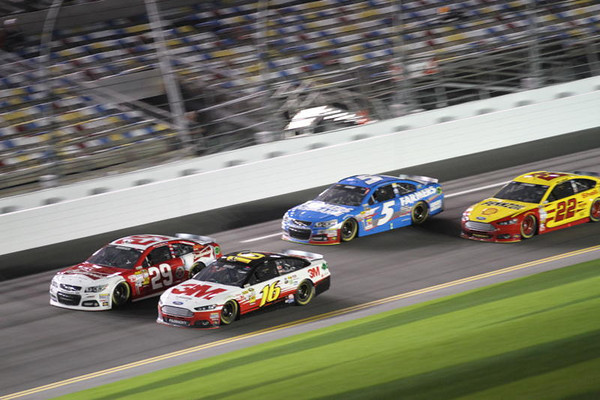 Thursday afternoon's Budweiser Duel races at Daytona are some of the most anticipated events of the entire racing season as they set the stage for the biggest race of the year; The Daytona 500.
The races are typically a foretelling of what to expect on Sunday, possibly more-so this year with the new Gen 6 racecar still presenting many unknowns after somewhat of an incomplete showing in last Saturday's Sprint Unlimited.
These races aren't just another test session for teams, they set the starting field for Sunday's Daytona 500.
The first Duel race sets the lineup for the inside row, while the second Duel sets the lineup for the outside. All other remaining positions will be determined based on speed from Sunday's qualifying session and—if needed—one past champion's provisional to the most recent past champion not already locked into the starting field.
The two, 60 lap races will be shown live on Speed starting at 2 p.m. ET with the first green flag shortly thereafter.
Duel #1 Starting Lineup: 
Danica Patrick 

Trevor Bayne
Tony Stewart
Denny Hamlin
Joey Logano
Dale Earnhardt Jr.
Juan Pablo Montoya
Casey Mears
Carl Edwards
Martin Truex Jr.
Jimmie Johnson
Brad Keselowski
Kevin Harvick
Greg Biffle
David Gilliland
Michael Waltrip
Kurt Busch
Scott Speed
Regan Smith
Bobby Labonte
David Reutimann
Joe Nemechek
Brian Keselowski
Duel #2 Starting Lineup: 
Jeff Gordon 

Ryan Newman
Kasey Kahne
Kyle Busch
Matt Kenseth
Ricky Stenhouse Jr.
Paul Menard
Austin Dillon
Clint Bowyer
Jeff Burton
Jamie McMurray
Marcos Ambrose
Aric Almirola
Mark Martin
David Ragan
Josh Wise
Michael McDowell
Terry Labonte
Dave Blaney
JJ Yeley
Travis Kvapil
Mike Bliss