Kyle Busch answers questions for the fans earlier this month in Canada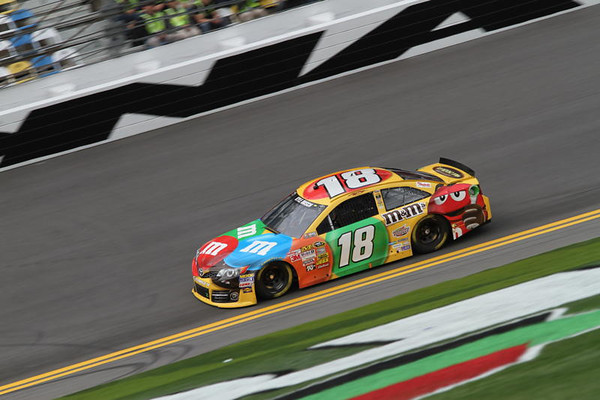 Earlier this month, Kyle Busch was in Canada for the Canadian Motorsports Expo signing autographs and doing a Q&A with the fans. Here are some of answers that he had to questions from the fans during the event.
Fav Race Track
My favorite race track is Charlotte. I love Charlotte Motor Speedway. Grew up watching the races there, loving it, and loved the Coke 600, seeing the intensity there at Charlotte. One thing the fans don't know is that turns 1 and 2 are different than turns 3 and 4. We keep saying these are cookie cutter race tracks, thinking that every mile and a half race track drives the same, takes the same set-up. That's not true. Guys that run well at Texas sometimes don't run well at charlotte. Guys that run well at Atlanta sometimes don't run well at Texas.
How much have you changed since your started?
I think you change so much through the years. When I first got to the big leagues, I was 16. Running ASA, ARCA, Nationwide, there are a lot of things that went on through the years in me growing up, learning the business, how the dynamics work, being a NASCAR driver. There's so many different things that you learn as you go and if I could start today back when I was 18, knowing what I know, Kyle Busch would be Jimmie Johnson. I can't so I just got to keep going forward, learning what I can, racing everday.
Road Course in the Chase
I wouldn't mind that. I think that's a great idea. There might be something down the pipeline in the next couple of years that we do get a road course in the Chase. They just built a formula 1 track in Austin, Texas so if you think about it, that may be the next place for a Cup race.
NASCAR in Canada in the future
I don't know much about that so I can't say much. Obviously, we have the road course race this year at Mosport – I think that's going to be good. Fortunately, Montreal didn't work out. I'm sad that we can't race there in Canada, but I'm not sad to see the track go cause we tear a lot of stuff out there. I think there's plenty of good venues that we can go to and I'd be more than happy to race up here. I know that I enjoy racing in Mexico, cause I went and raced down there one year. I was hoping I could win up in Montreal here in Canada to be the only driver to win in three countries – that'd be pretty cool.
How the nickname 'Rowdy' came about
 It first came when I was driving for Billy Bellew. He was No. 15 and he wanted to put a second truck out there for me to drive. So I told him to flip the number around and label it Rowdy Busch. That's where that came from and I fit that persona well.
Fav Sponsor
I tell you what – they're all really, really good. Toyota Care takes care of my vehicle, Monster Energy clenches my thirst, and M&Ms always take care of the belly.