Kyle Busch pulls away for sixth Auto Club win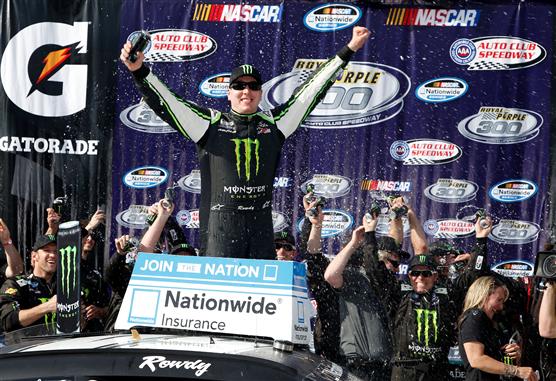 Eight times in a row Joe Gibbs Racing came to Auto Club Speedway of Southern California and captured the victory.
That streak started back in 2008 when Tony Stewart won a postponed Monday afternoon race, the same year JGR partnered with Toyota after a long history with General Motors.
Saturday morning, the JGR team's chances of victory looked strong, with their three cars driven by Kyle Busch, Brian Vickers and Elliott Sadler starting in the first-three positions respectively.
But once the race got underway, neither one of the JGR cars looked as though they were the ones to beat.
Instead the Nationwide Series points leader, Sam Hornish Jr., jumped out to a lead over the No.54 Toyota of Busch for a good portion of the 150 lap race.
Those two remained in the top-two positions throughout most of the day, with the occasional pit road strategy on multiple occasions.
However it didn't take long for the drivers who combined have won three of the first-four races of the 2013 season to find their way back to the front.
The fourth and final caution of the race flew on lap 111, setting up for the final round of stops for some of the competition.
On the final round of pit stops, the No.12 crew got Hornish Jr. off pit road first, but his Penske Racing teammate Brad Keselowski was the leader of the race after not pitting under caution.
It didn't take long for Hornish Jr. to take back the race lead when the green flag flew once again with 35 laps to go.
But he would on hold it for ten more laps as Busch passed the Hornish Jr. machine entering the first turn with 25 laps to go.
From there, Busch never looked back as he went on to win Saturday's Royal Purple 300 at Auto Club Speedway in Fontana, Cali.
"They made a good adjustment there," said Busch about the final round of pit stops which helped him win the race. "I thought at first I was a little too-loose when I got to the top, but kept workin' at it and sure enough we persevered.
"Car was great, though. It was workin' really good on the high side and I could get a run down the straightaway on Sam."
The win was the ninth-straight win for JGR at Auto Club Speedway and the sixth for Busch which puts the Las Vegas driver at 54-career wins in the Nationwide Series.
The win is also the third of the season for Busch in Nationwide and his second-consecutive after winning last weekend's race at Bristol Motor Speedway.
After finishing second, Hornish Jr. remains the points leader by 28-points over Regan Smith heading into the April,8 race at Texas Motor Speedway.
"He's put on a whole new game this year",said Busch about Hornish Jr. "These guys  (the Nationwide Series) better watch out."
Unofficial Results of the Royal Purple 300 
Kyle Busch 

Sam Hornish Jr.
Regan Smith
Parker Kligerman
Austin Dillon
Kyle Larson
Elliott Sadler
Brian Scott
Trevor Bayne
Kevin Swindell
Justin Allgaier
Alex Bowman
Travis Pastrana
Joe Nemechek
Dakoda Armstrong
Nelson Piquet Jr.
Reed Sorenson
Mike Bliss
Brad Keselowski
Josh Wise
Jeremy Clements
Brad Sweet
Mike Wallace
Hal Martin
Jamie Dick
Dexter Stacey
Eric McClure
Daryl Harr
Juan Carlos Blum
Carl Long
Mike Harmon
Blake Koch
Jason White
Brian Vickers
Paulie Harraka
Michael McDowell
Jeff Green
JJ Yeley
Scott Riggs
Joey Gase