Denny Hamlin suffers compression fracture to his back following last lap crash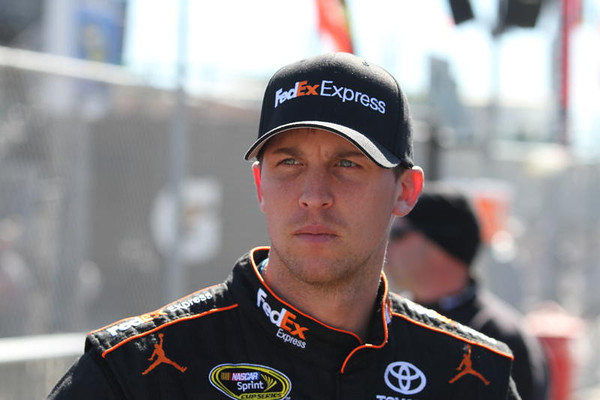 Joe Gibbs Racing has released that driver Denny Hamlin has suffered a L1 Compression Fracture to his back following his wreck on the last lap of the Auto Club 400 at Auto Club Speedway.
"Joe Gibbs Racing (JGR) driverDenny Hamlin suffered a L1 Compression Fracture following an accident on the final lap of Sunday's NASCAR Sprint Cup Series Auto Club 400 at Auto Club Speedway," the JGR statement said. "Hamlin hopes to be released today to fly to his home in North Carolina where he will be evaluated by Dr. Jerry Petty of Carolina Neurosurgery & Spine Associates later this week."
The compression fracture is located in his lower back and occurs when a vertebrae in the spine collapses. It is an injury that can occur in people who are healthy when they suffer a vertical shock to the area.
Whether Hamlin will be able to race at Martinsville Speedway in two weeks or whether he will need surgery is yet to be determined.
Hamlin did send out a tweet earlier today, simply stating that he just wanted to go home.
I just want to go home

— Denny Hamlin (@dennyhamlin) March 25, 2013
Hamlin and Joey Logano were running against each other for the lead in the final laps when Kyle Busch would sneak past them and take the win. However behind Busch, the pair continued to battle and made contact off of turn four. The resulting contact caused Logano to bounce off the wall and Hamlin to go flying into the inside wall. The wall that Hamlin hit had no safer barrier and caused the car to come up off the ground. Hamlin was credited with a 25th with Logano got third.
"He probably shouldn't have done what he did last week, so that's what he gets," Logano said after the race, unaware that Hamlin had been injured.
The feud originally started last week at Bristol Motor Speedway when Hamlin made contact with Logano while battling for second, causing Logano to hit the wall. Logano, after the race, displayed his displeasure with Hamlin. The pair then continued their feud on twitter, sending messages back and forth. The messages ended after Hamlin tweeted the following….
Last time I checked he had my cell and direct message button to choose from if he's got a problem.. Otherwise hush little child

— Denny Hamlin (@dennyhamlin) March 17, 2013
This injury is the same injury that IndyCar Series driver Will Power suffered back in October 2011 at Las Vegas Motor Speedway in a hard crash. Power was cleared less than four weeks later, back in a car testing.
This is not the first time Hamlin has had a back injury as back spasms due to torn and bulging disks caused him to sit out the Nationwide Series race last July at Daytona and some of Sprint Cup Daytona practice. Hamlin noted then that he would need to get surgery at a later date, but hasn't yet.