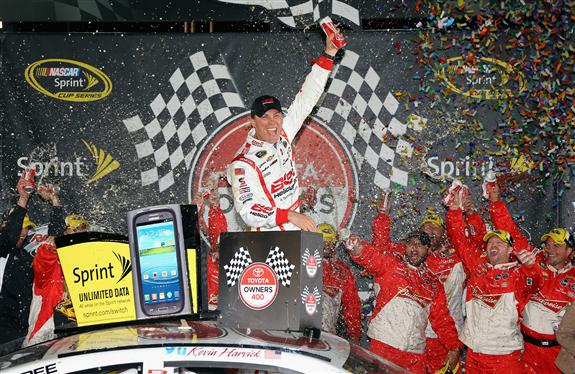 There was no doubt in the closing laps of the race that Kevin Harvick had by far the fastest car.
Closing on Juan Pablo Montoya's lead like he was standing still, it looked as though it was Harvick's race to win.
When the caution flew for Brian Vickers pounding the turn-three wall with five laps to go, everything change; well, kind of.
Most of the cars on the lead lap opted to come to pit road to put on new tires. Jeff Burton, Jamie McMurray and AJ Allmendinger were the only three cars to not pit, which vaulted them to the top-three spots on track.
It didn't look as though either Harvick or Montoya would have much of a shot at the win. Restarting back in sixth and seventh respectively on a green-white-checker finish was by no means ideal.
If there was one saving grace for Harvick, it was restarting on the inside lane which was the preferred of the two options on restarts over the course of the race.
Allmedinger, who restarted third, jumped to the inside of race leader Burton heading into turn one, stacking up the entire field.
With the field slowed, Harvick drove to the very bottom of the track, making the pass for second and getting right to the back bumper of his Richard Childress Racing teammate.
Harvick would take the lead from Burton on the outside coming to the white flag, never looking back en route to winning Saturday night's Toyota Owners 400 at Richmond International Raceway.
"Sprint Cup racing is something that you've got to take chances in," said Harvick in victory lane. "We had to take chances.
"We've been beat by tires a couple times this year. Gil (Martin, crew chief) made the right call and it worked out."
Prior to tonight's race, Richard Childress Racing had only led one lap in Sprint Cup Series competition in 2013.
"It's been a tough start to the season," Harvick said
Harvick only led twice for a total of three laps, but he led the one that counts–living up to his nickname "The Closer"– to pick up his twentieth career Sprint Cup Series win and his third at Richmond.
One driver that was unable to close the deal Saturday night was Montoya who appeared to be well on his way to claiming his first oval track victory in NASCAR.
"It was a no-brainer to take tires," Montoya stated about the call to pit with so few laps remaining while in the lead of the race.
"I think what hurt us was that we started in the outside. When you restart on the outside…everything packs up. When you're inside, you can just jump to the guy's inside like Harvick did."
Montoya was able to salvage a season-best fourth-place finish, his first top-five since 2011.
Kurt Busch, who ran inside the top-five most of the race, was involved in a post-race argument with past Richmond winner and three-time Sprint Cup Series champion Tony Stewart.
"It's just a free-for-all," Busch said about the end of the race. "I don't know what [Stewart] was all upset about.
"I got hit from behind every-which-way, so did he. Everybody's free-for-all."
Kurt's younger brother, Kyle, who was going for his fifth-straight win in the Richmond spring race fell short after a crash with Jimmie Johnson and Stewart damaged his Toyota.
The younger Busch would finish in twenty-fourth.
Despite finishing twelfth after being involved in a late-race incident, Johnson retained command of the Sprint Cup Series championship lead heading into next Sunday's race at Talladega (Alabama) Superspeedway.
Johnson leads second place Carl Edwards by forty-three points, the largest margin on the season.
Toyota Owners 400 Unofficial Results 
Kevin Harvick 

Clint Bowyer
Joey Logano
Juan Pablo Montoya
Jeff Burton
Carl Edwards
Matt Kenseth
Aric Almirola
Kurt Busch
Dale Earnhardt Jr.
Jeff Gordon
Jimmie Johnson
Paul Menard
AJ Allmendinger
Ryan Newman
Ricky Stenhouse Jr.
Martin Truex Jr.
Tony Stewart
Bobby Labonte
David Ragan
Kasey Kahne
David Reuitmann
Dave Blaney
Kyle Busch
Landon Cassill
Jamie McMurray
David Gilliland
Josh Wise
Danica Patrick
Casey Mears
David Stremme
JJ Yeley
Brad Keselowski
Timmy Hill
Brian Vickers
Greg Biffle
Travis Kvapil
Mark Martin
Joe Nemechek
Brian Keselowski
Michael McDowell
Marcos Ambrose
Mike Bliss