Two Individuals Arrested Following Post-Race Altercation After Nationwide Series Race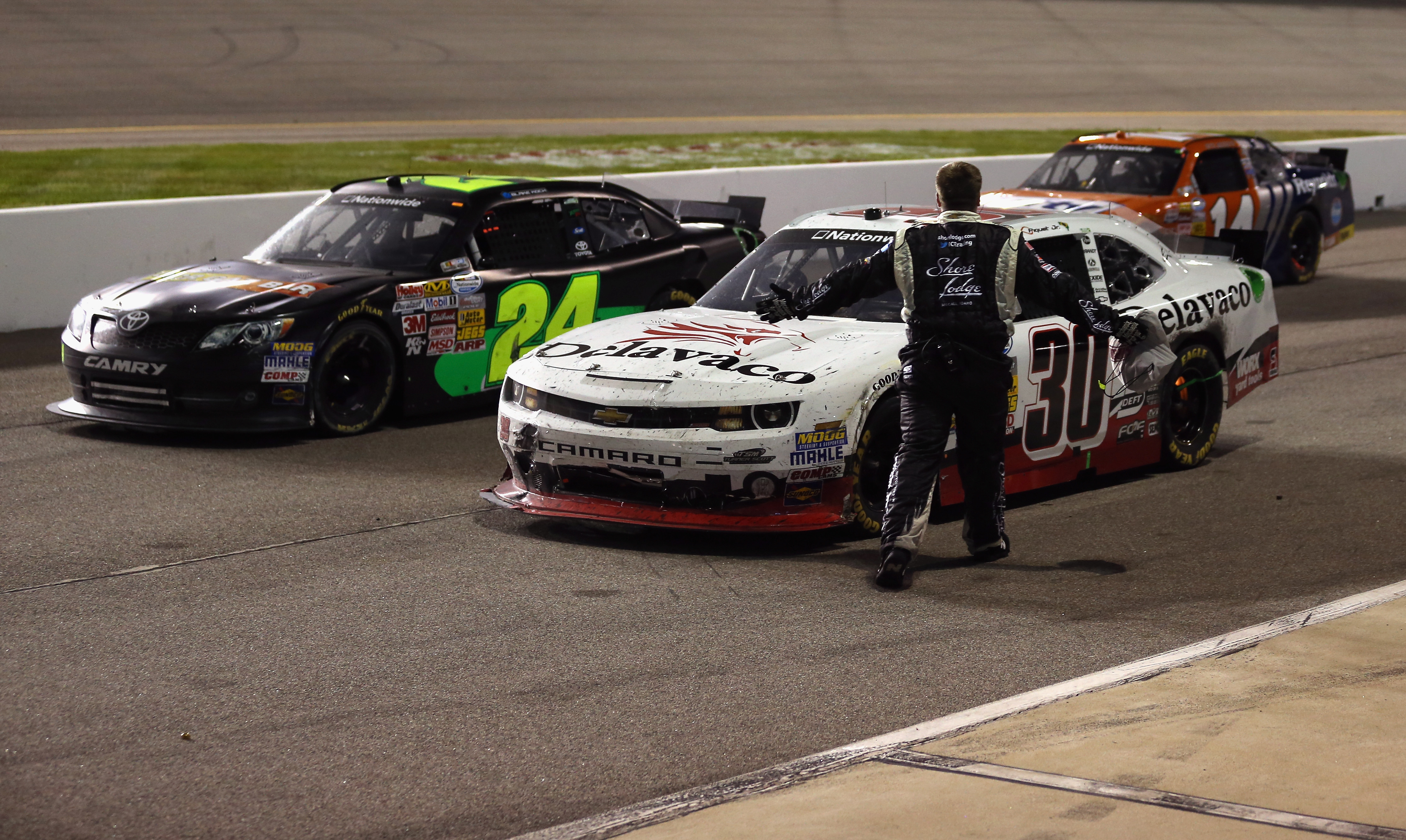 Following a post-race incident on track, things escalated in the driver motorcoach lot between Richard Childress Racing and Turner-Scott Motorsports, resulting in two individuals being arrested.
Police have released that Michael A. Scearce and Thomas F. Costello were taken into custody after the incident on charges of an alleged assault.
USA Today reports that both Scearce and Costello are members of Brian Scott's No. 2 RCR team.
According to Henrico County Police Lt. Linda Toney, both men were charged with misdemeanors and released early Saturday morning. A court date for both will be determined at a later time.
Late in Toyota Car Care 250 at Richmond International Speedway, the pair made contact as Scott was trying to get a solid finish following an earlier race incident with teammate Austin Dillon and Justin Allgaier.
Scott said,  "A part of me told me that he was going to hit me for 15th place, and then he did. I was just showing my displeasure with him after the race and then things escalated. I went to talk to him, I was a little heated and the camera probably shows it, but he kicks me right below the belt, which I think is a below-the-belt type of shot."
"We both went sideways, I managed to pass and that was it. He was frustrated at the end of the race…I got frustrated, too," Piquet Jr. said.
After the race, Scott would make contact with Nelson Piquet Jr., which would be followed by a confrontation on pit road. During that confrontation, Piquet Jr. kicked Scott below the belt in an effort to get Scott to back up.
"He kicked me below the belt, which I think is just a chicken move," Scott said.
"Him getting pissed off at me again, I'm not going to take it," Piquet Jr. said. "I wanted to move him away. I didn't look where I was going to kick."
The pit crews also scuffled on pit road before NASCAR separated them.
The pair did meet in the NASCAR hauler, in which Piquet Jr. released an apology after that meeting.
"When you get a temper at the end of the race and everybody is tired and frustrated, you do things you don't mean to," Piquet Jr. said. "I'm sorry for everything that happened."
NASCAR and Richmond International Raceway have stated they cannot comment on a police investigation, while RCR released this statement early Saturday morning:
"We are aware an incident took place outside of the track's infield following Friday night's NASCAR Nationwide Series race at Richmond International Raceway involving members of our team; and others from another team. We are cooperating with the local authorities in this matter." 
Stay tuned to Speedway Media as we will continue to provide updates as more information becomes available.