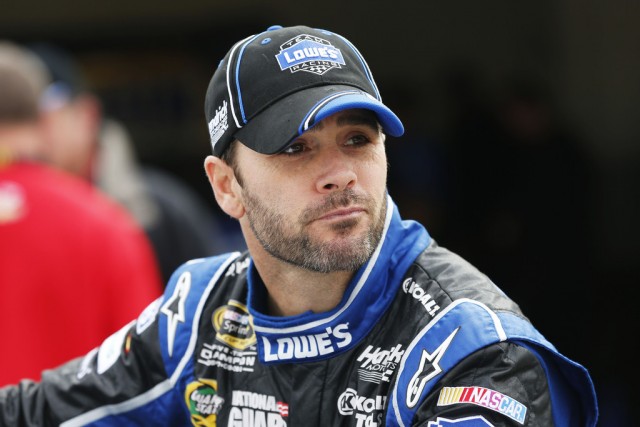 With rain prominent throughout the day Friday afternoon at Pocono (Long Pond,PA) Raceway, NASCAR canceled both Sprint Cup Series practice session as well as qualifying for Sunday's Party In The Poconos 400.
The starting field for Sunday's 400-mile, 160-lap event was set per the NASCAR rule book. By canceling the practice session set for Friday afternoon, the field was ultimately set by 2013 car owner points.
Jimmie Johnson, who leads the championship standings by 30-points over second-place Carl Edwards, will start Sunday's race from the pole position.
"There are a lot of good benefits from starting on the pole, from track position to pit road picks," said Johnson.
"We'll take it. The great season that we've had so far and the quick start, it's nice to have that. It's one of the benefits (as the point leader) when things rain out. So we certainly earned this first starting spot, and we'll try to take advantage of it on Sunday."
Joey Logano, who won this race last season, will start in twenty-first.
In 71 Sprint Cup Series races at Pocono, this marks just the fifth time a qualifying session at the 2.5-mile track has been rained out. It also marks the third time this season rain has canceled qualifying.
Las Vegas and Talladega were the other races in which Brad Keselowski and Carl Edwards started on the pole respectively.
With only 43-cars attempting to make the 43-car field, no drivers were bumped in the NASCAR rule book process.
Party in the Poconos 400 Starting Lineup 
Jimmie Johnson 

Carl Edwards
Clint Bowyer
Matt Kenseth
Kevin Harvick
Dale Earnhardt Jr.
Kasey Kahne
Kyle Busch
Paul Menard
Brad Keselowski
Jeff Gordon
Aric Almirola
Greg Biffle
Mark Martin
Martin Truex Jr.
Ricky Stenhouse Jr.
Denny Hamlin
AJ Allmendinger
Tony Stewart
Kurt Busch
Joey Logano
Jamie McMurray
Ryan Newman
Jeff Burton
Juan Pablo Montoya
Marcos Ambrose
Casey Mears
David Ragan
Bobby Labonte
Danica Patrick
David Gilliland
Dave Blaney
David Stremme
David Reuitmann
JJ Yeley
Josh Wise
Landon Cassill
Timmy Hill
Travis Kvapil
Joe Nemechek
Michael McDowell
Jason Leffler
Scott Riggs