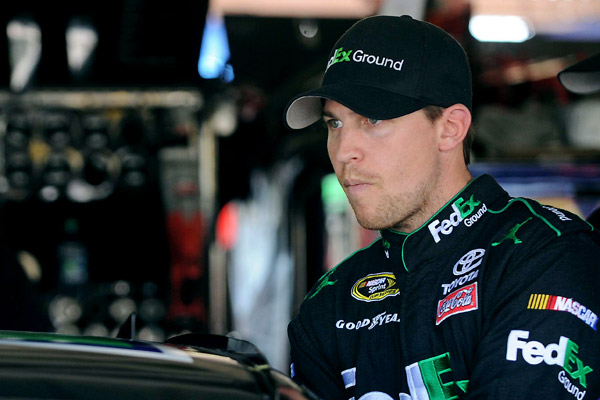 After a lack-luster finish Sunday at Michigan International Speedway, Denny Hamlin's chances at becoming the first driver to qualify for the Chase without racing in each of the first 26 races ended.
But, did he really have a chance at making NASCAR's post-season after missing four races after suffering an L1 compression fracture in his vertebra while racing for the win in Fontana, Calif?
In order for the Virginia native to continue his streak of making every Chase since his rookie season in 2006, Hamlin would have to climb from 31st to twentieth in the championship standings to even have a chance at qualifying.
On top of that, he would have to win one – realistically two or more – of the races leading up to the cutoff September at Richmond International Raceway.
"I love the challenge," Hamlin said at Darlington back in May; his first race since March 24 at Auto Club Speedway."We could do it over a 16-race span. It's just you've got to have things go your way. That's the bottom line to it. A lot of this sport is based on luck, and we're going to need some."
Certainly, the first two races back from injury gave hope to him, his team, his fans that he would have a chance at making the Chase.
Finishing second at Darlington and third at Charlotte in the Coca-Cola 600, Hamlin ascended from 31st to 24th in points; still over one-full race out of 20th.
Then came Dover. The track that Hamlin has called many times his worst track on the circuit.
But just like the fall of 2012, he won the pole at the one-mile oval. However unlike the fall, he didn't post a top-10 finish instead cutting a right-front tire late and finishing deep in the running order.
"We still have a race and a half to make up just to get there and obviously another bad 30th, which you have to figure something in the next 13 weeks is going to happen, law of averages is going to happen. We can't afford more than one, that's for sure," Hamlin said following Dover.
The next two tracks – Pocono and Michigan – were both tracks Hamlin had won on – at times dominated – in the past.
However Toyota's decision to turn back the power on their engines cost him a chance at the win before the race even started in P0cono and issues with the car at Michigan did about the same.
Now heading to Sonoma (a track Hamlin has posted two top-10 finishes at), he has dropped to 26th in points; practically out of any contention to make the Chase.
But, he never did have a realistic chance of making the Chase.
Sure, on paper it looked as though Hamlin would be able to click off a few wins and run well enough every week to make a charge come Richmond for a wildcard birth.
What paper doesn't show in racing is how many things outside one's control can happen on any given day at any track.
At Dover, Hamlin was running inside the top-10 when his tire blew. There were no signs it would happen, it just did. That's racing and those things are bound to happen countless times.
And it can be said that if Matt Kenseth and Martin Truex Jr. didn't blow their engines at Dover, Toyota wouldn't have made as aggressive of and adjustment for Pocono as they wound up doing.
That adjustment never gave Hamlin the power he needed to challenge for the win with Jimmie Johnson that day.
Racing is a sport filled with 'coulda, shoulda, woulda's'. Those are all part of what makes it great, frustrating and unpredictable.
One of the most unpredictable things in racing is the competition.
That's the greatest challenge in racing. You never now what they're exactly going to do nor do you know how the race will play out.
Probably the biggest problem with Hamlin's hope for making the Chase when he returned was that he not only needed himself to produce, but he needed others to frankly not run well.
As we've seen with Tony Stewart over the past month, you can't rule out someone catching fire and putting up numbers.
Since the Coca-Cola 600, Stewart hasn't finished any worse than seventh; including a victory back at Dover.
It's not like anyone saw this coming. Stewart was 22nd in points and just about everyone had ruled him out for winning a race much less a shot at making the Chase.
Now, Stewart sits tenth in points and is one of the hottest drivers on the circuit.
It was only a matter of time before something like this happened, but Hamlin couldn't have it happen if he wanted to make the Chase.
Going an entire stretch of races without some kind of crash, mechanical failure or just some bad luck is highly unlikely. And typically, times of desperation lead to times of hardship.
You can't force success in racing. Guess Denny Hamlin is learning that the hard way in 2013.