Kyle Busch wins Coke Zero 400 pole at Daytona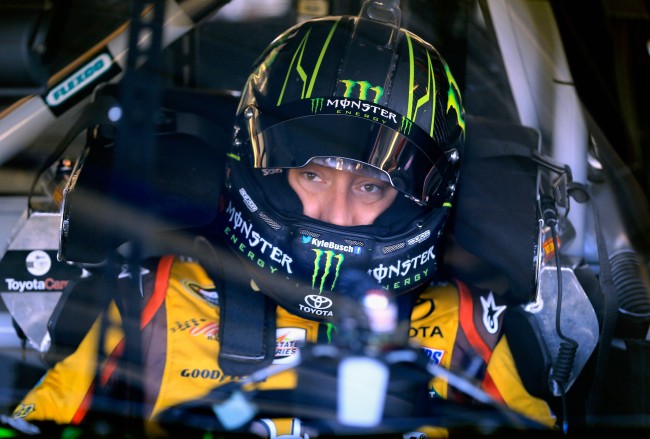 Kyle Busch will start on the pole for Saturday night's Coke Zero 400 powered by Coca-Cola at Daytona International Speedway.
"I get to start first. That's where my mindset is at right now," Busch said after winning his third pole of the 2013 season in Sprint Cup.
Turning a lap averaging around the 2.5-mile super speedway at 193.723 mph, Busch was able to secure his first pole award at a super speedway (Daytona and Talladega).
"This is pretty cool. This is a testament to the bodies and of course the engines, everybody at Joe Gibbs Racing being able to build a great car," he said.
The front row for Saturday night's race will be shared by the Joe Gibbs Racing Toyota's of Busch and two-time Daytona 500 winner, Matt Kenseth.
Clint Bowyer, who drives a Toyota for Michael Waltrip Racing, will start in third.
Toyota's occupy  four of the first five spots on the starting grid for Saturday night, with Kasey Kahne's Chevrolet being the loan non-Toyota in the top-five.
2013 Daytona 500 champion, Jimmie Johnson, wil start the race from eighth.
Danica Patrick, who won the pole position for the Daytona 500 in February, qualified her Stewart Haas Racing Chevrolet in eleventh position.
Defending Coke Zero 400 winner, Tony Stewart, qualified his Chevrolet thirteenth.
43 drivers attempted to qualify for the 43-car field, which means no drivers failed to qualify for Saturday night's event.
Coke Zero 400 Starting Lineup 
Kyle Busch 

Matt Kenseth
Clint Bowyer
Kasey Kahne
Martin Truex Jr.
Paul Menard
Michael Waltrip
Jimmie Johnson
Ricky Stenhouse Jr.
Greg Biffle
Danica Patrick
Carl Edwards
Tony Stewart
Juan Pablo Montoya
Brad Keselowski
Dale Earnhardt Jr.
Jeff Burton
Joey Logano
Casey Mears
Trevor Bayne
Ryan Newman
Kurt Busch
Jeff Gordon
Denny Hamlin
Marcos Ambrose
Kevin Harvick
Jamie McMurrray
David Gilliland
Dave Blaney
Aric Almirola
Michael McDowell
JJ Yeley
AJ Allmendinger
Bobby Labonte
David Stremme
Scott Speed
Josh Wise
David Ragan
Terry Labonte
Travis Kvapil
David Reutimann
Joe Nemechek
Landon Cassill