Johnson wins Coke Zero 400, sweeps Daytona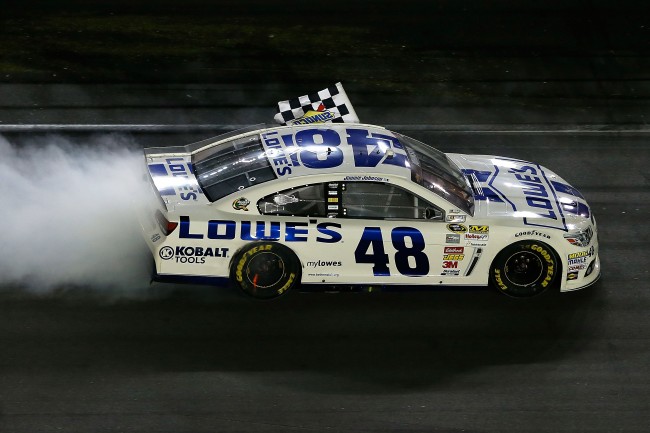 Over the years, Daytona International Speedway hasn't been Jimmie Johnson's best race track.
Despite earning his first career pole for the 2002 Daytona 500 and winning the 2006 edition of the race, the five-time series champion's results have been nothing to brag about.
In February, Johnson held off a late charge from Dale Earnhardt Jr. to win his second Daytona 500, putting him in position to complete the the Daytona 500 and Coke Zero 400 sweep; a feat that has only happened on four occasions, the last coming in 1982 when Bobby Allison won both races.
Early on, it was obvious Johnson's No.48 was the class of the field. Seemingly able to move his car in any direction he chose at any given moment, if the other drivers wanted to win, they were going to have to go through Johnson.
"We had a great race car and I was able to work traffic and get there early and understand how to lead the race, how to manage the lead, how to work the lines, and it seemed like I could make the top or the bottom work," Johnson said about his strong race car.
Throughout most of his career, Johnson hasn't been known as one to run upfront for the entire race on the restrictor plate tracks. However, tonight was a different story.
"I think what changed my approach more than anything was that the tandem drafting was gone," he said about his new strategy as he led a race-high 94 of the 161 laps.
"Right now, the way this rule package is, you have to fight for track position to win the race."
As the late-race madness ensued, many made their runs at Johnson, trying to visit the coveted Daytona victory lane.
One of the biggest challenges for Johnson came from his Hendrick Motorsports teammate Kasey Kahne.
As Johnson moved to the top-side of the track to hold off a hard-charging Marcos Ambrose, the three made contact, sending Kahne into the inside backstretch wall.
That caution set up a green-white-checkered finish, with Johnson and Kevin Harvick occupying the front row on the restart.
The two Chevrolet's ran side-by-side down the backstretch, until Harvick's inside line seemingly disnigrated behind him, handing the top-two spots to Johnson and Tony Stewart.
"I didn't get as good of a restart as I wanted," Stewart said about the final restart. "I think it kind of worked in our favor there. It got Clint [Bowyer] a little bit ahead of me and it got Kevin a little ahead of Jimmie and that let Jimmie and I both tuck down to those two guys and get going."
Stewart made a charge off the final corner, but it was no avail as Johnson won Saturday night's Coke Zero 400 at Daytona International Speedway.
"I don't know if we really made a bad move tonight," Johnson said in victory lane. "Just an awesome night."
By winning Saturday night's 400-miler, Johnson becomes only the fifth driver in history to win both the Daytona 500 and the Coke Zero 400 in the same year.
"That's amazing," Johnson said about becoming the first driver since Allison in 1982 to accomplish the feat. "I remember where I was the day Davey [Allison] passed away, that's how much that family meant to me.
"To do anything that Bobby has done is pretty special."
Johnson holds a 49-point lead in the championship standings over Bowyer heading into next Sunday's race at New Hampshire (Loudon) Motor Speedway.
Coke Zero 400 Unofficial Results 
Jimmie Johnson

Tony Stewart
Kevin Harvick
Clint Bowyer
Michael Waltrip
Kurt Busch
Jamie McMurray
Dale Earnhardt Jr.
Casey Mears
Ryan Newman
Ricky Stenhouse Jr.
Kyle Busch
JJ Yeley
Danica Patrick
David Gilliland
Jeff Burton
Greg Biffle
Travis Kvapil
Terry Labonte
Trevor Bayne
Brad Keselowski
David Ragan
Bobby Labonte
Landon Cassill
Josh Wise
Marcos Ambrose
Joe Nemechek
Scott Speed
Carl Edwards
David Reutimann
Dave Blaney
Kasey Kahne
Matt Kenseth
Jeff Gordon
AJ Allmendinger
Denny Hamlin
David Stremme
Aric Almirola
Juan Pablo Montoya
Joey Logano
Martin Truex Jr.
Michael McDowell
Paul Menard