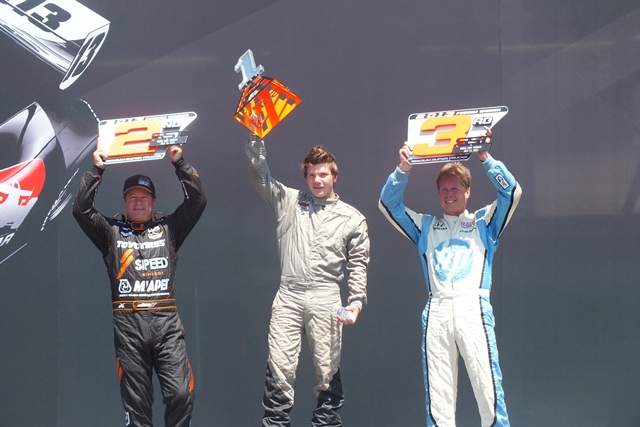 15-year-old Sheldon Creed would grab the lead on lap three by P.J. Jones and never look back as he would dominate the rest of the way, capturing his first career Stadium Super Truck Victory in Toronto.
"Getting my first SST win, I have been searching for this for a while," Creed said. "Starting third I knew I needed to get away fast. It just wanted to run away from the pack, I did not want to get into the whole bumping and rubbing. I knew if I got in front of P.J. he was going to give it to me today, and he did."
Creed and Jones battled each other hard for the lead for a couple of laps, till contact would send them both around. With the huge lead on third place, both drivers were able to keep their positions. However, Jones' truck suffered heavy front end damage, causing him to hit pit road for repairs. Jones would finish sixth.
"I looked in the mirror, and I was waiting for it, and he finally hit me we both ended up spinning out," Creed continued. "P.J. and I were so checked out it ended up working out good. On the restart, he was right there again bumping me and pushing me all the way down the straightaway.
"My strong part of the track was the jumps. It is where I could catch them every lap and just send those things. My weakest point was the back, so I knew if I was going to pass him it was going to have to be in front, and I made it happen!"
Robby Gordon would finish second to Creed despite going for a spin in the early going of the eight lap event.
"As you can see, these trucks aren't easy to drive," Gordon said afterwards. "We can lower them down and make it easier, but I think when you leave them up like that, it puts it more in the driver's hands and in their control.
"I want to thank Charlie Johnstone and everybody from Honda Indy Toronto, all these Canadian fans for the support."
Davey Hamilton would round out the podium, making up for Saturday's disappointment of a mechanical failure sending him to pit road early.
"After yesterday, I was a little embarrassed," Hamilton said. "I've never done anything like this before. Robby came forward with this opportunity and I thought, 'What the heck? I've done everything else so I might as well try this'. So last night I went to bed and thought it over and knew I was going to do better today.
"I had a lot of fun. Robby has a great thing going on with this series. You got to follow this thing because he has stuff going here."
Rob MacCachren would finish fourth, followed by Justin Lofton. Lofton was running up in second during the middle part of the race, though lost some spots due to losing power in the final laps.
Paul Tracy would finish seventh out of the seven trucks after making heavy contact with the front stretch wall after one
of the jumps. Tracy had made contact with the turn seven wall a couple laps prior while running inside the top three.
"It was really fun racing with Paul," Gordon said of Tracy. "I know his truck is broken here on the front straightaway but what you guys didn't see is he hit the wall back around turn seven a ton. I thought he was done and next thing I look and he's right beside me. I couldn't believe he kept going. He ran two more laps like that and I was thinking how he could not be worried about the suspension. Finally it broke off of the start-finish jump. But he did a really good job. I was really impressed with PT and Davey, but all these guys.
The Inaugural season of SPEED Energy Stadium SUPER Trucks continues September 1, in Crandon, Wisc., at the Crandon International Off-Road Raceway with Round No. 9 to be part of the 44th Annual World Championship of Off-Road weekend.
Keep up with all the latest news and results on SPEED Energy Stadium SUPER Trucks at http://www.stadiumsupertrucks.com