Busch survives late race madness for Watkins Glen win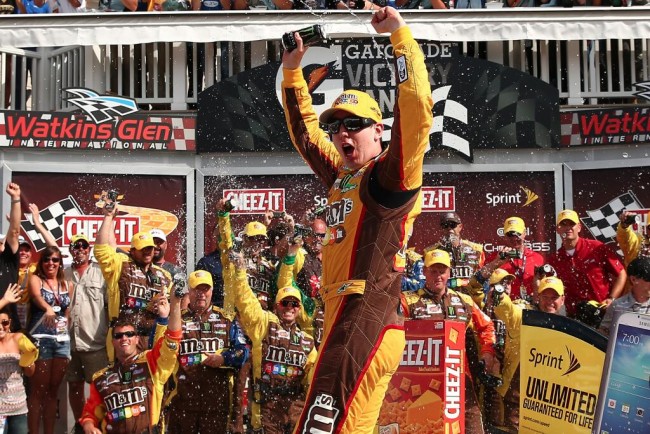 One year ago, Kyle Busch saw victory at Watkins Glen slip from his hands after a last-lap-spin when he and Brad Keselowski made contact which effectively dropped Busch to a third-place finish.
That marked the second year in a row that the Las Vegas native had finished third after leading the most laps in the race.
Sunday, Busch changed that by winning the Cheez-It 355 at the Glen over a hard-charging Brad Keselowski who finished in the runner-up position for the third-consecutive year.
"This was 'Rowdy's Revenge' here today," Busch said after the race about being close in past years to picking up his second Watkins Glen win.
"Not to be greedy, but this could have been three in-a-row."
Through the early laps of the race, it looked as though Marcos Ambrose was well on his way to earning his third-consective win at the New York road course after leading a race-high 51 laps.
An ill-time caution when Ambrose's Richard Petty Motorsports teammate, Aric Almirola, crashed in the turn five tire barrier ended the Australians's chances at victory.
The crash occurred during scheduled green-flag pit stops which shuffled the running order. Ambrose, who had yet to pit, was one of the only cars on the track that didn't head into pit road which.
That moment was the moment that turned the race into Busch's favor as he emerged with the lead.
"You couldn't have called it any better," Busch said about timing the pit stop and caution as Ambrose was left out. "Ambrose was on the straightway between [turns] six and seven and I was just coming out of [turn] six and [Dave Rogers, crew chief] called me to pit road and [the No.9 team] didn't have time to relay it to Ambrose.
"It was such a late call that I had to be ready for it."
Ambrose restarted the race 14th with just 29 laps to go and had difficulty moving through traffic before he crashed with Brian Vickers with less than ten laps to go.
"I could just feel that something had broken," Ambrose said about the moments before he crashed. "This is not the way we wanted our day to finish."
With Ambrose out, Busch's biggest challenge came from the cars of Keselowski and Martin Truex Jr.
Both Keselowski and Truex Jr. made runs at Busch late, but neither were able to inch ahead of the No.18 Toyota as Busch picked up his second career Watkins Glen victory.
"Kyle's car was really good for about five to ten laps and my car was really good after about five to ten laps," Keselowski said. "If that last run was more than five laps, I think I could have got him."
By finishing in the top-three, both Keselowski and Truex Jr. find themselves back inside the top-10 in the championship standings with four races until the Chase cutoff.
"We had a lot of speed in the short-run and almost got in the lead there after we put that last set of tires on," Truex Jr. said about the late-race battle with Busch. "Just couldn't quite run with him like that after all those restarts."
Next up for the Sprint Cup Series is the Michigan International Speedway for the Pure Michigan 400 where Greg Biffle is the defending race-winner.
Cheez-It 355 at the Glen Unofficial Results 
Kyle Busch
Brad Keselowski
Martin Truex Jr.
Carl Edwards
Juan Pablo Montoya
Clint Bowyer
Joey Logano
Jimmie Johnson
Kurt Busch
AJ Allmendinger
Jamie McMurray
Casey Mears
Kevin Harvick
Ryan Newman
Max Papis
Greg Biffle
Paul Menard
Ricky Stenhouse Jr
Denny Hamlin
Danica Patrick
David Ragan
Boris Said
Matt Kenseth
Owen Kelly
David Gilliland
Jeff Burton
Dave Blaney
Landon Cassill
Alex Kennedy
Dale Earnhardt Jr.
Marcos Ambrose
Brian Vickers
David Stremme
Kasey Kahne
Ron Fellows
Jeff Gordon
Aric Almirola
Michael McDowell
Brian Keselowski
Travis Kvapil
Victor Gonzalez Jr.
Tommy Drissi
David Reuitmann