Hamlin wins Bristol night race pole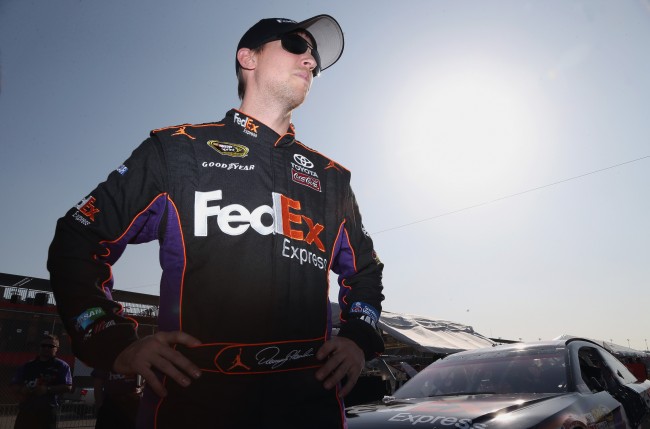 Bristol has been a place of highs and lows for Denny Hamlin over the past year.
Last August, Hamlin won his first IRWIN Tools Night Race at Bristol Motor Speedway. That win was his third of the 2012 season, putting him in position to contend in the Chase.
When the series returned to Bristol in March, Hamlin found himself running up at the front of the field until a flat tire late after. Following the race, Hamlin was the subject of attention after his run-in with former Joe Gibbs Racing teammate, Joey Logano, while both were running inside the top-five.
The next week, Hamlin and Logano tangled at Auto Club Speedway, sending Hamlin into the inside barrier and out for the upcoming four races.
Since returning, Hamlin's season has been disastrous and his hopes for keeping his streak of making the Chase in each year he's raced in the Sprint Cup Series dashed.
As the series returned to Bristol, Hamlin finds himself on the top-side of the scoring pylon after winning the pole for Saturday night's IRWIN Tools Night Race at Bristol.
"I'm proud of this whole FedEX Ground team," Hamlin said after winning the pole. "We had pretty good practices and, obviously, a good pole effort never hurts."
Hamlin's lap around the half-mile Bristol Motor Speedway in/at 14.878 seconds/128.969 mph beat out second-place starter, Kurt Busch.
The pole is the 16th of his career in Sprint Cup, his fourth of the 2013 season and his first at Bristol Motor Speedway.
"It'll give us that number-one pit selection. We'll use that up," Hamlin said as to what this pole means for Saturday night's race.
"Hopefully we'll have a good 500 laps around here."
Two of the three Joe Gibbs Racing drivers will start Saturday night's race from the top-five. The other will start 43rd (last) on the grid.
Crashing not once, but twice, in qualifying, Kyle Busch posted the slowest lap in Friday evening's qualifying session.
Busch will not use a backup car for Saturday's race, instead his team has opted to make repairs to the damaged car.
IRWIN Tools Night Race Starting Lineup 
Denny Hamlin
Kurt Busch
Carl Edwards
Brian Vickers
Matt Kenseth
Joey Logano
Kasey Kahne
Ryan Newman
Martin Truex Jr.
Aric Almirola
Mark Martin
Brad Keselowski
Jimmie Johnson
Marcos Ambrose
Kevin Harvick
Juan Pablo Montoya
David Ragan
Ryan Truex
Dale Earnhardt Jr.
Jamie McMurray
Paul Menard
Danica Patrick
Bobby Labonte
Clint Bowyer
David Gilliland
Michael McDowell
Ricky Stenhouse Jr.
Josh Wise
Greg Biffle
Casey Mears
David Reutimann
Jeff Gordon
Landon Cassill
JJ Yeley
Ken Schrader
Dave Blaney
Joe Nemchek
David Stremme
Travis Kvapil
Tony Raines
Jeff Burton
Scott Speed
Kyle Busch