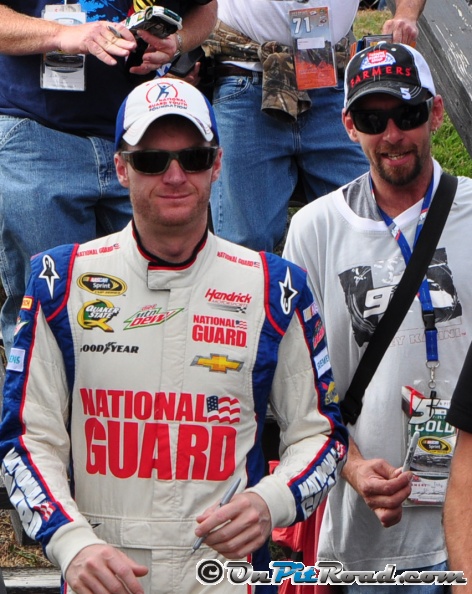 NASCAR SPRINT CUP SERIES
AAA 400
DOVER INTERNATIONAL SPEEDWAY
TEAM CHEVY QUALIFYING DRIVER PRESS CONFERENCE TRANSCRIPT
SEPTEMBER 27, 2013DALE EARNHARDT JR. WINS POLE AT THE MONSTER MILE FOR CHEVROLET
FIVE TEAM CHEVY DRIVERS QUALIFY IN TOP 10DOVER, DEL. – September 27, 2013 –  Dale Earnhardt, Jr. powered his No. 88 National Guard Chevrolet SS into the pole position with a track-record lap of 161.849 mph in 22.243 seconds for Sunday's AAA 400 NASCAR Sprint Cup race at Dover International Speedway. It was his 13th career pole win, his second of the 2013 Cup season, and first on the mile-long, high-banked concrete race track for the Chase for the NASCAR Sprint Cup contender.
"The car had really good speed and a really good balance right off the trailer, and it felt like we were really competitive, more so than we've been here in the past, especially in practice," said Earnhardt, Jr.
"I think I did a good job driving it, but most of the credit goes to (crew chief) Steve (Letarte) and the guys for preparing the car throughout the week. I thought they did a really good job giving me a great chance to go out and trust that the car is going to be right there, and run a good lap."
Ryan Newman, also a Team Chevy Chase contender, posted the third quickest qualifying lap in his No. 39 State Water Heaters Chevy SS, giving Chevrolet two of the top five starting spots.
Jamie McMurray, aboard his No. 1 LiftMaster Chevrolet SS qualified in the seventh position, seven-time Dover winner, Jimmie Johnson, qualified eighth in his No. 48 Lowe's/KOBALT Tools Chevy SS and Kurt Busch qualified ninth behind the wheel of his No. 78 Furniture Row/Denver Mattress Chevy SS; to give the Bowtie Brigade five of the top 10 starting spots.
Chase contenders Kevin Harvick, No. 29 Budweiser Chevrolet SS and Jeff Gordon, No. 24 Axalta Chevy SS will roll off from the 12th and 16th positions, respectively, in the 400-mile race.
Rounding out the top five qualifiers were Matt Kenseth (Toyota) – second, Carl Edwards (Ford) – fourth, and Aric Almirola (Ford) – fifth.
The third event in the 10-race Chase for the NASCAR Sprint Cup will take the green flag on Sunday, September 29th at 2:00 p.m. EDT and aired on ESPN and MRN / SiriusXM NASCAR Radio Channel 90.
DALE EARNHARDT, JR., NO. 88 NATIONAL GUARD CHEVROLET SS – POLE WINNER
TALK A LITTLE BIT ABOUT YOUR RUN OUT THERE TODAY:
"Yeah, the car had really good speed and a really good balance right off the trailer.  Felt like we were really competitive, more so than we had been here in the past, especially in practice.  When we put the car into qualifying trim, made a couple of mock runs, the car showed again really good speed.  It wasn't quite the fastest car, but the way the car drove was really relatively easy and to make the runs we were making wasn't very challenging and the grip in the car was just really over the top.  I was expecting to put a good lap down.  I thought we would be competitive enough to get inside the top 10 pretty easily.  We just made a couple of changes that we typically make in between practice and qualifying and went off to run the lap.
"Made a couple of just small errors driving the car, but you never drive every lap perfectly.  Always kind of wish you could have done things a little differently.  I think the car had maybe another half a tenth or a tenth in it.  It was really just a really good car.  I think I did a good job driving it, but most of the credit goes to Steve (Letarte, crew chief) and Kevin (Meendering, engineer) and all the guys just for preparing a car throughout the week that unloaded so close.  That makes everything so easy when the car is close especially for practice before qualifying.  You are going out there and you are making these laps right on the edge and when you are not really moving the balance a whole lot or making a ton of changes the driver can narrow down what he needs to do and minimize the errors that he is going to make and I thought that they did a good job giving me a great chance to just go out there and trust the car is going to be right there and run a good lap."
TO MAKE UP GROUND IN THE LAST EIGHT RACES YOU PUT YOURSELF IN AN EXCELLENT POSITION.  IS IT AT ALL A LITTLE DISHEARTENING TO KNOW THAT THE GUY YOU ARE CHASING WILL BE STARTING ALONG SIDE YOU ON THE FRONT ROW?
"Yeah, not really.  I expect our competition to be tough every week.  Nothing really surprises me when they perform well.  We are not really going to count points and I'm not going to sit here and figure out how far I'm behind and come up with some equation that I need to perfect to gain points each week.  I'm not going to sit here and do that.  We are just going to show up and try to run hard and be smart.  If we can unload great cars like this it makes that all easier.  We are going to try to win some races before the year is out.  I would be really disappointed if we don't win a race this season because I think we are a better team than we were last year.  I felt we've came so close so many times so we would just like to get out there and get some trophies.  The points will take care of themselves when you are doing that."
WHEN YOU GOT OUT OF THE CAR IT SOUNDED LIKE YOU FELT YOU HAD LEFT A LITTLE BIT OUT THERE.  WERE YOU SURPRISED THE LAP HELD UP?
"Yeah I was.  I watched the tracker on a couple of guys.  The No. 99 they were a tenth and a half better than us by the time they got into turn three or the middle of (turns) three and four.  Yeah, I think there was a good amount of time left out there for a lot of guys myself included."
CAN YOU TALK ABOUT HOW IMPORTANT TIRES WERE? I KNOW YOU GUYS WERE CHANGING TIRES A LOT AT THE END OF PRACTICE:
"Well we practiced and used our tires how we typically do every week.  We ran the beginning of practice on a set of tires. We ran a couple of race runs to get ourselves a good idea of where we were for tomorrow to try to anticipate improving the car. That saves us a little bit of time tomorrow.  If we waited until tomorrow to find out what we could learn today you know it's just saving us a little time doing that.  Then we have two sets of tires left to go out there and make one mock run and make another mock run.  We thought scuffs weren't too bad actually and we have rolled the lefts in here before.  We put the qualifiers on and rolled the lefts in a little bit, left the rights off the car and then we made our last run on the last set of tires.  It was just what we normally do every week aside from the scuff for the lefts which you do on occasion depending on the track."
ANY SPECIAL SIGNIFICANCE TO SETTING A TRACK RECORD AND KNOCKING SOMEONE LIKE JEREMY MAYFIELD OUT OF THE RECORD BOOK?
"Well this car has been faster everywhere we have been this year so I anticipate seeing the lap records kind of fall throughout the season.  I don't know how many that we have broken this year, but it has to be a significant amount compared to past years.  This car has got a lot more downforce and has been a good bit quicker everywhere we have been with it this year.  But it's a good feeling you know we have won two poles this year.  If we don't get one at Daytona or Talladega we usually don't get one at all.  This feels pretty good."
YOU JUST MENTIONED TWO POLES THIS YEAR THAT IS THE FIRST TIME YOU HAVE HAD MORE THAN ONE IN A SEASON SINCE 2002.  IS THAT A REFLECTION OF WHERE THE PROGRAM IS?  IS THAT A REFLECTION OF COMFORT IN THIS NEW CAR?  HOW DO YOU EXPLAIN THAT?
"I would say it's a reflection of where the program is.  Just how Steve (Letarte, crew chief) and I since we first started working together we have gotten better each year.  One of the things we started focusing on last year was qualifying and I think that has rolled over into this season.  We continue to put importance on that and try to improve on that.  The racing and the cars and the speed the cars have in the races has also improved.  We really focused on qualifying last year and even more so this year.  He and I are working better together.  The longer we work together the better we get at it and the more we understand each other and the more he understands what I need in the car.  We have also kept the majority of the team intact from the beginning.  That is so important to keep that together if you can because everybody sort of learns what they can about each other.  Steve is really good… he has made me a better race car driver.  He makes his engineers better.  I mean he is really good at his job.  So he deserves a lot of credit for us improving and being able to get these poles and just qualifying better."
STEVE (LETARTE) SAID HE HAS NEVER SEEN AN UNHAPPY RACE CAR DRIVER IN A FAST CAR IS THAT ACCURATE?
"That is true.  When the car is fast usually the driver is not talking or complaining.  I mean I know that even the guy leading the race has got something he would like to fix on his car.  Or something about the car it could do better.  Yeah, when you run well you definitely are a happier guy.  I mean just look at how we were after last week's qualifying effort compared to this week.  I thought we had a good car last week.  I don't know we just didn't get the job done in qualifying and I was so disappointed.  When you've got the car and you know the potential and you go out there and realize it like we did today it makes it a lot easier."
HAVE YOU TALKED TO MATT (KENSETH) AT ALL?  IS HE KIND OF HAVING ONE OF THOSE 'PINCH ME' TYPE OF SEASONS?  OR IS HE HAVING ONE OF THOSE THAT HE KIND OF EXPECTED EVERYTHING TO FALL INTO PLACE SEASON?
"Matt (Kenseth) never would expect things to go this well.  I'm always having to pump him up, tell him how good things are going to be.  He's always a worry wart I guess is the best way to describe him.  I'm sure he is enjoying the success and knows how talented his team is around him.  Every time I see him even when his car is fast in practice he might say his car is not that good.  He is one of those guys, but he's having a great year.  Hopefully we can beat him.  We want to get up there and regain our ground and get back into this thing if we can."
RYAN NEWMAN, NO. 39 STATE WATER HEATERS CHEVROLET SS – QUALIFIED THIRD
A GREAT RUN FOR YOUR TEAM HERE AT DOVER:
"Yeah, we came off the truck really good and we were in qualifying trim and basically stayed real close to where we were.   I just sharpened up the pencil as far as driving the race track and it all kind of stayed the same for us.  It was obviously close and I think we were fifteen-thousandths off of the pole – which is always close here.  But nevertheless a good start for our State Water Heaters Chevrolet and good pit selection.  No matter what though, it's still a tough pit road here and we will see how it all works out."
CAN YOU TALK ABOUT YOUR HUNTING TRIP THIS WEEK, DID YOU GET ANYTHING AND WHAT WAS IT LIKE HANGING OUT WITH CLINT (BOWYER) IN THE WILD?
"Yeah, he only went to the hospital once.  It wasn't that big of a wound, and I didn't hit him quite where I wanted to.   But nevertheless, we had a lot of fun and I want to thank Bill Jordan and everybody at Realtree for giving us the opportunity to just get away and relax.  Obviously that takes and understanding wife and couple kids at home that got sick and had to get through all that stuff.   In the end, he killed an elk and I didn't.  I was close and had a questionable shot and used better judgment.  I will go back when gun season comes in and I am able to fit that into my schedule.
"I had a blast and it's beautiful country.  I have been under the weather since Monday and was fighting some flu symptoms with fever, aches and pains, and stuff.  In the end we had a lot of fun and I am thankful for the people that gave at least Clint and I the opportunity to do that."
WHY WOULD THE QUALIFYING TIME BE ALMOST FOUR MILES AN HOUR FASTER HERE TODAY THAN IN JUNE?
"We are just trying harder (laughs).  No, I think a lot of it has to do with the temperature.  A lot of it also has to do with us getting a better package with the car for a track that is this sensitive let's say.  With the bumps in turn three and that everybody has sharpened up on the aero side of this track.  The track is super-fast and I think everybody is making more downforce.  I think everybody has gotten things a little more fine-tuned and that makes a big difference.
"You see how close everything is here.  It's not like one team is four-tenths quicker.   We are all a good bit quicker.  I think a big part of it is the conditions and it definitely wasn't as hot here today as it was in the spring.  And then obviously just the race cars."
THE TRACK RECORD IS LIKE NINE YEARS OLD BEFORE BEING BROKEN TODAY.  ANY PARTICULAR REASON IN GOING BACK THAT FAR?
"I don't know. We could change the tire and break the track record by six miles an hour tomorrow and that is not so much the deal.  We used to have tires that would fall off a lot and now the tires don't fall off that much and the cars are faster.   I think that it is what it is, and it's a coincidence. That's my answer."
Connect with Team Chevy on social media.  Like us on Facebook at facebook.com/TeamChevy, follow us on Twitter @TeamChevy, and add +TeamChevy into your Google+ circles.
Team Chevy racing photos are available at: http://media.gm.com/product/public/us/en/gmracing/photos.html
About Chevrolet:
Founded in 1911 in Detroit, Chevrolet is now one of the world's largest car brands, doing business in more than 140 countries and selling more than 4.5 million cars and trucks a year.  Chevrolet provides customers with fuel-efficient vehicles that feature spirited performance, expressive design, and high quality. More information on Chevrolet models can be found at www.chevrolet.com.