Earnhardt Jr. set on winning races as championship slips away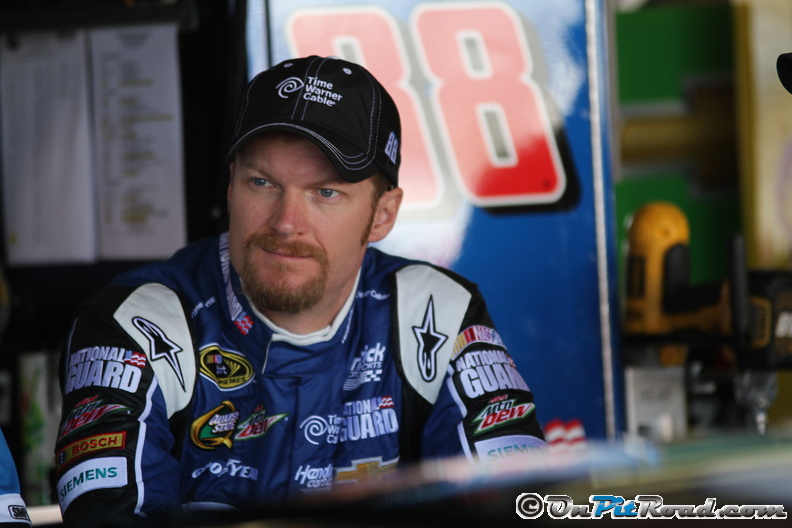 Following a blown engine at Chicagoland Speedway to start off the Chase, Dale Earnhardt Jr. admits that his chances at winning the championship aren't looking great simply because of how Matt Kenseth, Kyle Busch and Jimmie Johnson have ran so far.
With that said, the goals now for the driver of the No. 88 National Guard/AMP Energy/HendrickCars.com Chevrolet are simple – win races.
"If we can win a couple races, no matter what happens in the championship, that will improve the results of our season and give us a lot to be happy about," Earnhardt Jr. said. "So it would be great to go ahead and go to Dover and get that done."
Earnhardt Jr. notes that has been goal all along, including this past weekend at New Hampshire when he finished sixth after leading some laps.
"I thought we were pretty aggressive this weekend trying to get ourselves in position to win," he commented. "Ended up with a pretty good result. Couple things go a little bit different, and I think we get a shot at Matt and give ourselves a better opportunity to get the win.
"It's good to be able to look back on Sunday and feel like we had potential. If we can be as aggressive as we were this past Sunday on pit strategy and many different things, just going after the set up of the car and working real hard on Saturday trying to prepare the car for the race, I think we can put ourselves in position more often with just a few races left."
However, he adds that given the position, they can maybe try other things they wouldn't try before – say gambling on tire strategy, getting off sequence and playing with fuel.
"We don't really need to try to string together decent finishes," he added. "That's not going to do much for us. We're behind so far that trying to be consistent and just rattle off top 10s if we can, there is no moral victory there."
With that said, the flip side is there's a lot of racing left – eight races. Earnhardt notes that no matter how strong Kenseth and Busch are, they could find themselves in trouble and that could close things back up.
"Nobody's immune to someone else's mistake or something reaching out and altering the way the race is going for them," Earnhardt Jr. commented. "Even Matt, as strong as they've been, something could happen to those guys and it may not be something of their own doing. That's why everybody in the series just continues to work hard because you don't know what's going to happen. Fortune or misfortune could be around the corner."
Earnhardt Jr. has had success at Dover in the past, including a win in 2001. However, in the past five starts, he has only two tops 10s – a fourth in 2012 and a 10th in the spring.
Earnhardt Jr. added that if he is able to win a race in the next eight races, it help him vindicate the work that they've done this year. However, due to the changes that are coming with the rules for next year, it doesn't help much with momentum.
"I think we're going to really see some changes in the off season on how the rules are with the car, maybe some things might happen," he commented. "I think enough is going to change in the off season that it will be almost like kind of having to start over a little bit next year as far as learning what works and what doesn't work."
He is not worried about the changes because he feels the Hendrick Motorsports organization can start from scratch and be able to come out strong.
As a team, Earnhardt knows that back in the beginning of the season he was strong, having led some races and led the points for a couple of weeks. However, as the season has gone on, he has noticed how much strong Joe Gibbs Racing has gotten and sees them having an advantage right now.
"So I think we'll have to work in the off season to try to start the year off with an advantage over everybody, and we'll just have to work really hard in the off season to see what we can learn," he added.