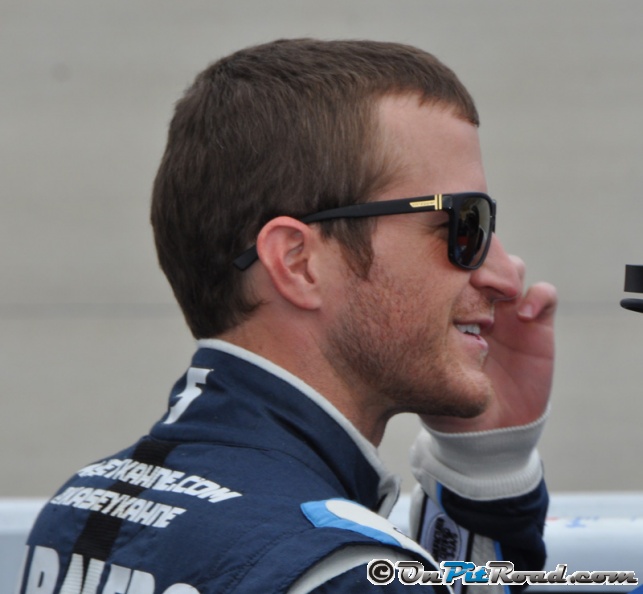 After some bad luck to start off his 2013 championship bid and amongst a stretch where it seems nothing will go right, Kasey Kahne just wants to get back on track and finish the season well.
One of the things benefiting the driver of the No. 5 Farmers Insurance/Great Clips Chevrolet is that two of the tracks coming up are two of his strongest – Kansas Speedway and Charlotte Motor Speedway.
"I think it's a stretch where we can run well," he commented. "They're a couple tracks that we've been able to run up front at every time we go to them.  Looking forward to that."
In 12 starts at Kansas Speedway, Kahne has yet to win a race, but has finished in the top 10 six times. In his last four starts on the mile and a half oval, he hasn't finished outside of the top eight. However, this year's trip to Kansas poses a new challenge in the form of a new tire by Goodyear.
"I guess that's why we're going Thursday for some laps, try to see how it performs, how it holds up," Kahne commented. "It will be interesting.  I thought it worked fine at Atlanta.  Hopefully here it will work good, too.
"That tire we were on at the start of the year was just really hard and didn't wear out a lot.  There were a lot of two-tire stops you would do.  I would imagine this would be similar just with the fresh surface, a lot of load in the tires.  You know the right side is going to be really hard."
Kahne adds that well he hopes it wears out more and causes you to drop off as the run goes on, he thinks it probably be similar to what the tire was like in the spring. That could be a good thing, though, as Kahne finished second in that race.
"If you have a good handle on the car, you'll be able to drive by the other guys," he commented. "The track is really wide.  I think Kansas is a great racetrack.  Hopefully this weekend we'll put on a great show."
As far as getting back into the hunt for the championship, Kahne doesn't see that happening as he feels the three leaders – Matt Kenseth, Kyle Busch and Jimmie Johnson – are in their own race.
"We'll just do what we can to finish off our year, and hopefully we can get a win or two at some of our best racetracks," he added.
Kahne fell out of the Chase contention following a 37th place finish at Loudon, New Hampshire after hitting the inside wall while racing for position. He currently sits 13th in the standings, 78 points behind Kenseth.
"I'm the one that made the mistake. I feel bad for the guys on that front," he stated. "We work together all season long.  Things happen, whether it's to the car, driver error, a pit stop error.  I mean, all those things happen.  As long as you're always together as a team during any of those things, you just recover and you move on.
"When it's not your season, it's not your season.  But I definitely take full responsibility and felt bad after screwing up and spinning there, taking us out of the Chase, yeah."