Dillon Wins NCWTS WinStar World Casino 350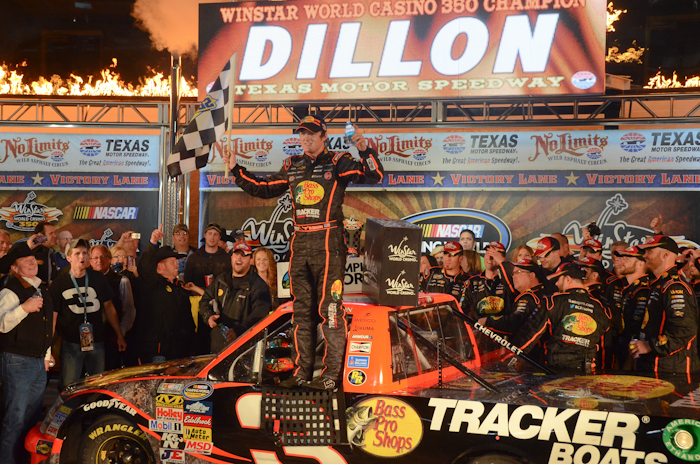 FORT WORTH, Texas (November 1, 2013) – Richard Childress Racing driver Ty Dillon put on a dominant display by leading all but 17 laps en route to the victory in Friday night's NASCAR Camping World Truck Series WinStar World Casino 350 at Texas Motor Speedway.Dillon (No. 3 Bass Pro Shops/Tracker Boats Chevrolet), who started third, led four times for 130 laps and fell just 10 laps shy of equaling the track record for most laps led by a NASCAR Camping World Truck Series winner set by Ron Hornaday Jr. in the 2008 Sam's Town 400. He also earned a perfect Driver Rating of 150.0 for the performance."I think everything that has gone wrong this year has been in my mind," Dillon said. "I want to win races worse than anybody, so do my guys and it's just built up and built up. We finally fulfilled our full potential. We ran like this all year. You can go look at the stats and we're in the top four  in every stat there is except closing races. Our goal was to close out these races and we knew that if we could close out these races, we'll win them. We had a dominating truck at 90 percent of the race tracks. Things have gone wrong and we've kept battling and battling. The guys are just as strong willed as I am and nobody ever gave up and these nights will keep coming."The victory was Dillon's second of the season – the other came at Kentucky – and third of his NCWTS career. It was his first win at Texas Motor Speedway, where he has finished seventh or better in five career starts including a previous best of second in June's WinStar World Casino 400. Dillon's triumph was the 100th career win for the Richard Childress Racing-owned No. 3 in NASCAR national series history.
"I know Dale Earnhardt is smiling down tonight to know that Austin and Ty and Dale Jr., he won some races in the Nationwide races with us, for all of them to be able to win and to be able to win our 100th race for the No. 3 and for my grandson to win it, it's very special, it's a very special evening," Childress said. "I looked up at the board one time tonight when he was leading, 100 laps or so and thought, that's pretty cool to see that 3 up there leading the race and I know Dale is smiling down right now."
The only time that Dillon's victory run appeared in possible jeopardy was when he was leading and the caution came from laps 100 to 106 when Kyle Busch (No. 51 ToyotaCare Toyota) lost an engine. On the restart, rookie Ryan Blaney (No. 29 Cooper Standard Ford) captured the lead with defending series champ James Buescher (No. 31 Rheem Chevrolet), of Plano, Texas, in tow.
Blaney led for 10 laps as Dillon fought past Buescher and then passed Blaney with a strong inside move between turns 3 and 4 on Lap 117. Once in clean air and out front, Dillon built a commanding lead over the final 31 laps en route to a 2.663-second margin of victory over runner-up Johnny Sauter (No. 98 Carolina Nut/Curb Records Toyota).
Ron Hornaday Jr. (No. 9 Smokey Mountain Chevrolet) finished third, Brendan Gaughan (No. 62 South Point Hotel & Casino Chevrolet) was fourth and Justin Lofton (No. 6 Lofton Cattle Chevrolet) fifth.
Buescher finished sixth, but was unable to make up much ground on championship leader Matt Crafton (No. 88 Fisher Nuts/Menards Toyota). Crafton struggled most of the night, but managed a 10th-place finish and leads Buescher by a commanding 46 points with two races remaining.
The race had eight lead changes among five drivers and had an average speed of 145.571 miles per hour.
For more information, contact the Texas Motor Speedway Media Relations Department at (817) 215-8520 or pr@texasmotorspeedway.com.