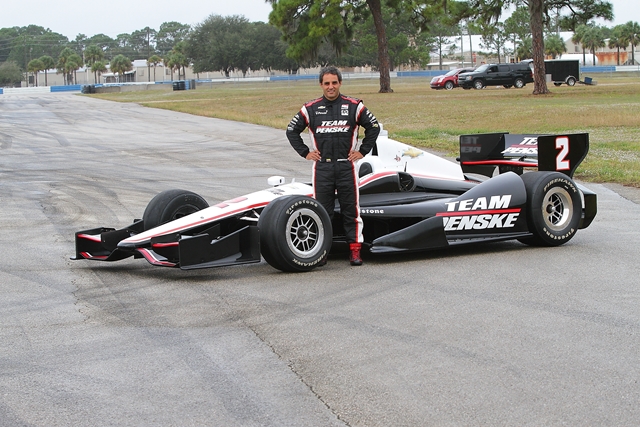 Last week, Juan Pablo Montoya hit the track for the first time behind the wheel of a Penske Racing IndyCar as he prepares for the full schedule in 2014.
Montoya stated that the day started off weird because they put too much build up in the steering wheel to give it more leverage and overdid it a bit. Once that was sorted out, the test went smoothly. By the end of the first day of the two days of testing, he was within a couple tenths of race winning teammate Will Power. For a first day, he'd grade himself at an eight out of 10.
"I'm surprised the speed has been pretty good," Montoya commented. "Just a few too many mistakes. Like my engineer Ron said. Just a bit sloppy. It's understandable for a first day."
Power said that he's not surprised with how quickly Montoya got up to speed based on his wins in both Formula One and the CART Series.
"I actually expected to learn from him," the Australian commented. "He's already brought some good ideas to the team even before he got in the car. Just from what I see from the data he has a very similar style to me. The way he brakes and everything. That should be good as far as our setups."
Power added that he thinks Montoya will be 'bloody quick' and having him on their team raises the bar.
"You just learn from each other," Power continued. "He has a lot of experience from F1, CART and even ovals from NASCAR. It was exactly what I expected him to do when he got in the car. I didn't expect anything less."
Power remembers watching Formula One races himself and always looked at Montoya as one of the best.
"It's cool to be a teammate to a guy that was successful in Formula One," Power commented. "I've been wanting someone like that to go up against and see where I'm at. To me it's great."
One of the things that stood out for Montoya was how strong the Chevrolet motor was and the fact that it has a lot of torque when you press the loud pedal. He also noticed the difference between braking in an IndyCar and breaking in a heavy stock car.
"Braking is hard," Montoya admitted. "For what I've been running the last few years, the first few laps, it's like OK. The initial bite is not bad. You get on brakes and there's a bit of lag while the brakes get hot. So it takes a while to get used to that, but you get used to it."
At times, Montoya knows he is also trying too hard, though feels he's learning to roll the center correctly.
"I have to get to a point where I'm actually comfortable to understand and know the limits of the car," he commented.
Montoya made the decision to move to IndyCar and drive for the Captain for a simple reason – he wants to be in a competitive car and win races.
"To have the chance to work with Will and Helio and everyone at Penske Racing, it was a no brainer," he stated.
As a whole from breaking to shifting, Montoya says it will take time to get used to everything  – including the car being faster than a stock car.
"It's OK but as it's happens so fast you end up making mistakes," he said. "More time in the car and everything will slow down and it will be easier. That's kind of normal and it's happened to me before a few times, so I know that with time everything will be easier. I'm happy."
He's also made Penske Racing team president Tim Cindric happy with the progress so far as Cindric says Montoya is a quick learner, though it'll be about Montoya discovering what it takes to win.
"I think somebody like Will really understands not only how to go fast, but how to save fuel; when to save fuel; who your competitors are," Cindric explained. "Which ones you can trust, which ones you can't. I don't care who you are, it's going to take some time to learn those nuances.
"One strength that Juan has is that he's mentally tough. He doesn't let the little things bother him much. I think he takes a pretty simple approach and I think that could pay off for him in the series."
Cindric says he hopes that Montoya is able to help Penske Racing to be able to put a whole year together. They've been strong, but haven't been able to close the deal and win the championship.
"Maybe Juan can bring us that kind of mentality," Cindric suggested. "He's learned a lot from his transition from Formula One to NASCAR. He hasn't had a successful teammate and we're going to be able to give him a gauge."