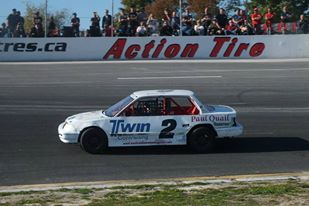 Kendra Adams came into this season with no driving experience whatsoever.
It showed at the beginning as the rookie struggled. Though as the season went on, she continued to improving – even picking up a b-feature win at Sauble Speedway. Finishing the season eighth in points with 10 heat top fives, she says the season went well.
"I learned a lot about driving and the race car and I met a lot of great people," she commented. "I really didn't know what to expect coming into the season since everything was brand new to me. There was so much to learn, and I still have so much more to learn, but it has been an incredibly fun experience."
For her efforts of improvement throughout the year, the driver of the No. 2 Gramma Lynne, Paul Quail Transport, Mustard Seed Contracting and Twin Contracting Mini Stock took home the most improved driver award.
"It really meant a lot to me to receive this, as I felt that I worked hard and tried to learn everything that I could about the car," she said. "Every week I got in the car and tried my best out there. We had mechanical problems throughout the year and a few wrecks, but each time I got in the car, I gave it my all and just drove the car the best I could."
With her rookie season behind her, the high school student picked up a bunch of lessons throughout the season. One of those lessons was realizing that not everyone was going to like her.
"The biggest lesson that I learned in my rookie year was to realize that not everyone was going to like me," she said. "Learning to drive the car was less stressful than learning how to deal with people that were not fans. People expected me to know what to do in different situations, but I think they forgot that since I'd never driven, I'd never been in those situations in a car before."
Heading into her second season, she says she's excited and nervous to put her skills once again up against the top Mini Stock drivers in the province.
"My goal for next year is to finish in the top 10 again in the points, however, with the current drivers at Sunset and others that I've heard are coming to race full time, this may be even more difficult, but that's my goal," she said. "I won a race at Sauble this year, but I'd really like to win a heat race at Sunset next year."
The young driver will also become a car owner next year. She got a super stock as her graduation present for graduating middle school, but is not ready to drive it yet. As a result, her dad Brendan Adams will be behind the wheel.
"My Dad, and maybe a few others, will drive the car in 2014," she explained. "I'll be practicing the car in 2014 and potentially moving into the division full time in 2015. That will depend on how well I do in practice. It's a big move from the 4 cyl, front wheel drive, Mini Stock to the 8 cyl, rear wheel drive, super stock. So for 2014, I'll just be the car owner!"