Bobby Grewohl to run full ARCA schedule in 2014 with Fox Motorsports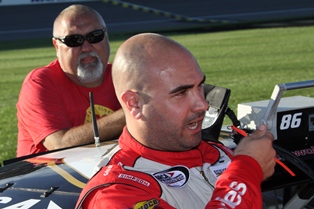 FOX Motorsports announced that they intend to run the full 2014 ARCA Racing Series Presented by Menards schedule with Bobby Grewohl behind the wheel. The Hollister, California native plans to run all the races behind the wheel of he No. 86 989 On Demand, Black Clover Clothing and RainEater Wiper Blades Monte Carlo.
"I'm looking forward to driving the Fox Motorsports DRG Chevrolet this season," the NEMCO Motorsports development driver said. "And I'm looking forward to representing 989 On Demand, Black Clover Clothing, and Rain Eater wiper blades in all of the events in 2014. I'm thankful to be associated with Joe Nemechek, and I appreciate his efforts to advance my driving career."
During his time under contract with NEMCO Motorsports, Grewohl has ran some K&N Pro Series races.
"Bobby comes from a competitive open wheel background, and his driving experience is well suited for stock cars," mentor and NASCAR Sprint Cup driver Joe Nemechek said. "I look forward to working with Bobby, and helping him through his learning curve this year."
Grewohl made one ARCA start last year, finishing 12th in the season finale at Kansas Speedway.
"Bobby Grewohl did an excellent job for us at Kansas," Deware said.  "Both Bobby and Rick showed instant chemistry at Kansas, and we look forward to what they can achieve as a team in 2014."
Heading into Daytona, Grewohl has that start and the Daytona pre-season test under his belt.
"Rick Markle and the crew did a fantastic job to take this car from a bare frame, and turning it into a superspeedway car in three weeks," Grewohl said. "We picked up speed throughout the test, and the car drafted really well, so we'll be competitive when we roll back to Daytona in February."
Team owners John Fox and Scott Deware added that veteran ARCA driver and crew chief Rick Markle will be calling the shots this year.
"We're looking forward to 2014, and beyond," said owner John Fox. "Bobby is a great addition to our team, and we're looking forward to having him our car this season."
Grewohl got interested in racing at a young age, through watching races as a kid with his father.
"One year, I asked my dad if I could get a motor cycle or a go-kart," Grewohl told me in an interview last February. "I was able to choose one and I chose the go-kart.  After lots of practice in the parking lot of the local high school, I finished third in my class at my first race in Sacramento, CA.  I was hooked from that moment and decided this is what I wanted to do. I haven't looked back since."
Since then, Grewohl has found success each step of the way, catching the attention of Chip Ganassi. Ganassi called Grewohl in 2003 to ask the then 17-year-old to come drive for him.
"Well, I actually thought it was a joke," Grewohl said. "I got call from a number I didn't recognize and I didn't actually believe it until I was put on hold and I heard a recording of all their wins playing in the background.  The fact that Chip made a point to call me himself was incredible.  I soon packed my bags and went to start training with the team. That call was a dream come true."
In his racing career to date, Grewohl has had many memorable moments, including a special test at Kentucky Motor Speedway.
"I had been invited to Kentucky Motor Speedway where I was to test for my Indy Racing League driver's license," he said. "Brian Barnhart and Tony George were there.  I had never been at this track or driven an Indy Pro Series Car.  They are testing you to see how you listen, follow directions, how attentive you are and how you interact with the engineers. I took the car out for a couple of shakedown laps and was told to bring it back in.  How you enter and leave the pits is also being looked at.
"After checking the car, they sent me back out and turned me loose. I was given my IRL License on my 3rd lap and broke the previous year's qualifying lap record on my 6th lap.  It doesn't get any better than this for a kid with dreams of racing professionally."