Richard Childress Racing tops speed charts; Stewart-Haas blows some engines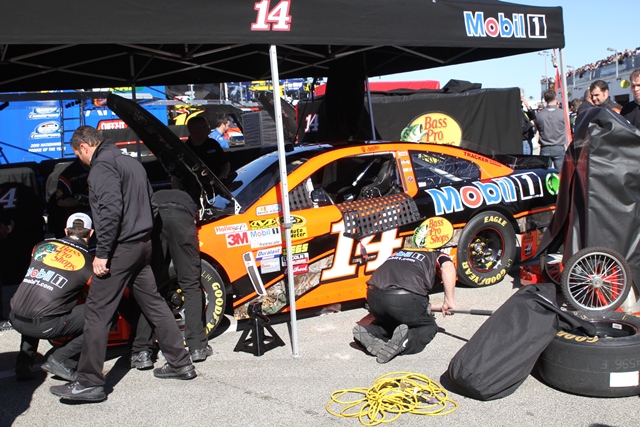 Richard Childress Racing came down looking to have success and make a statement. After all, they were bringing back the legendary No. 3 with rookie Austin Dillon. So far, things are going according to plan as RCR cars topped the charts both sessions.
In the first practice, it was Paul Menard topping the charts with a lap of 46.144 seconds ahead of his RCR teammate Ryan Newman. Newman enters his first year at RCR after spending the last couple of seasons at Stewart-Haas Racing.
"I'm really excited about working with everybody," he said last weekend at the Canadian Motorsports Expo. "It's the biggest organization that I've been apart of. I was with Penske before with two Cup teams, then SHR with three Cup teams and now at RCR with three Cup teams and a couple Nationwide teams. Richard as a hands on owner reminds me a lot of Don Miller, who was at Penske Racing and he was like the Roger Penske at Penske Racing because Roger was never there. Having that hands on approach and the personality that he has had and the success he had had with making the Chase each year shows they have the parts and pieces."
Joe Gibbs Racing driver Matt Kenseth was third fastest followed by the other two RCR cars – Austin Dillon and Brian Scott. Funiture Row Racing's Martin Truex Jr. was sixth followed by Greg Biffle, Marcos Ambrose, Joey Logano and Trevor Bayne.
In the second session, Newman topped the charts with a lap of 46.072 seconds ahead of teammate Dillon. Rookie Kyle Larson was third in his Chip Ganassi Racing entry, ahead of Kevin Harvick and Casey Mears. Ambrose was sixth followed by Biffle, Brian Scott, Jimmie Johnson and Aric Almirola.
While RCR experienced success, Stewart-Haas Racing suffered a blow as two of their motors blew up. Both Tony Stewart and Danica Patrick blew their motors, along with Phoenix Racing's Bobby Labonte. All three are using Hendrick Motorsports engines.
Hendrick Motorsports' General Manger Doug Duchardt told Fox Sports that they believe they have the motor issue under control.
"Across the board we're trying to do the best we can for those two laps. As we worked through the process, we've been pushing the limits and found the limit now," he commented. "We think we know what is happening and understand what is happening so we'll confirm them when we get the motors from NASCAR and tear them down. We don't think that we'll have an issue as we move forward the rest of the week."
HMS' Director of Track Support for the Engine Department Scott Maxim said that the issue was in the bottom end of the motor.
"We'll be all right," Maxim said. "We'll make the changes needed and I think that we'll be able to make corrective action. We'll be able to look the engines over closely and make sure we're not going into tomorrow with an issue and then after that, we'll be all good."
The Sprint Cup Series cars will take to the high banks of Daytona for qualifying on Sunday afternoon at 1:05pm EST.