Racing Excitement Returns to Franklin County Speedway on Sunday After Weekend Washout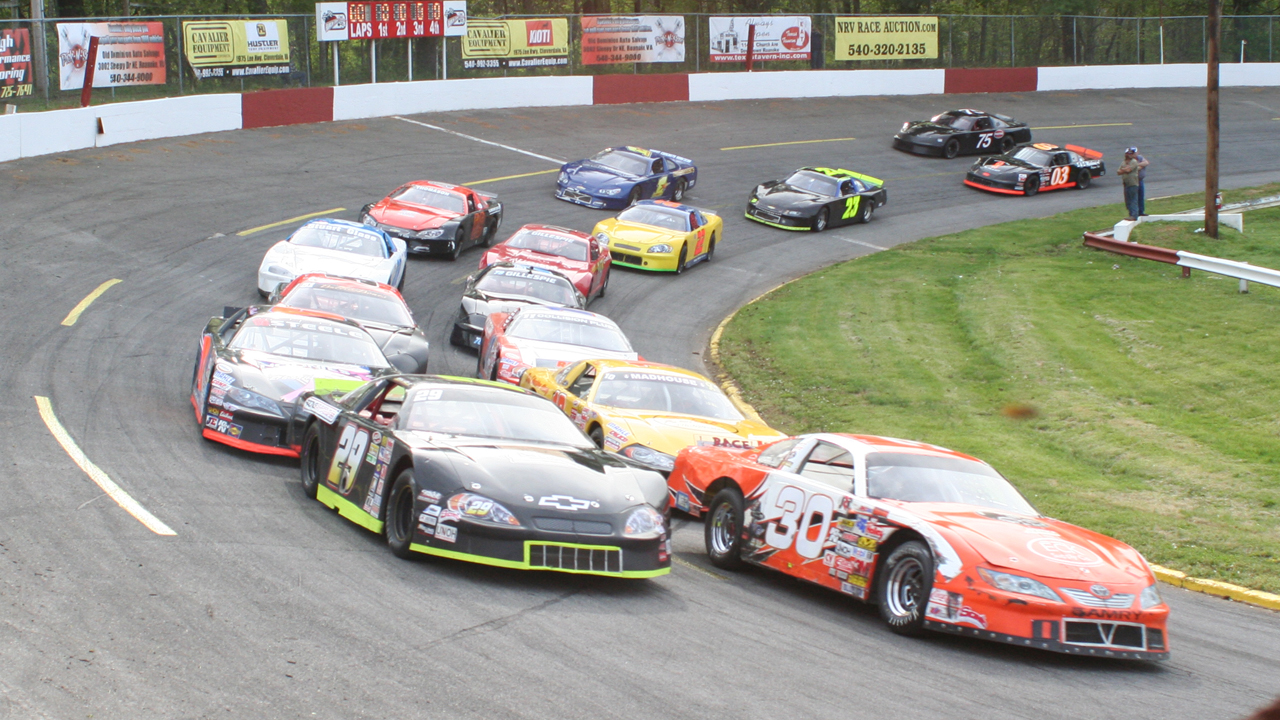 CALLAWAY, VA :: Franklin County Speedway is set for a Sunday matinee after weekend rain forced the track to postpone Saturday night's racing program and reschedule for Sunday, May 18th.  Sunday's race will feature a unique "All-Star" style Late Model feature and daytime fireworks and an unprecedented bounty on Street Stock racer Danny Bush.  In addition to the on-track action, Tickle, from the Discovery Channel show "Moonshiners", will be on hand as the grand marshal.
The format for the "All-Star" style Late Model race is still being finalized and will be announced in the coming days.  A similar style event was run during the 2013 season in a segmented race where Kyle Duley picked up the victory.  The Late Model race won't be the only show.  Sunday's race will also feature a $200-to-win U-CAR feature which could draw one of the largest fields in the region.  A bounty on Danny Bush, which was announced last week, which offers up to $1,000 to anyone that can beat Bush also remains in effect.  The bounty is contingent on the size of the field.
"NASCAR's running their All-Star race on Saturday night so we thought we'd run one on Sunday," track promoter Langley Austin said.  "There really isn't anything like it in Late Model Stock Car racing.  Some tracks do inversions for twin races but nobody does a segmented race and it's certainly going to be exciting to watch, especially with the car counts we're getting this season."
Fans will be treated to a daytime fireworks spectacle during Sunday's race.  The daytime fireworks display will feature colored smoke, parachutes and more.  There will also be kids' activities at the track.  Along with those activities, a kid's bicycle race and street drag races will be held as part of Franklin County Speedway's traditional pre-race ceremonies.
Tickle, from the Discovery Channel television series Moonshiners, will be on hand for Sunday's race and will serve as the grand marshal along with signing autographs and meeting with fans.  He will also test out Franklin County, Virginia's recipes in homage to the county's tradition as the "Moonshine Capital of the World".
"We're excited about everything going on this upcoming Sunday," Austin remarked.  "Obviously we hate it anytime a race is rained out but we're glad everything is lined up for Sunday.  We're glad to have Tickle coming back this weekend and I think the daytime fireworks show will be spectacular."
The Old Dominion Auto Salvage Pick-N-Save 200 will feature the All-Star style Late Model feature, 30 laps for the Street Stocks, 25 laps for Mod-4, Mini Cups, U-CARS and Street ModZ and 10 laps for the Beginner Mini Cup race.
For more information on Franklin County Speedway, visit the track website at www.fcspeedway.com, "like" Franklin County Speedway on Facebook or follow @FranklinCoSwy on Twitter.