Tracking the Short Tracks: Outlaw Modified competitor Lisa Hodgkinson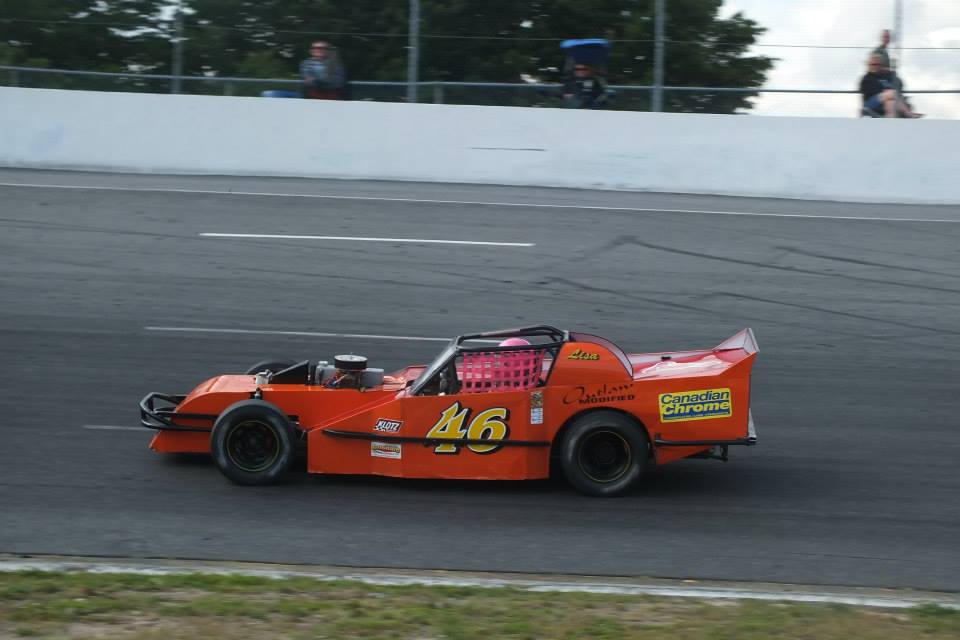 With her family involved in racing since she was real young, Lisa Hodgkinson jumped at the chance to get behind the wheel in beginning to compete with the Outlaw Modifieds. Hodgkinson has done well so far in her career, picking up his first career heat win in his third time out on track.
With the new season set to start late this month, Lisa tackled the questions that have become common practice for everyone featured in these series of interviews.
1. How did you get started in racing?
My family has been into racing for as long as I have been alive!  As a young girl (back in the day when kids were not allowed in the pits), my brother and I found our first independence as spectators at race tracks all over Ontario!  My earliest memories were when Dad ran a mini stock at Sauble and Varney Speedways every weekend.  My mother would pack a bag for Cliff and I – it had a blanket for the bench, some snacks and some pocket money; and we were on our own!  We were always there early and would climb to the top bench of the stands and get set up for the night. We had great fun as young siblings betting on cars from other divisions and cheering on my dad when it was his turn to race.
As for my debut behind the wheel, I only recently thought to check out the view from the driver's seat 3 years ago – when I turned 40.  Need I say more? LOL
2. First racing memory
I guess I mentioned that above, but a significant event that sticks in my mind was when my dad's OMSA champion car started on fire at Sauble Speedway.
Then, as far as my own racing memories: my first heat win, of course!  It happened on my third night out on the track at Flamboro Speedway!  I had been giving up my starting position out of fear of causing havoc, but on this night, a little voice in my head said, "Lisa, sooner or later, you are going to need to start where you pull."  And so I did!  I pulled #3 and that's where I started.  But it's not where I finished!!  God – I LOVE the feeling of passing another car!!  :-)
3. If you could be sponsored by any beverage, who would it be?
Oh dear.  If I tell the truth here, I know I will never live it down in the pits.  But I can't lie.  The few times I've tried, I've been caught. And punished.  So, I guess if truth prevails, I will have to pick the Japanese beverage company, Asahi, for their bottle cold, un-sweetened green tea!!
4. Story behind your number
Well, I'd like to tell you it's because as a toddler I was fascinated by Travis Tiller, or even that as a teenager I had a big crush on Bill Zardo, Sr … but … it would be that lie thing again.
The truth: it's the street number of the yoga boutique I own on Princess Street in Waterloo and I thought it would look cool out on the track beside my dad in #36 and my brother, who has a #6 and a #16!!
5. If you have a nickname, what is it?
Alas.  Orange Crush.  Earned it the night, after my first heat win, I paid a hard visit to the wall in the feature.  My car was crushed, my racing budget was crushed, and my ego was crushed, too.
6. If you could race any Nascar driver, who and why?
I suppose everyone is expecting me to say Danica.  Okay, I'll bite.  No, wait! I changed my mind.  It's a fantasy, right? So, I'm gonna go with Johnny "Madman" Mantz instead.  He won his only race the same night he was also posted as slowest in the field!  He gets his 1950 Plymouth and I get my Esslinger-powered Orange Crush!
7. What's your life like outside of racing?  Hobbies?
Thank God. The questions finally got easier.  I travel!  I've made it to over 30 countries to date; could've been over 60 but I went back to 13 of them for 2nd and 3rd visits!  I'm fascinated by other cultures and other ways of being. I teach World Religions and Indigenous People in a Global Context in a Kitchener high school.  And, I run a small yoga boutique in Waterloo, Soul Awakenings; that I mentioned earlier is on 46 Princess!  LOL
8. If you were an animal, what animal would it be?
Hmmmm.  A tiger.  A white tiger.
9.  Favourite pizza topping
Cheese.  And olives.  And onions.
10. Dream vacation spot
Hmmm.  I dream of seeing a polar bear in the wild.  And I dream of staying in an ice hotel in Sweden.  And, I dream of a cruise through the fiords of Norway.  And, I dream of a month wandering the beaches of Africa.
11. If you were stuck on an island, what would it have to have?
Potable water.  Just kidding.  A yoga mat.  And live streaming internet, of course, so I could watch my brother race my father, and remind them to say thank you to my mom – because she's the one who loads the trucks!!
12. Favourite book
The Art of Racing in the Rain.  I laughed, I cried!  Can't wait for the movie!
13. Favourite movie
The Last Samurai
14. Favourite piece of technology
My BlackBerry!  (Hope you're reading this, Mike L.  I'm still holding out!)
15. Sponsors and people you would like to thank
My mom, dad and brother who make it all possible.  [When I came home from living in Asia 12 years, my brother told me: "It's time for YOU to get your hands dirty".  And dirty they got.]   And this year to my coach and co-driver, Shawn McGlynn, who keeps telling me he's gonna make me go fast … in my third season driving the Soul Awakenings Car #46.
Previous Tracking the Short Tracks Pieces…
April 2nd: Hanover Holiday Modified Competitor Bobby Tolton
April 7th: Varney Motor Speedway Mini Stock Competitor Scott Schuleter
April 8th: Sunset Speedway Super Stock Competitor Coltin Everingham
April 10th: Sunset Speedway 2013 Rookie of the Year Nick Tooley
April 14th: Peterborough Speedway Mini Stock Competitor Donovan Price
April 16th: Sunset Speedway Mini Stock Competitor Brandon McFerran
April 18th: Lucas Oil Sportsman Cup/Outlaw Modified Competitor Tim Tolton
April 22nd: Sunset Speedway Mini Stock Competitor Samantha Shaw
April 24th: Peterborough Speedway Mini Stock Competitor Rob Gosse
April 28th: Sunset Speedway Mini Stock Competitor Lisa DeLeeuw
April 30th: Sunset Speedway Mini Stock Competitor Brian Love
May 2nd: Sauble Speedway Mini Stock Competitor Morgan Robson
May 5th: Barrie Speedway Thunder Car Competitor Robbie Sikes
May 7th: Capital City Speedway Mini Stock Competitor Robert Hill
May 9th: Sunset Speedway Mini Stock Competitor Jake Watson
If you would like to be featured, send me an e-mail at ashleymccubbin@speedwaymedia.com.