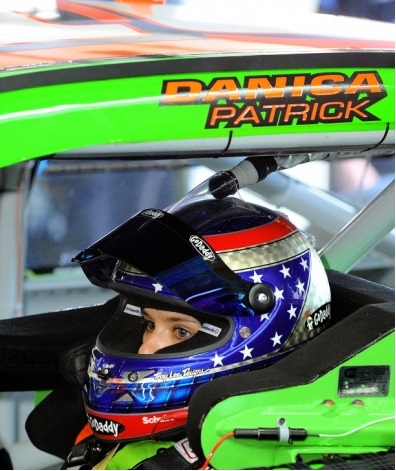 After having the fastest run in the second round of knock-out qualifying, driver of the No. 10 GoDaddy Chevrolet, Danica Patrick, qualified fourth for the Coca-Cola 600 this Sunday at Charlotte Motor Speedway.  This marks Patrick's third top-ten start in the past three weeks, starting seventh at Talladega and ninth at Kansas.
Patrick's recent improvements have captured the attention of fans and media alike.  She posted her Sprint Cup Series career best finish two weeks ago at Kansas Speedway, where she finished in seventh position.  That finish marked her second-top 10 finish in her Sprint Cup Series career.  Her other top-10 finish was in the first race of the 2013 season at Daytona International Raceway, where she sat on the pole and finished the Daytona 500 in eighth position.
Patrick's fourth place qualifying run on Thursday suggests that her new found momentum will continue this weekend at Charlotte.
Patrick commented on her run, "The car was really good.  I think the big difference that came for me was in the second round.  Tony Gibson (crew chief) made really good adjustments and anticipated the offset from run one to run two really well and the balance was really good.  I did that 20 whatever seven which was the quickest in the second group.  We have a lot to be proud of.  I mean let's face it this is the part of the weekend that I dreaded every time.  I had to train myself to not say I hate qualifying.  We were third in a round, we were first in a round and we were fourth in a round.  A lot to be proud of at Stewart-Haas and for the GoDaddy car and it's going to give us a great starting spot for Sunday."
With the track conditions changing dramatically from practice to qualifying, Patrick was asked how her team avoided the challenging track conditions.  She replied, "I think one of the things that happens when your team gives you a really good race car is you don't notice the track being off as much.  It never feels super low grip.  Even in the heat of the day today I told the guys 'I really honestly don't feel like the grip level is all that much different than when we were here last weekend for the All-Star weekend and it was far cooler.' That is a product of good race cars and they have a lot to be proud of at the shop."
Patrick feels that running the Showdown last weekend, in hopes of racing her way into the Sprint All-Star Race, was good practice for this weekend.  She said, "Anytime you can have track time at a track you are going to race at is good for learning.  It's good for repetition, it's good for learning about your car, so we would have loved to have been in the All-Star weekend, but it wasn't meant to be.  We are doing okay here and we've got another practice before the race."
The green flag will fall on the Coca-Cola 600 on Sunday at 6pm local time as Danica looks to continue her momentum at Charlotte Motor Speedway.