Kyle Busch dominates Lucas Oil 200 at Dover International Speedway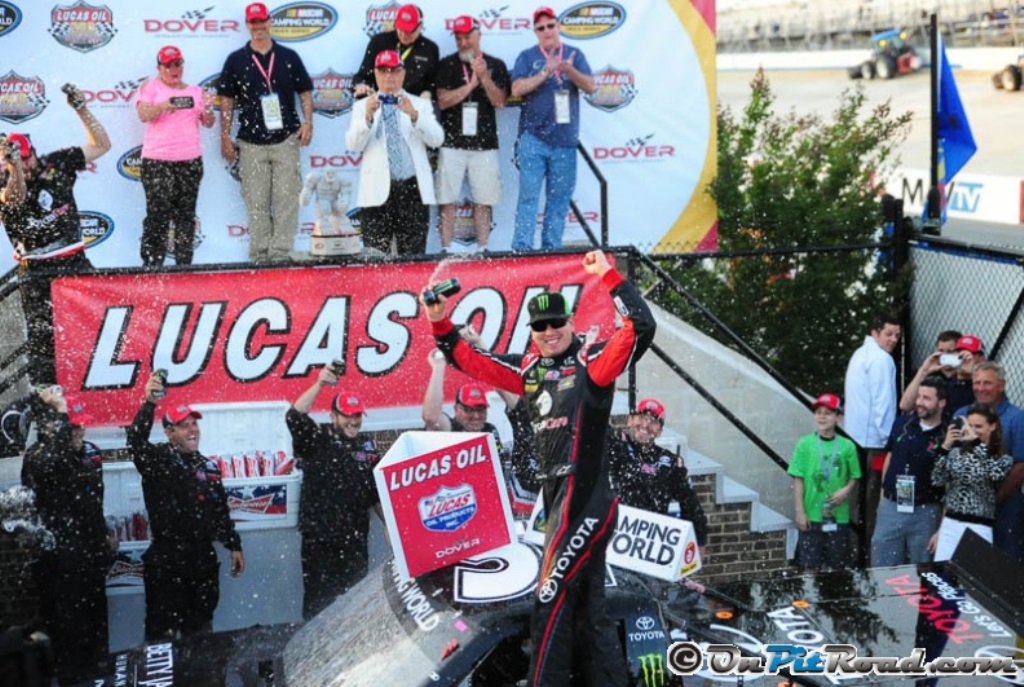 On Friday afternoon at Dover International Speedway, it was all Kyle Busch as he dominated, leading 150 of the 200 laps on his way to winning the Lucas Oil 200. It marks Busch's fourth victory this year in four starts.
"I can't say enough about everyone on this Kyle Busch Motorsports team, everyone at Kyle Busch Motorsports chassis — they are building us some awesome chassis — they're fast," Busch commented. "I just want to say thanks to Toyota and the Toyota cares that we had the Betty Jane France Humanitarian Award with us this week. I know the submissions are over, but it's a great award at the end of the year that goes to the people that help the kids in their community the most. We appreciate people being able to do that and reminds us a lot of the Kyle Busch Foundation."
Busch would lead from the pole all the way till lap 74 when he'd head down pit road under green just as the caution flew for Brennan Newberry wrecking on the frontstretch. Eric Phillips made the heads-up call to send Busch down pit road without stopping, keeping Busch on the lead lap. Busch would lose his track position, restarting seventh. He would then work his way through the field, passing Matt Crafton at lap 121 for the lead and never looking back.
"I've been loose in traffic even by leading just coming up on lapped trucks and everything," Busch commented. "I basically came down pit road there when we were coming in for our stop and I said, 'Hey, now that I'm going to be further back in traffic make sure you tighten me up some just to put some extra wedge in and put some extra track bar to it.' Sometime to help secure the back of the truck just to make sure that I didn't make a mistake back in traffic. It certainly took me a little bit to get back up to the front. I got to third real quick and then I just kind of stalled out there.
"The 88 (Matt Crafton) was really good. I hate to see Matt have trouble like that especially hits like that. I mean, man, I hope he's alright. The 29 (Ryan Blaney) was fast. So, the 88 and the 29 we knew were in our league and those were the guys that we were going to race and those are the guys that I had the hardest time passing. But, overall, I just kind of bided my time. Knew I had a long ways to go."
Ryan Blaney would run in the top-five all day, finishing second. It marks a good rebound for the second-generation driver following the bad luck that he has suffered the past two races. Johnny Sauter kept his consistency going, finishing third.
"It was an eventful day," Sauter noted. "Just proud of everybody at ThorSport. Proud of my guys in the pits today. They were phenomenal. They've done a lot of work making that matter and I think that this finish has probably a lot to do with that. Our Nextant Aerospace/Curb Records Toyota was really good on the long run, I just lacked short run speed and kind of did all day like we talked about on the pre-race show. I just didn't run my fastest lap in practice until lap 18."
Brandon Jones and Joey Coulter rounded out the top five, followed by John Hunter Nemechek, Ben Kennedy, Tyler Reddick, German Quiroga and Timothy Peters. Notably, due to Busch's speed, only seven trucks finished on the lead lap.
Gray Gaulding and Ben Rhodes were both running in the top 10 today, though wrecked out with 29 laps to go due to Quiroga getting loose and making contact with Gaulding.
"They gave me a great truck, but without practice, we were in a bad predicament," Rhodes commented. "I was really loose at the beginning, fell back a bunch of spots. We were climbing our way back up through there. The 77 was passing the 20 – I was trying to go high and the 77 got aero loose, into the 20 and I was in the bad spot at the wrong time."
Matt Crafton came in as the points leader, though had a tire go down while running in second spot, resulting in heavy contact with the wall with 45 laps to go.
"Just the right front went down. Just didn't give me a lot of warning," Crafton commented. "All of the sudden it went boom and it was good. First run we were good, second run we were a little off and we were trying to get it back to where it needed to be. We free'd it up a little too much, and I thought that we'd be in good shape for the end of the race."
As a result, Peters moves into the points lead, one point ahead of Crafton and Sauter.