Marcos Ambrose dominates Zippo 200 at The Glen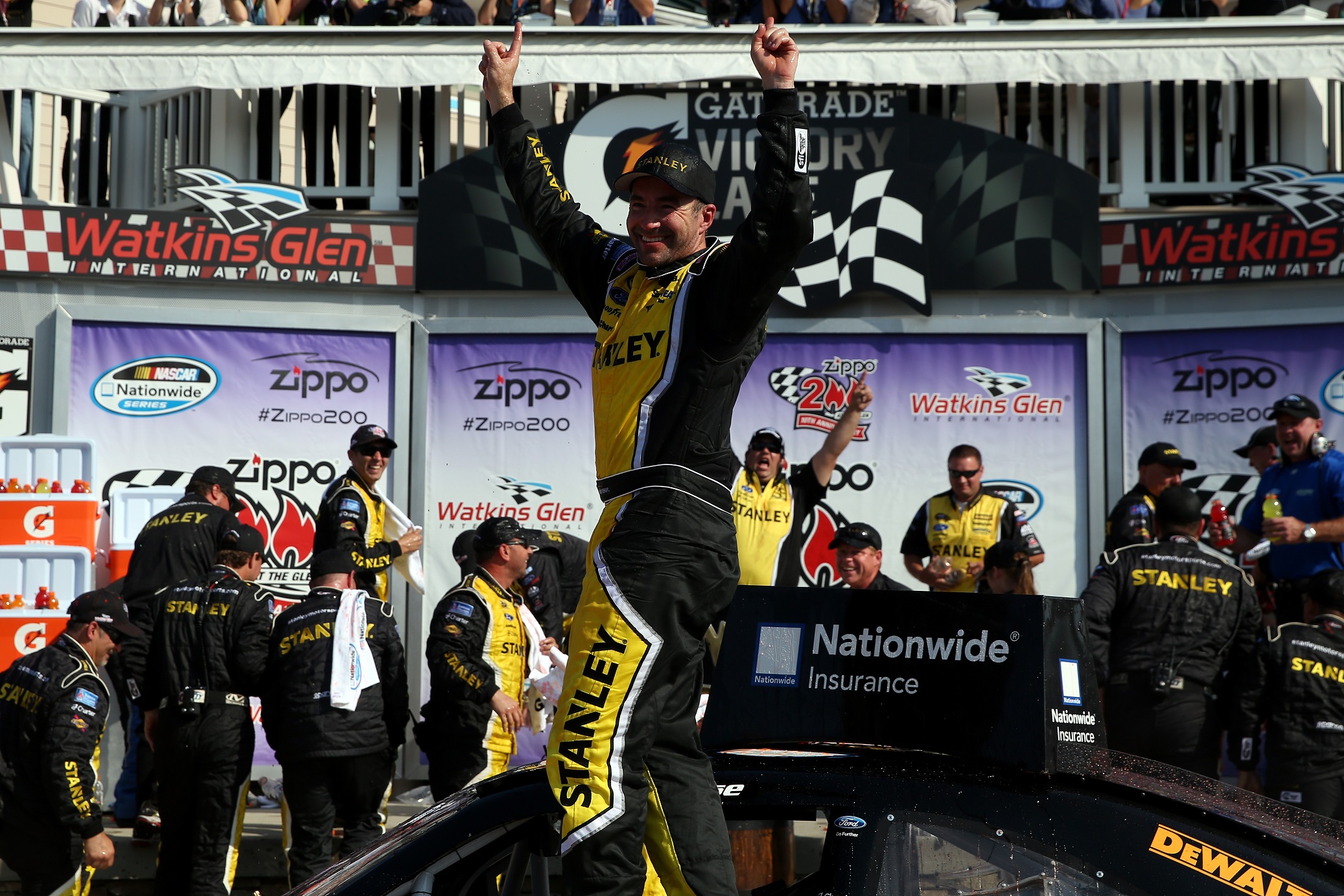 Just a few hours after qualifying second for the Sprint Sup Series race at Watkins Glen, Marcos Ambrose puts on a dominating performance in the Nationwide Series Zippo 200 at The Glen.
Ambrose, driving the No. 09 Stanley Tools Ford Mustang for Richard Petty Motorsports, led 48 of 82 laps en route to victory. Saturday's win was the fourth consecutive win for Ambrose in the Nationwide Series at Watkins Glen. The win also made him the all-time Nationwide Series race wins leader on road courses.
The Australian native, talked about his dominating performance, "I just got to thank Nationwide Insurance for just a great series, my team, RPM, the King fantastic, Stanley, Ford Racing, everyone involved, this is a one race a year deal right here and we won it."
Ambrose held off a hard charging Kyle Busch in the closing laps. At one point, he made contact with a lapped car with a just a few laps to go, causing slight damage to the left front of his Stanley Tools Ford.
Like Ambrose, Busch also had a fast car all day. In the early stages, Busch was attempting to pass Ambrose, when Ambrose appeared to cut down slightly making contact with the No. 54 sending both cars spinning. In victory lane, Ambrose was asked about the incident. He replied, "No harm, no foul, you know. Spotter said he was sticking his nose in and I kind of half closed the door and made contact. I knew it wasn't over that's for sure."
Busch, however, had a slightly different viewpoint, saying, "…. Trying to make on somebody that don't give a crap, he just turned into me and we spun out. That put us behind, but we come back and you know, got second, so that's it."
Roush-Fenway driver, Trevor Bayne, had an eventful day as he was involved in the first three caution flags. Bayne made contact with several drivers, including JJ Yeley, who ended up hard in the outside wall. Yeley, obviously upset with Bayne for not giving him more room on the outside of a left hand turn, saying he had no chance to pass out there anyway.
Tempers also flared between Regan Smith, and Dylan Kwasniewski. Kwasniewski seemed to cut Smith off on two separate occasions. Smith went to Kwasniewski's car after the event to discuss the on track incident. Smith was asked what he said to the rookie driver, he replied, "I had two runs on him, the second time I just didn't give, it wasn't the point in the race to give and I explained that to him, He said he wasn't going to wreck me, he just wanted to show me he was mad, so it – somebody's got to be around a little bit longer before they start doing that stuff though, I get it."
Behind Ambrose and Busch, Joey Logano, Brad Keselowski and Matt Kenseth rounded out the top-5. Points leader, Chase Elliott ended the day in sixth place and maintained his position atop the standings.