AJ Allmendinger barely hangs in there to win the Cheez-It 355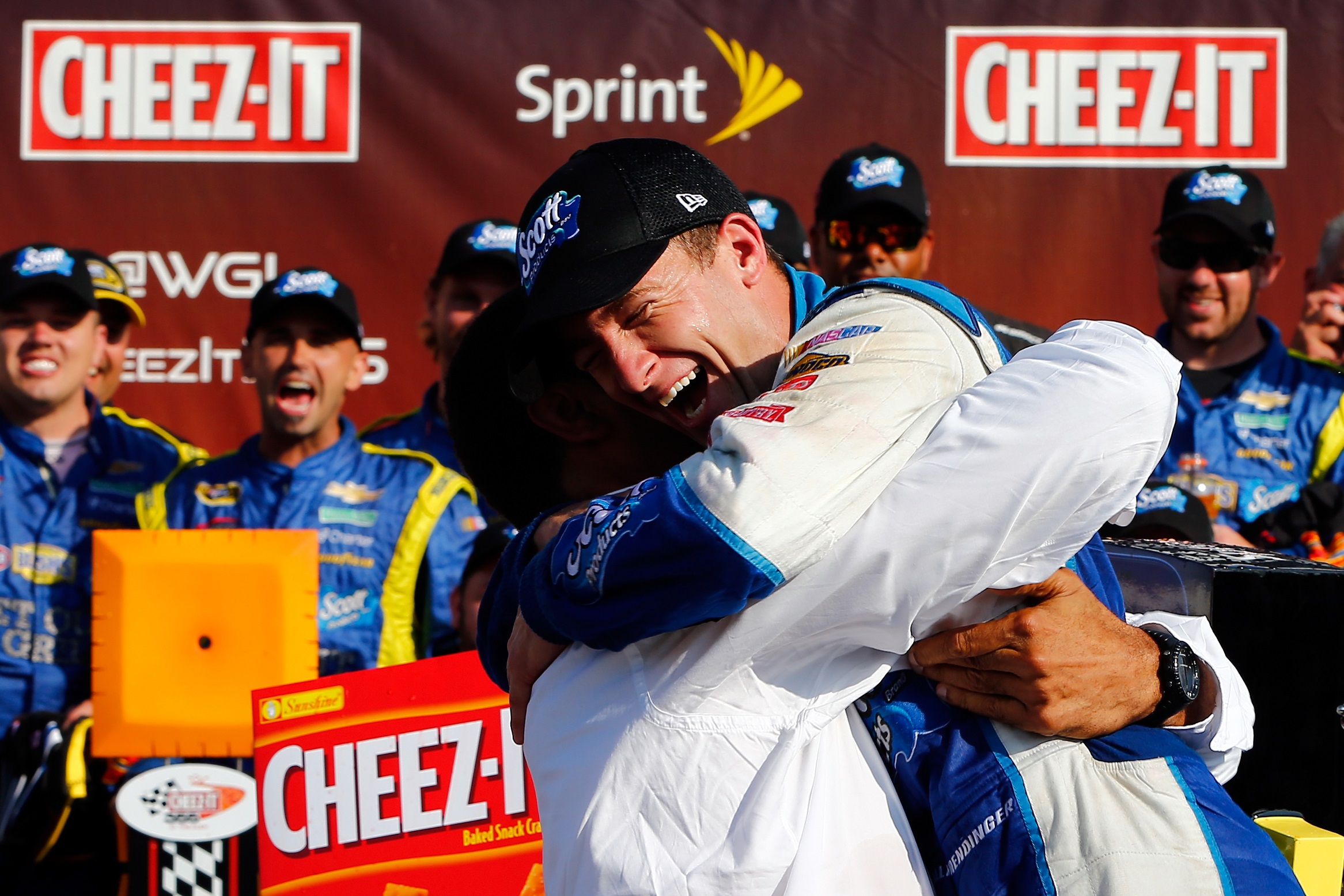 AJ Allmendinger barely hangs in there to win the Cheez-It 355
AJ Allmendinger became part of an elite club Sunday at Watkins Glen International. He became a winner in the Sprint Cup series. It didn't come easy though, AJ had to hold off a hard charging Marcos Ambrose, overcome three red flags equaling up to almost two hours of a break between racing, and a record tying day of cautions.
When he did win it though, it was a scene of joy and happiness. "We won a Sprint Cup race. We won a Sprint Cup race," yelled Allmendinger at the end of his Victory Lane interview. "I wasn't going to let Marcos Ambrose take that from me."
Ambrose and Allmendinger put up an excellent fight all the way to the finish, but in the end it was Ambrose who would end up one spot short – but he showed sportsmanship rather than anger and hatred toward the driver of the 47. "First of all, congratulations to AJ, because I was giving it all I had to rattle his cage. I'm really proud of my team."
Coming in third was Kurt Busch and rookie Kyle Larson finished fourth. Carl Edwards rounded out the top five in fifth.
The race started with heavy hearts when we learned that Tony Stewart wouldn't be racing because extenuating circumstances off of the race track. Instead, Regan Smith had to start the car from the tail end of the longest line. His day seemed to be going uphill as he climbed his way up to the middle of the pack. His day was ended prematurely during the second to last caution period when Jimmie Johnson spun around and Smith clipped him as he tried avoiding it.
"My day really doesn't matter right now," Smith said. "There are a lot of people more important than me at the moment, so we're thinking about all those people and our prayers are with them."
The race had more than just one caution though, it had eight. The first came on lap 10 when Cole Whitt crashed and somehow found his way under the tire barrier. Whitt claimed afterwards that his brakes went out before the collision, fortunately he was able to walk away from the wreck OK.
Right after a restart later on in the race, Greg Biffle became a little loose on exit of a corner, causing Ryan Newman to make contact with him. Newman then slammed into the wall, then came back onto the track and collected Michael McDowell. When the dust settled, and the car parts stopped flying, officials called a red flag when they found that the barrier was broken by McDowell's car, and there were car parts all over the track.
After almost an hour under the red flag, driver returned to their cars and went back to battle.
The race went on and with less than twenty laps to go, the red came out again when Denny Hamlin slammed into the barrels full of gravel at the entrance of pit road. A second car, the No. 33, was also involved.
After the mess was cleaned up, and the engines were started, the race continued on and eventually, almost five hours after the green, AJ Allmendinger held off Ambrose for his first career victory.
Some big names some thought were going to be a force to reckon with like Kyle Busch, Jeff Gordon, and Brad Keselowski, had some rough days.
Kyle Busch's bad day started when he came in under a green flag pit stop, and left with his gas can. Not long after, Busch got in to it with Martin Truex Jr. A few laps later, Busch was in the wall with mechanical issues.
Gordon, who had been fast and led a few laps early on in the race, lost power and brought out a caution. His team was able to get the car started back up, but when his car got back out on track, he was a grisly four laps down.
Brad Keselowski had to suffer with brake issues after getting his nose knocked in after some contact with Matt Kenseth. After a while, he was brought to the garage, and by the time he was able to get back on to the track, he was too far back to make any noise.
Dale Earnhardt Jr, was able to capitalize on Gordon's bad day, and leave Watkins Glen with the series points lead.
All in all, in a day that rivaled Daytona and Bristol races, AJ Allmendinger was able to walk away a winner.
Results –
AJ Allmendinger
Marcos Ambrose
Kurt Busch
Kyle Larson
Carl Edwards
Joey Logano
Kevin Harvick
Greg Biffle
Matt Kenseth
Brian Vickers
Dale Earnhardt Jr
Kasey Kahne
Martin Truex Jr
Jamie McMurray
Casey Mears
Austin Dillon
Justin Allgaier
Aric Almirola
David Ragan
Ricky Stenhouse Jr
Danica Patrick
David Gilliland
Reed Sorenson
Denny Hamlin
Boris Said
Nelson Piquet Jr
Clint Bowyer
Jimmie Johnson
Landon Cassil
Joe Nemechek
Michael Annett
Paul Menard
Alex Kennedy
Jeff Gordon
Brad Keselowski
Alex Bowman
Regan Smith
Josh Wise
Ryan Truex
Kyle Busch
Ryan Newman
Michael McDowell
Cole Whitt