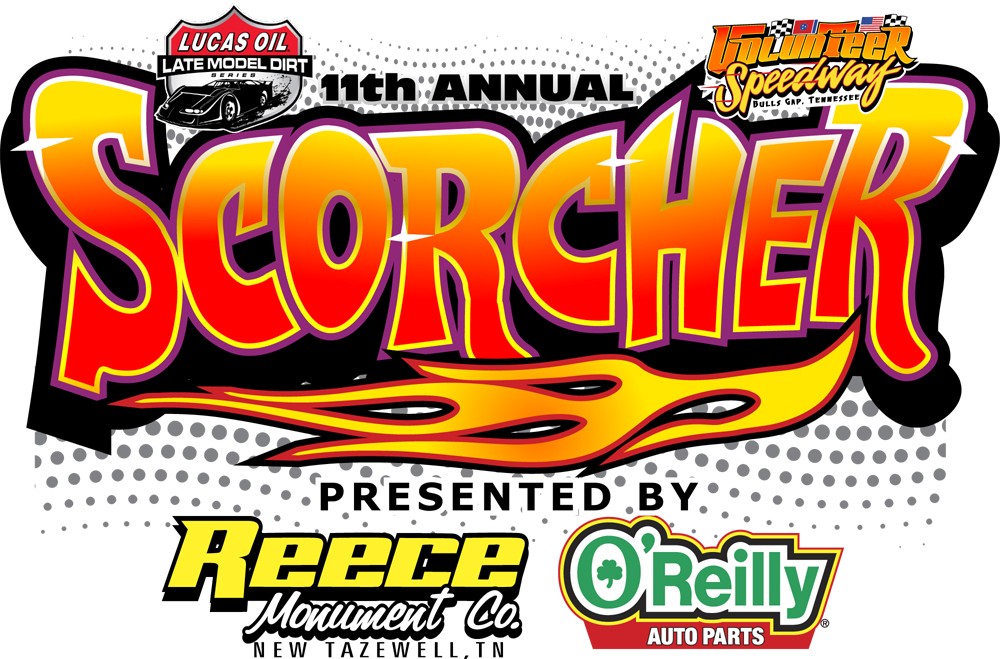 BULLS GAP, Tenn. — The Lucas Oil Late Model Dirt Series $10,000-to-win 11th annual Scorcher presented by Reece Monument Co. of Tazewell and O'Reilly Auto Parts is scheduled Thursday, Aug. 21 at Volunteer Speedway.

Race fans from all 50 states and also from several foreign countries visit the East Tennessee region two times a year for NASCAR racing at nearby Bristol Motor Speedway. With Volunteer Speedway hosting big-purse special events in mid-week during August race-week at Bristol, many out-of-state fans in the region for the NASCAR action enjoy making the short drive down Interstate 81 to take in a night of exciting dirt racing on the high banks at "The Gap."

The Thursday, Aug. 21 racing program will be headlined by the Lucas Oil Late Model Dirt Series complete with Time Trials, Heat Races, B-Mains, and the 50-lap $10,000-to-win Scorcher — along with the Modified Hobby 25-lap feature.

Previous Scorcher winners are: Randle Chupp (2004), Rick Eckert (2005), Scott Bloomquist (2006), Chris Madden (2007), Jimmy Owens and Shane Clanton (2008), Tim McCreadie (2009), Jimmy Owens and Scott Bloomquist (2010), "The Newport Nightmare" Jimmy Owens winning his third Scorcher in 2011, Billy Ogle Jr. (2012), and Chris Madden in 2013.

Over the years NASCAR drivers Kasey Kahne, Bill Elliott, 2011 Daytona 500 winner Trevor Bayne, Ryan Newman, Clint Bowyer, Ken Schrader, along with brothers Austin and Ty Dillon (grandsons of Richard Childress), Chase Elliott (son of Awesome Bill), John King (2012 Daytona International Speedway Camping World Truck Series winner) and Joey Coulter have raced at Volunteer Speedway. 

Leading the Lucas Oil Late Model Dirt Series competitors to battle at Volunteer Speedway is defending three-time (2011, '12 and '13) series champion and current points leader Jimmy Owens of Newport, Tenn.; Don O'Neal of Martinsville, Ind., and Steve Francis of Ashland, Ky. (both driving for NASCAR Sprint Cup Series chauffeur Clint Bowyer); 2009 and '10 series champion Scott Bloomquist of Mooresburg, Tenn.; Eddie Carrier Jr. of Salt Rock, W.Va.; Earl Pearson Jr. of Jacksonville, Fla. (2005, '06, '07 and '08 Lucas Oil Late Model Dirt Series champion, driving for past NASCAR Sprint Cup Series champion Bobby Labonte); John Blankenship of Williamson, W.Va.; Jared Landers of Batesville, Ark.; Dennis Erb Jr. of Carpentersville, Ill.; Jason Hughes of Watts, Okla.; Jason Papich of Nipomo, Calif., along with possibly others such as Chris Madden of Gray Court, S.C.; Dale McDowell of Chickamauga, Ga.; Eric Jacobsen of Rio Del Mar, Calif; Ray Cook of Brasstown, N.C.; Mike Marlar of Winfield, Tenn.; Jonathan Davenport of Mt. Airy, N.C., and Steve Casebolt of Richmond, Ind.

Also expect to see in action East Tennessee locals such as five-time (1997, '98, 2000, '05 and '09) Volunteer Speedway track champion Vic Hill of Morristown, former Scorcher winner Billy Ogle Jr. of Knoxville, Mark Douglas of Knoxville (2002 and '03 champion), Randy Weaver of Crossville, Stacy Boles of Clinton, Powell's Mark Vineyard, Chad Ogle of Sevierville, Maryville's Tommy Kerr, Jason Welshan of Maryville, Knoxville's Bryan Hendrix, Bobby Mays of Jonesborough, Jeff Wolfenbarger of Knoxville, plus others.

The grandstand gate will open at 5 p.m. and the pit gate opens on Thursday, Aug. 21 at 3 p.m. Drivers' meeting will be at 7:15 p.m. Hotlaps are tentatively scheduled to begin at 7:45 p.m., to be followed by time trials and then green flag racing action at 9 o'clock.

Adult grandstand admission is $30, youth (ages 11-15) $15, with kids 10-and-under admitted free in the grandstands. If you present your Friday, Aug. 15 grandstand ticket stub you will receive a $5 adult grandstand discount on Thursday, Aug. 21.

Pit passes and backside tier-parking $38, regardless of age. 

Volunteer Speedway is located just off Interstate 81 at Exit 23 (Bulls Gap/Greeneville). For more information regarding the Lucas Oil Late Model Dirt Series 11th annual Scorcher, visit the Volunteer Speedway website at www.VolunteerSpeedway.com or call the track at (423) 235-5020.