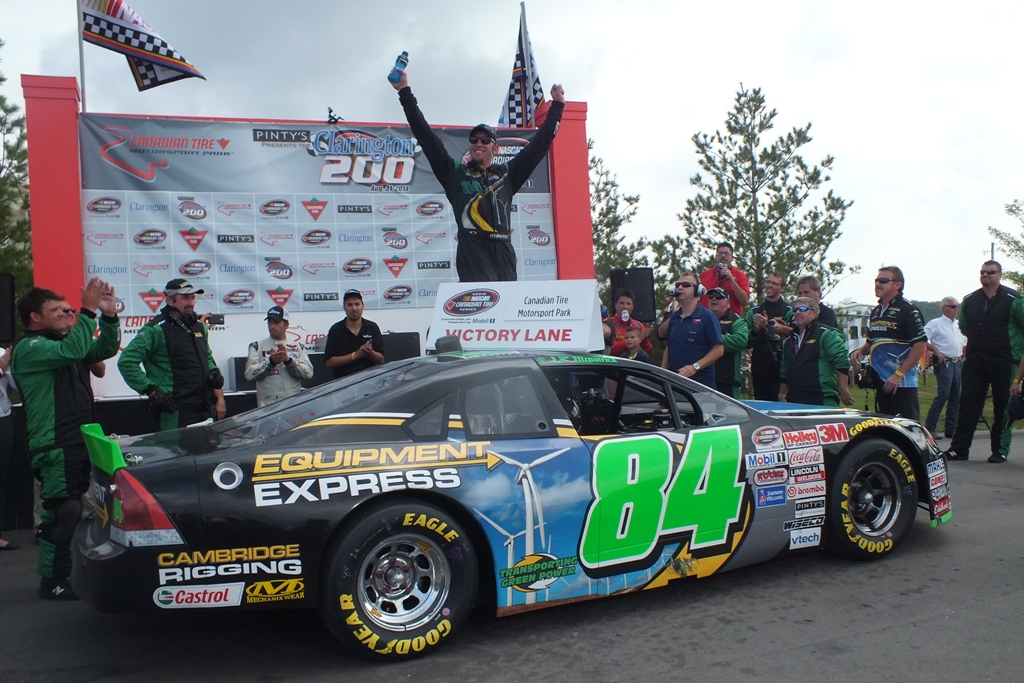 J.R. Fitzpatrick had the right pace throughout the entire race and played the right strategy en route to winning the Pinty's presents the Clarington 200. It marks Fitzpatrick's 10th career victory and his fifth at Canadian Tire Motorsports Park.
"It was a pretty good day," Fitzpatrick commented. "The car was off all weekend but we kind of battled back and got it to where it was decent. The track was different with the ratio rubber that the truck guys were putting down, so its what it is. At the end, there was oil down as well and in three and four, I hit it and Jeff was able to close the gap. I figured if I hit again on the last lap, he was going to get me. All in all, a pretty good day."
As a result of his performance, he remains second in points, now 19 points behind L.P. Dumoulin with two races left in the season.
Jeff Lapcevich tried to close on Fitzpatrick in the final laps when Fitzpatrick got sideways in some oil that was laid down on the track, however wasn't able to, therefore having to settle for second. It marks Lapcevich's third second-place finish in his last four starts at CTMP after finishing second to Dumoulin last August, and second to Fitzpatrick in May.
"It's frustrating," Lapcevich said. "We work very hard and second place is a not a finish to be disappointed about, but it's one step down from where we want to be. We'll go back and work at it again. I know I have to blame myself a little bit as I got a drive-thru penalty, which set us back and we only took two tires. That was a good call to get two-tires to get the track position back after the penalty. All in all, the Tim Hortons Dodge was fast and struggled just as much as J.R.  with the rubber; he fought loose, we fought tight, but it all worked out."
Marc-Antoine Camirand would round out the podium for his career best finish in his sixth career start, topping a sixth at CTMP last September.
"It's a good finish for White Motorsports," Camirand said. "We deserve it as we've shown the speed, but have had bad luck before. Had a good solid today. First podium for the team – really, really happy for them."
Dumoulin posted a solid fourth-place finish as he looks to hold on for his first series championship, followed by Scott Steckly. Gary Klutt finished sixth, followed by D.J. Kennington, Robin Buck, Brad Graham and Joey McColm.
Alex Tagliani was looking for a good run after debuting a new livery for the weekend, however would finish 20th after making multiple stops on pit road with the hood up for mechanical issues. He wasn't the only driver with mechanical issues as Andrew Ranger led the majority of the beginning of the race, however saw his afternoon go south as a result of motor issues, finishing 29th. Jason Hathaway would finish 30th behind him after blowing the motor while running inside the top-five.