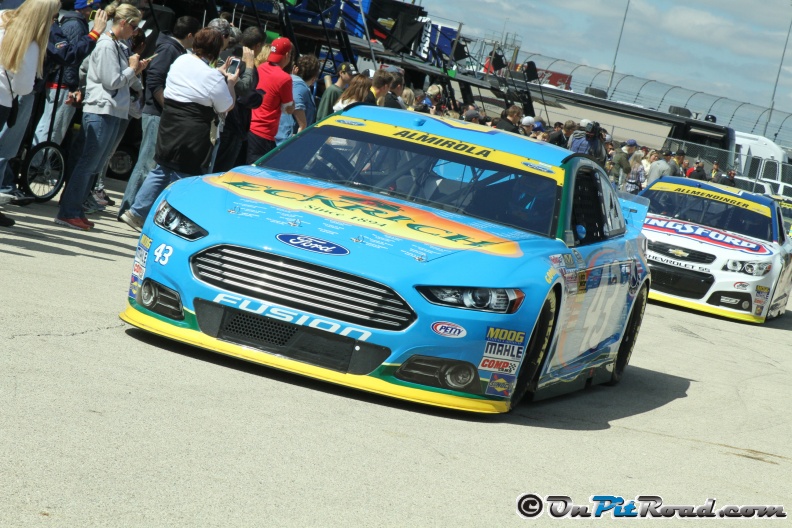 Everyone, or at least a very large majority of people, had two things in common in their Chase Grid bracket (NASCAR's version of March Madness bracketology) – Aric Almirola and AJ Allmendinger were picked to be among the first four drivers to be dropped from the sixteen driver Chase field.
While the end result may prove to be true, in Almirola's case, it definitely will not happen the way everyone thought it would.
The assumption was that Almirola, who won his way into the Chase by winning a rain shortened race at Daytona in July, would be an also ran. Not only was he not an "also ran" Sunday at Chicago, his Richard Petty Motorsports team overcame early adversity and fought their way back to the top-five.
Almirola's No. 43 Eckrich Meats Ford Fusion battled handling issues early. Lack of front and side grip led to the famous No. 43 almost losing a lap. At this point, it appeared the skeptics were going to be right.
The Trent Owens led team fought back, however. They made several chassis adjustments, picked up spots on pit road thanks to an excellent job by the pit crew, and before anyone knew it, Almirola was in the top ten. Better yet, he worked his way through the top ten battling major players like six time series champion, Jimmie Johnson and Team Penske driver, Joey Logano.
Social media lit up with tweets and posts about how well Almirola was performing. Everyone from fans to media members were excited to see the No. 43 running in the top five. As green flag pit stops began, Almirola even led two laps. Though there were a lot of people saying this team could not compete, there were just as many happy to see them doing so.
On lap 230, however, disaster struck. Smoke bellowed from the No. 43, and the news was not good. The engine expired just 37 laps from the finish. A collective gasp could be felt throughout the media center, the garage and the grandstands. In a matter of seconds, hope turned to despair. What appeared to be a sure top ten turned into a 41st place finish.
A heartbroken Aric Almirola posted on Twitter shortly after falling out of the MyAfibStory.com 400 saying, "So proud of my team! We rose to the occasion today and proved we can compete in the Chase. Heartbroken for sure but they knew we were there."
Obviously, there is still a chance for the team to advance, this just made it much more difficult. While all of those skeptical Chase Grid brackets may end up correctly having Aric Almirola dropping from contention after round one, they sure don't tell the whole story of a determined underdog team who made sure everyone else knew they were there.