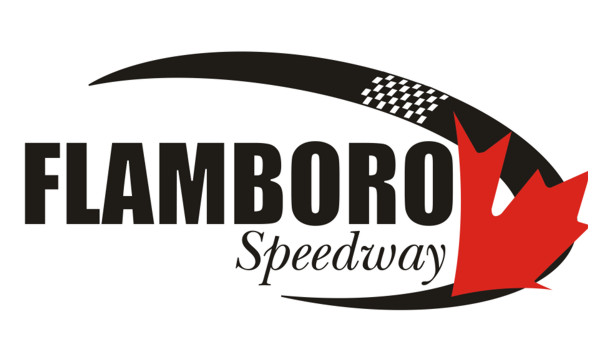 By Randy Spencer – With just three weeks left of regular racing action, we're well into Silly Season at Bennett Chevrolet Flamboro Speedway. The Late Models and Thunder Cars entered tonight's action with just two nights left so with all points races very tight, it was and is certainly going to make for some exciting racing.
This night got underway as usual with qualifying heat races. In Pure Stock action, Shawn Taylor and Gillian Hils continued their great seasons each picking up a heat win. In Mini Stocks, Chad Corcoran won two with single victories going to Blair Wickett and Mike Holmes. Shawn Chenoweth won two races in Thunder Car action with singles going to Mike Gilmour and Mark Burbridge. David Elliott won both Late Model heats with Kyle Batty and Bryan Stevanus winning in the Ontario Pro Challenge series.
Shawn Taylor and Michael Kenny led the field of twelve Pure Stocks to green in their 15 lap feature. Gillian Hils won last week's feature and was sixth in the field. Taylor led early and held off the pack for nine laps but a hard charging Josh Shantz was too much for Taylor and got by and held off Taylor and Hils picking up his first feature win since May 31st. Shantz (from Baden, Ontario) has been running very little this year in the Pure Stocks as he has focused his racing efforts in the 602 Crate Sprint on the dirt at Ohsweken Speedway where he finished fourth in the point standings this year.
Rich Schwartzenberg and Mark DaSilva were on the pole for the Mini Stock feature. As they took green an early caution as something went wrong with the 37 car of Rob Hoskins and he took a hard hit into the turn one wall. Hoskins has raced just a few races this year after breaking his arm in a farm accident. With a complete restart, Blair Wickett took advantage early and got out to a half a straight away lead. As the race wore on the lead started to shrink as Chad Corcoran (from Milton, Ontario) continued his hot night and quickly gained on the leader. By lap 20 Corcoran caught and passed Wickett and went on for a perfect three for three night.
Mike Gilmour and Kevin Albers led the Thunder Cars out for their 25 lap feature event. Albers led the race early but a caution on lap five as the 41 car of Bruce Wheller was leaking fuel. Albers led again but was challenged by Mark Burbridge who got by Albers in turn four on lap 11. Burbridge (from Brantford, Ontario) held off Albers and Shawn Chenoweth to pick up the feature win.
The Ontario Pro Challenge series made their final appearance of 2014 at Flamboro Speedway and Bryan Stevanus and Mike Taylor led the field to green for their 30 lap feature. An early caution as Justin Billington went around in turn one and collected Shawn Stones and Dan Alder. A few laps later, on lap eight,  Ken Lillycrop, Mile Westwood and Dennis Thomson got mixed up in turn 3-4 bringing out another caution. Westwood managed to make his way back up through the pack an on lap 23 he got past the 66 of Josh Nicholson to take up second spot behind the 20 of Mike Taylor who had been leading for much of the race. With four laps to go Westwood (from Milton, Ontario) made his way past Taylor and went on to pick up the feature win.
The final feature of the night was for the Grisdale Late Models. Jeff Ruddy and Nick Roth were on the point for this one. As the cars charged across the start/finish line, Roth and Ruddy got mixed up and Ruddy made a hard right into the front stretch wall. A tremendous spark show as Ruddy's car climbed the wall and came to rest at the end of the straight away in turn one. The red flag came out as emergency vehicles made sure everyone was ok. It's been a tough year for Ruddy who just recently returned to racing and won his first feature a few weeks back. David Elliott, Rick Burbridge and Brent Wheller all spun around to try to avoid the wreck and only Elliott was the only car able to finish. Although several cars were taken out, Dale Shaw and Elliott made it perhaps the most exciting action of the evening as they bashed and banged their way through several lead changes and door to door action. Shaw (from Guelph, Ontario) held off Elliott and picked up his
third feature win of the season.
That brought to a close yet another exciting night of racing. As I said there are just 2 weeks of points racing left for the Mini Stocks, Pure Stocks and Pro 4 Modifieds. The Late Models and Thunder Cars are off this week and have just one night of points racing left. Please check the website to see how close all divisions are!!
Please make plans to join us this Saturday September 20th, it's open wheel night at Flamboro Speedway featuring the Lucas Oil Canadian Vintage Modifieds, the Lucas Oil Can-Am Midgets and the Ponderosa Nature Resort Pro 4 Modifieds. Joining them for an evening of excitement are the Klotz Auto Repair and Engine Machine Shop Mini Stocks and the Ponderosa Nature Resort Pure Stocks. This will be the final appearance of the 2014 racing season at Flamboro Speedway of the Canadian Vintage Modifieds and the Can-Am Midgets. Racing starts at 6:30pm.
Please check the website, www.flamborospeedway.ca for more details including the gate times, schedule, Admission Prices for the grandstands and pits and updated point standings for all divisions.
Photos by Super Nova Photos
Unofficial Results
Pure Stock Heat #1 : #76 Shawn Taylor, #32 Gillian Hils, #70 Josh Shantz, #29 Derek Jackson, #58 Peter Becker, #6 Wayde Thorne, #74 Jaeger McMaster, #00 Rodney Rutherford, #71 Mark Thorne, #31 Rebecca Corcoran, #7 Michael Kenny, #90 Andy Wheller (P)
Pure Stock Heat #2 : #32 Gillian Hils, #76 Shawn Taylor, #70 Josh Shantz, #29 Derek Jackson, #6 Wayde Thorne, #58 Peter Becker, #00 Rodney Rutherford, #71 Mark Thorne, #31 Rebecca Corcoran, #7 Michael Kenny (DNF), #74 Jaeger McMaster (DNF), #90 Andy Wheller (P)
Pure Stock Feature : #70 Josh Shantz, #76 Shawn Taylor, #29 Derek Jackson, #32 Gillian Hils, #58 Peter Becker, #6 Wayde Thorne, #74 Jaeger McMaster, #71 Mark Thorne, #31 Rebecca Corcoran, #7 Michael Kenny, #00 Rodney Rutherford (DNF), #90 Andy Wheller (P)
Mini Stock Heat #1 : #50 Chad Corcoran, #36 Hudson Nagy, #01 Mark DaSilva, #72 Rich Schwartzenberg, #61 Chad Ditner, #5 Ken Stenhouse, #42 Rick Robinson, #05 Dave Goodacre, #62 Ashley Holmes, #03 Jake Gilbert (DNF)
Mini Stock Heat #2 : #97 Blair Wickett, #71 Russ Aicken, #13 Mike Holmes, #44 Scott Simmons, #37 Rob Hoskins, #24 Tyler Mayhew, #7 Matt Young, #10 Courtney Scott, #77 Phil Givens (P)
Mini Stock Heat #3 : #50 Chad Corcoran, #36 Hudson Nagy, #61 Chad Ditner, #5 Ken Stenhouse, #01 Mark DaSilva, #72 Rich Schwartzenberg, #03 Jake Gilbert, #42 Rick Robinson, #62 Ashley Holmes, #05 Dave Goodacre
Mini Stock Heat #4 : #13 Mike Holmes, #71 Russ Aicken, #97 Blair Wickett, #44 Scott Simmons, #37 Rob Hoskins, #7 Matt Young, #24 Tyler Mayhew, #10 Courtney Scott, #77 Phil Givens (P)
Mini Stock Feature : #50 Chad Corcoran, #97 Blair Wickett, #13 Mike Holmes, #44 Scott Simmons, #36 Hudson Nagy, #61 Chad Ditner, #03 Jake Gilbert, #71 Russ Aicken, #01 Mark DaSilva, #5 Ken Stenhouse, #42 Rick Robinson, #72 Rich Schwartzenberg (P), #05 Dave Goodacre, #62 Ashley Holmes, #7 Matt Young, #10 Courtney Scott, #24 Tyler Mayhew (DNF), #37 Rob Hoskins (DNF), #77 Phil Givens (P)
Thunder Car Heat #1 : #33 Mike Gilmour, #13 Brad Collison, #02 Mark Burbridge, #76 Shawn Arnott, #27 Kevin Albers, #7 Bobby Mercer, #5 Linda Stenhouse
Thunder Car Heat #2 : #89 Shawn Chenoweth, #74 Kelsey Lamont, #8 Steve Perry, #34 Gregg Rauscher, #41 Bruce Wheller, #81 Chris Van Dusen, #38 Stepheny Dean
Thunder Car Heat #3 : #02 Mark Burbridge, #27 Kevin Albers, #76 Shawn Arnott, #13 Brad Collison, #7 Bobby Mercer, #33 Mike Gilmour, #5 Linda Stenhouse
Thunder Car Heat #4 : #89 Shawn Chenoweth,  #8 Steve Perry, #74 Kelsey Lamont, #41 Bruce Wheller, #34 Gregg Rauscher, #38 Stepheny Dean, #81 Chris Van Dusen
Thunder Car Feature : #02 Mark Burbridge, #27 Kevin Albers, #89 Shawn Chenoweth, #76 Shawn Arnott, #13 Brad Collison, #8 Steve Perry, #7 Bobby Mercer, #33 Mike Gilmour, #74 Kelsey Lamont, #34 Gregg Rauscher, #5 Linda Stenhouse, #38 Stepheny Dean, #41 Bruce Wheller (DNF), #81 Chris Van Dusen (DNF)
Late Model Heat #1 : #37 David Elliot, #83 Dale Shaw, #9 Jeff Ruddy, #17 Nick Roth, #61 Brent Wheller, #27 Doug Pokupec, #74 Al Bowman, #2 Rick Burbridge (DNF)
Late Model Heat #2 : #37 David Elliott, #83 Dale Shaw, #9 Jeff Ruddy, #17 Nick Roth, #27 Doug Pokupec, #74 Al Bowman, #2 Rick Burbridge (DNF), #61 Brent Wheller (DNS)
Late Model Feature : #83 Dale Shaw, #37 David Elliott, #17 Nick Roth, #27 Doug Pokupec, #74 Al Bowman, #61 Brent Wheller (DNF), #9 Jeff Ruddy (DNF), #2 Rick Burbridge (DNF)
Ontario Pro Challenge Heat #1 : #33 Bryan Stevanus, #20 Mike Taylor, #8 Peter Hattin, #00 Ken Lillycrop, #16 Rick Seeley, #14 Tim Shanahan (DNF), #6 Dan Alder
Ontario Pro Challenge Heat #2 : #38 Kyle Batty, #24 Justin Billington, #66 Josh Nicholson, #02 Dennis Thomson, #91 Mike Westwood, #13 Shawn Stones, #88 Tim Norris (DNS)
Ontario Pro Challenge Feature : #91 Mike Westwood, #66 Josh Nicholson, #20 Mike Taylor, #38 Kyle Batty, #33 Bryan Stevanus, #00 Ken Lillycrop, #16 Rick Seeley, #8 Peter Hattin, #14 Tim Shanahan, #13 Shawn Stones, #02 Dennis Thomson (DNF), #88 Tim Norris (DNF), #24 Justin Billington (DNF), #6 Dan Alder (DNF)