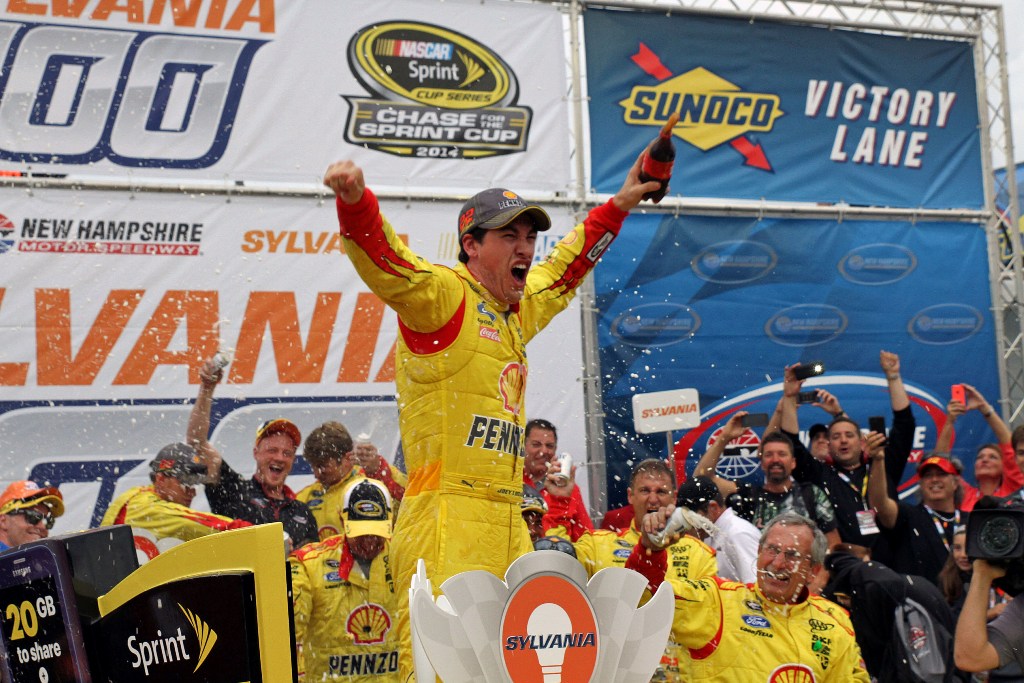 In a race long thriller that saw ups and downs for the Chase for the Sprint Cup contenders, Joey Logano would out battle Kyle Larson and Kevin Harvick on a late race restart en route to scoring the victory. It marks Logano's fourth victory of the season and the seventh of his career to date.
"I thought we gave it away but four tires were good and we had some good restarts," Logano commented. "I was able to get back up. Coolest place to win a race here. I watched my first race here at the age of 5. I'd won here before – but figured that I had to win one the right way. Just proud of this whole team and getting the win here. It's my home track, it means a lot to me."
Logano would grab the lead late in the race after sneaking by both Harvick and Brad Keselowski. He would then hold off the field in a series of late race restarts en route to the checkered flag.
"We were able to have some good restarts," the Connecticut native said. "The guys did a good job setting this up and gave me something to win with. I went to sleep just wanting a top five because this isn't one of my best places. It means a lot to win here."
With the victory, Logano joins his Team Penske teammate Brad Keselowski as one of two drivers automatically locked into the second round of the Chase.
"Feels great to be moving to the next round," he said. "Just got to keep our eyes focused on the prize."
Kyle Larson would finish second for his second straight top-three finish following a third place finish last weekend at Chicagoland Speedway as the rookie searches for his first career victory. Kevin Harvick would finish third after leading a race high 104 laps.
"Just proud of everybody on our Chevrolet," Harvick commented. "A good day for us. We had a fast car. Track position is enough and wound up being pretty hard racing there and Brad moved me out of the way, and just got back there. At the end, NASAR must not see the lines on the restart because the 22 was early all day. It was a good day."
Jamie McMurray and Jimmie Johnson would round out the top-five, followed by Aric Almirola who is looking to get into the next round of the Chase despite a blown motor last weekend. Brad Keselowski would finish seventh after starting on the pole, leading 78 laps and going for a spin during the second half of the race.
"We did have a shot," Keselowski noted. "Just missed it today on a few things. A good adversity day. It had to be a record for the amount of yellows and just wasn't that good on the restart."
Kyle Busch would bounce back to finish eighth despite being involved in a five-car wreck at lap 180 with fellow Chase contenders Kasey Kahne, Ryan Newman and Matt Kenseth after Kenseth and McMurray got together. Dale Earnhardt Jr. would finish ninth despite going down a lap after an unscheduled green flag pit stop at lap 119 for a loose wheel. Brian Vickers would round out the top-10.
Plenty of the Chase contenders had problems throughout the day, resulting in a series of poor finishes that will add drama to the final race of round one of the Chase at Dover International Speedway.
Jeff  Gordon was running inside the top 10 when he had a tire let go, resulting in contact with the wall at lap 291 of 300 en route to finishing 26th. Kenseth would find himself involved in a second incident with Paul Menard at lap 270 en route to finishing 21st. Kurt Busch would get into the wall at lap 223, en route to finishing 36th. Denny Hamlin had the worst day of the Chase contenders en route to finishing 37th following fuel pick-up issues and getting involved a wreck with David Ragan, Cole Whitt and Martin Truex Jr. with 123 laps to go.
"We somehow couldn't get fuel in the car and that set the tone for the rest of our day," Hamlin noted. "You can't have any mistakes in this three race deal and unfortunately, nobody did but we had a mechanical issue. Frustrating to say the least."
Heading into the final event of the three-race window of the Chase for the Sprint Cup, here is how the Chase Grid looks.
| | | |
| --- | --- | --- |
| 1 | Brad Keselowski | LOCKED IN by Chicagoland win |
| 2 | Joey Logano | LOCKED IN by New Hampshire win |
| 3 | Kevin Harvick | +41 |
| 4 | Jimmie Johnson | +31 |
| 5 | Kyle Busch | +28 |
| 6 | Dale Earnhardt Jr. | +28 |
| 7 | Jeff Gordon | +21 |
| 8 | Matt Kenseth | +8 |
| 9 | Carl Edwards | +8 |
| 10 | AJ Allmendinger | +7 |
| 11 | Kasey Kahne | +6 |
| 12 | Ryan Newman | +6 |
| 13 | Denny Hamlin | -6 |
| 14 | Greg Biffle | -6 |
| 15 | Kurt Busch | -8 |
| 16 | Aric Almirola | -10 |