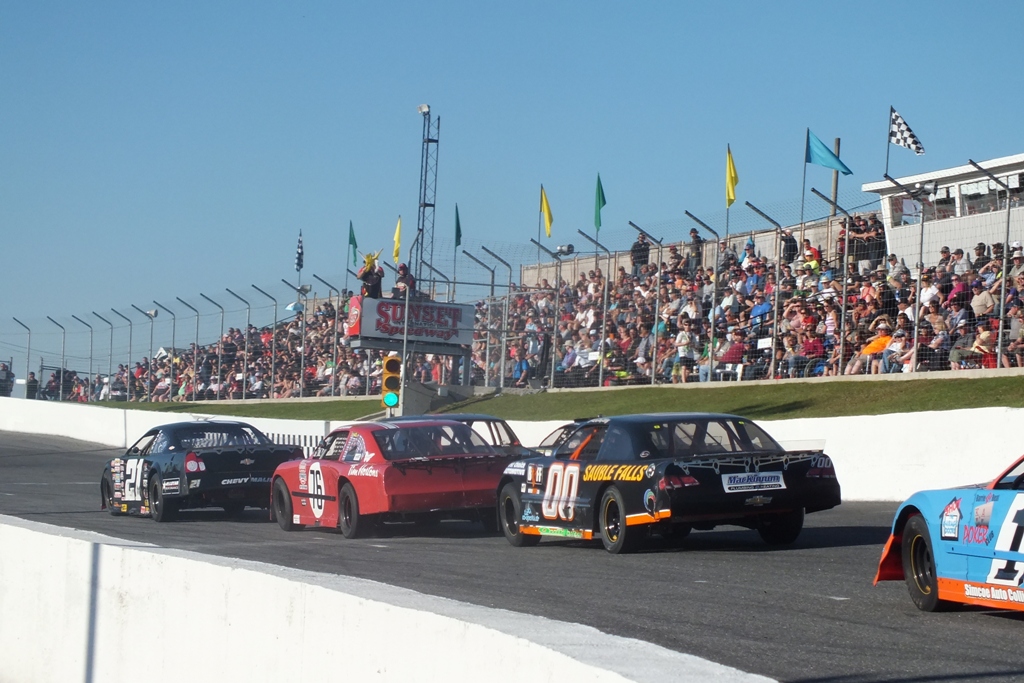 After watching the Late Models and Mini Stocks tackle Sunset Speedway last Thursday night, the Super Stocks were itching for their shot at victory. Needless to say, that itching spread a long way as 42 cars showed up in the pit area. It marks the biggest Super Stock field EVER in the history of the Velocity 250, and perhaps the biggest field to ever grace a speedway in Ontario.
Sunset Speedway regular Johnny Morrison would win the first heat ahead of 2014 Sauble Speedway Champion Ken Grubb and 2014 Sunset Speedway Champion Cayden Lapcevich. Sunset regular Matt Bentley finished fourth, with Sauble's Joe Adams rounding out the top-five. Barrie's Ryan Semple finished sixth, followed by Donny Munce, Paul Maltese, Jason Legge and Wally Everingham.
Delaware Speedway regular Jordan Lawrence won the second heat ahead of Sauble regular Todd Davenport, followed by Barrie Speedway's Jordan Latimer and Sunset's Lane Zardo. Sauble's Ron Lawrence finished fifth, followed by Jason Legge, Jason Elliott, Mike Meyer, the 16x, the 43 and Chad Corcoran.
The third heat saw a flew of blackflags as both Shawn Chenoweth (while leading) and Bryan Penny got blackflagged for mechanical reasons. Peterborough Speedway regular Ross Evans took the victory ahead of Sauble's Vaughn Lawrence. Sunset's Dennis Cybalski and Adam Martin took third and fourth ahead of Peterborough's Donny Beatty and Craig Scott. The 44x finished seventh, followed by Chris Howse and Gary Adriaensen.
The fourth saw Sunset Speedway regular Paul Geniole Jr. score the victory ahead of Sauble regular Chad Eden. Sunset's Randy Rusnell and Coltin Everingham took the next spots with Barrie's Jim Morrison finishing fifth. Sunset's Tyler Liscum finished sixth, followed by Brad Lavalle, Nick Tooley, Ken McNicol and Steve Slaughter Jr.
2014 Sunset Speedway Champion Cayden Lapcevich won the fifth heat ahead of Semple, Bentley, Adams, Munce, Grubb, Maltese, Johnny Morrison and Legge.
The sixth heat featured a quick caution as Davenport would go around while racing the 16x. 2011 Sunset Speedway Champion Lane Zardo picked up the win ahead of Ron Lawrence, Latimer, Jordan Lawrence, Elliott, Davenport, Meyer, the 43, the 16x and Corcoran.
Shawn Chenoweth would bounce back from his earlier problems to win the seventh heat ahead of Howse, Martin, Evans, Vaughn Lawrence, Cybalski, Adriaensen, Beatty, Penny and the 44x.
Chad Eden picked up the victory in the final heat of the day ahead of Rusnell, Liscum, Geniole Jr., Tooley, McNicol, Jim Morrison, Coltin Everingham, Lavalle and Slaughter Jr.
With qualifying in the books, the drivers will now look towards the 50 lap feature – if they made it in through the top 16 – or try to get through the last chance to qualify. All the racing action that includes the Late Models, Super Stocks, Mini Stocks, OSCAAR Hanover Holiday Modifieds and OSCAAR Super Late Models is set to start at 1pm EST. Deails can be found at http://www.sunsetspeedway.ca.