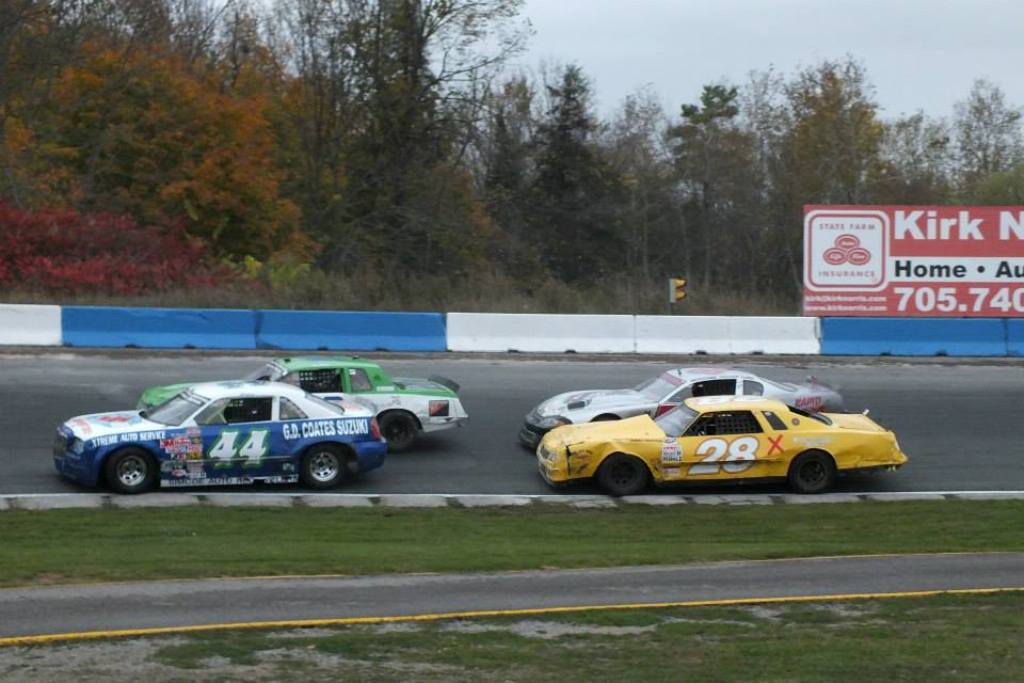 Each year at the Autumn Colors Classic, the Thunder Car feature turns into one of the most interesting events of the weekend. The drama for the win is always top notch, with that being matched by top notch entertainment in the form of at least one incident that brings forth retaliation or a fight. Oh the dramatics and knowing that final event of the year means a good time for revenge.
Though in the midst of the drama, there's a series a drivers racing for a good finishing position and glory. To wear the proud hat in victory lane and accept the winner's trophy is the goal of all, and this year a set of drivers are set to put their name into contention.
2012 Autumn Colors Classic Champion Joe Adams is hoping to take back the crown this year after having a solid year at Sauble Speedway. The past three years at Peterborough, Adams has done well, finishing sixth in 2011 and seventh in 2013. He enters the event with momentum on his side after finishing ninth at Velocity.
Capital City pilot Todd Musker hopes to find better luck this year after finishing 18th last year. He has been decent at the Colors in the past, finishing 11th in 2011 and ninth in 2012.
Barrie Speedway driver Ryan Semple hopes to post a solid run this weekend after posting an eighth place finish at Velocity.
2014 Sunset Speedway Champion Cayden Lapcevich hopes to keep his string of success going, as he won Sunset's season finale to win the championship, before winning the Velocity 250 a couple weekends ago. Lapcevich has run solid at Autumn Colors before, finishing 11th in 2012, before finishing fourth last year.
After barely failing to qualify for the Velocity 250, Coltin Everingham is hoping to have a solid performance this weekend as he continues to look for improvement as a driver on a weekly basis. Another driver that hopes to qualify and post a solid run is Barrie Speedway rookie Adam Misener. Misner improved as the year went on, showing some points of strength throughout the year.
Peterborough Speedway pilot Craig Scott is hoping to improve on his 22nd place finish from 2012.
Delaware Speedway driver Kenny McNicol Jr. is looking for success this weekend, hoping to improve on last year's 12th place finish.
Defending Autumn Colors Classic Champion Randy Rusnell is hoping to make it two in a row this year after coming up just short of winning the Sunset Speedway championship. Over the years, Rusnell has solidified himself as a top notch Thunder Car contending, picking up multiple wins in big glory events. Though with that being said, Rusnell didn't show his normal strength at Sunset's Velocity, posting a fifth place finish.
2014 Sauble Speedway Champion Ken Grubb is hoping his pole leads to victory lane success as he will start first as a result of winning the Chase for the Colors. Grubb has been solid all year at Sauble this year, and opened up the playoffs with a seventh place finish at Sunset's Velocity. He has also done well at the Colors in the past, finishing second last year, and sixth in 2012.
Flamboro Speedway driver Kevin Gallant hopes that he makes out better at Autumn Colors than he did at Velocity with mechanical issues causing him to miss the cut to make the field. He also didn't have the run that he would've preferred at last year's AC, finishing outside of the top 15.
Peterborough Speedway regular John Baker Jr. hopes that this year's event works out more to his favor, than last year. He had the lead in the late going last year, before an incident with Travis Hallyburton took him out of contention. If he has the same speed once again, he will be one tough customer to deal with.
After posting a strong third place finish at Velocity after having to start deep in the field, Shawn Chenoweth is hoping to find Autumn Colors glory this weekend as he does double duty, also running a OSCAAR Super Late Model. Chenoweth has been strong in the Thunder Car division all year at Flamboro Speedway, picking up multiple wins.
Peterborough Speedway rookie Daryl Fice is hoping to have a strong run this weekend after running a limited schedule in 2014. Fice knows what it is like to win the Autumn Colors Classic, having won the event before in the Mini Stock division. He'll be joined on track by fellow Peterborough Speedway driver Tom Podd.
Sunset Speedway front runners Paul Geniole Jr. and Dan Archibald are both looking to run strong this weekend. Geniole enters the event with momentum on his side, following a solid third place finish at the Velocity 250. He didn't have much luck at last year's AC event though, suffering transmission issues during practice. Archibald, meanwhile, has an advantage heading into this weekend as he will start second no matter what happens in qualifying due to finishing second in the Chase for the Colors. His previous appearances at the Autumn Colors Classic haven't gone according to plan, though, with wrecks taking him out of contention.
2014 Barrie Speedway Rookie of the Year Jordan Latimer is set to make his Autumn Colors Classic debut after finishing second in Barrie's points and finishing 10th at the Velocity 250. While Latimer doesn't have AC experience, the car he is driving does as Rick Walt drove the car to ACC victory lane in 2011.
Sauble Speedway front runner Todd Davenport will be hoping to improve on last year's third place finish this weekend. Davenport didn't have the run that he wanted at Sunset's Velocity, though, finishing 18th. Fellow Sauble Speedway driver Chad Eden will also be looking for success after posting a sixth place finish at Velocity. They should be joined by Vaughn Lawrence, who also hopes to improve on his 16th place finish at Velocity. In his previous ACC appearances, he finished seventh in 2012 before finishing eighth last year.