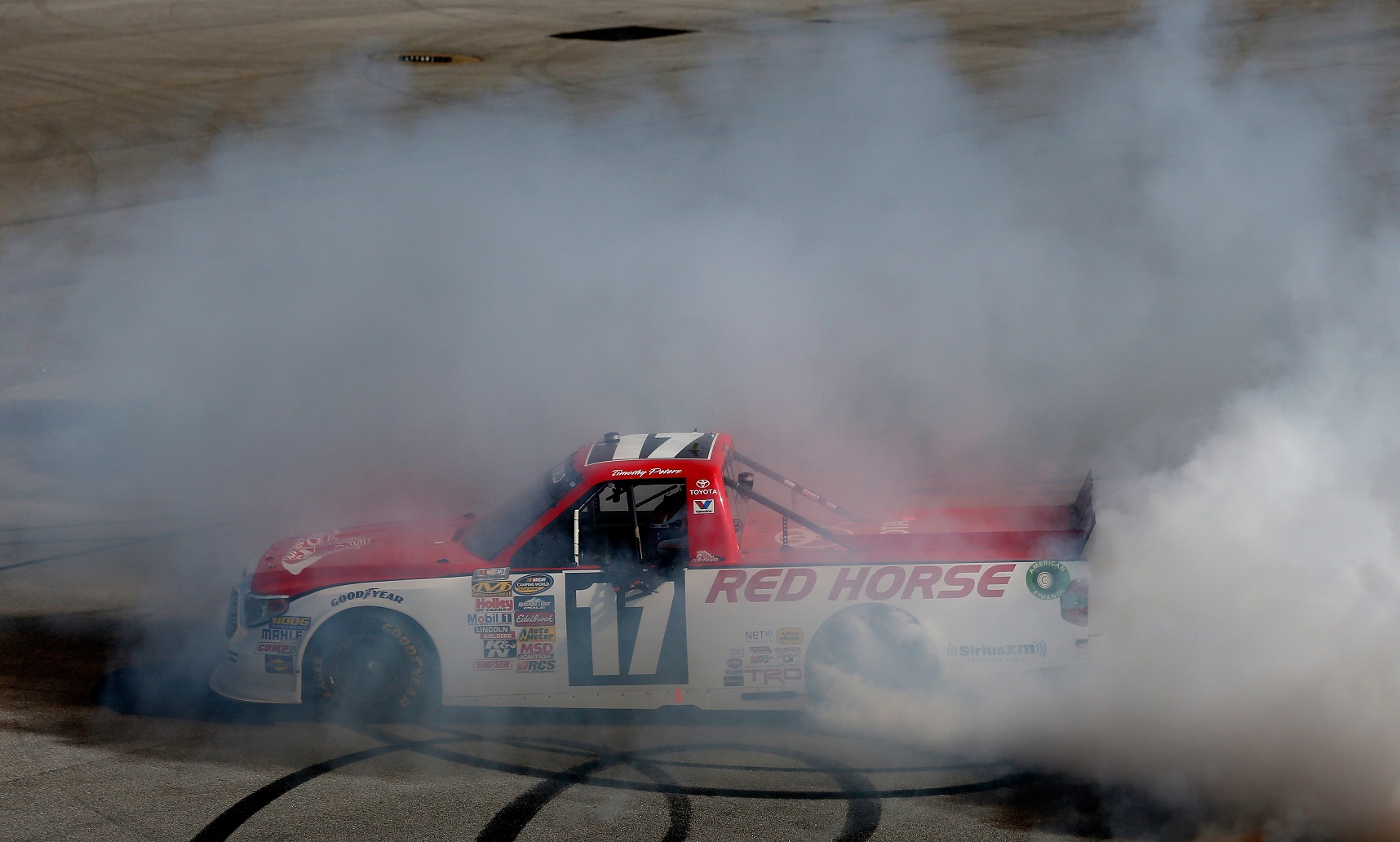 Red Horse Racing driver, Timothy Peters, scores the win in the Fred's 250 NASCAR Camping World Truck Series race at Talladega Superspeedway.
Peters led 31 laps en route to victory at NASCAR's longest oval. It was Peters' first win of the season, and eighth of his career.
Peters talked about his win, ""Exciting.  I can't thank everybody on this team enough.  Marcus (Richmond, crew chief) came on board and built us a strong truck and we showcased that at Daytona and we lost it by oh so much, so it feels good to come back to a superspeedway and improve our position by one point and get into victory lane.  But, the way our summer stretch went I didn't know what was going to happen.  Races were running out and trying to get into victory lane, so it goes back to the fab shop.  All of the guys at Red Horse Racing.  These guys back here on the 17 team — the 77 team.  Oh my goodness.  All of our partners — Toyota.  I can't thank those guys enough.  It's just crazy.  I've got to thank Darrell Wallace (Jr.) for working with me all day.  The restart before last we got shuffled back and couldn't get to each other, but we worked good all day today.  And, I know Steve Byrnes was watching — he's my guardian angel today.  He was riding along with me, so Steve we wish you well.  Sara (wife) and Brantley (son) I can't believe it.  I'll see you here shortly.  This is such a great effort."
Peters Red Horse Racing team had the name of Steve Byrnes on the roof today. Byrnes, a veteran motorsports broadcaster, has recently be diagnosed with cancer after beating the disease earlier this year.
The race was slowed by six caution flags for a total of 22 laps. The first of which came out on lap 13 when Peters' teammate, the No. 77 of German Quiroga, got out of shape in the middle of the pack and triggered a multi-truck crash that involved Ryan Sieg, Mason Mingus, Ron Hornaday, and Chris Fontaine.
Fortunately, there was no "big one" today. There was, however, a hard crash late in the race when the No. 8 of Joe Nemechek made an erratic move in the tri-oval and made contact with the No. 31 of Ben Kennedy. Kennedy was instantly turned into the outside wall in a violent crash. Kennedy was not injured, but it ended a good run for his Turner-Scott Motorsports team.
Kennedy's teammate, Tayler Malsam, also had an impressive run today finishing second. Malsam led 18 laps in his No. 32, Outerwall Chevrolet. Today's race was the tenth start of the season for the Sammamish, WA driver, and his fifth top ten.
Spencer Gallagher, pole sitter, Tyler Reddick, and Ryan Blaney rounded out the top five.
Points leader, Matt Crafton, finished 14th after being black flagged for "push drafting". Crafton was being pushed by Nemechek, but NASCAR warned the teams that if they push, both trucks would receive the black flag. Crafton now leads by 16 points over Ryan Blaney.
The series now heads to Martinsville Speedway on Saturday October 25 for the Kroger 200.