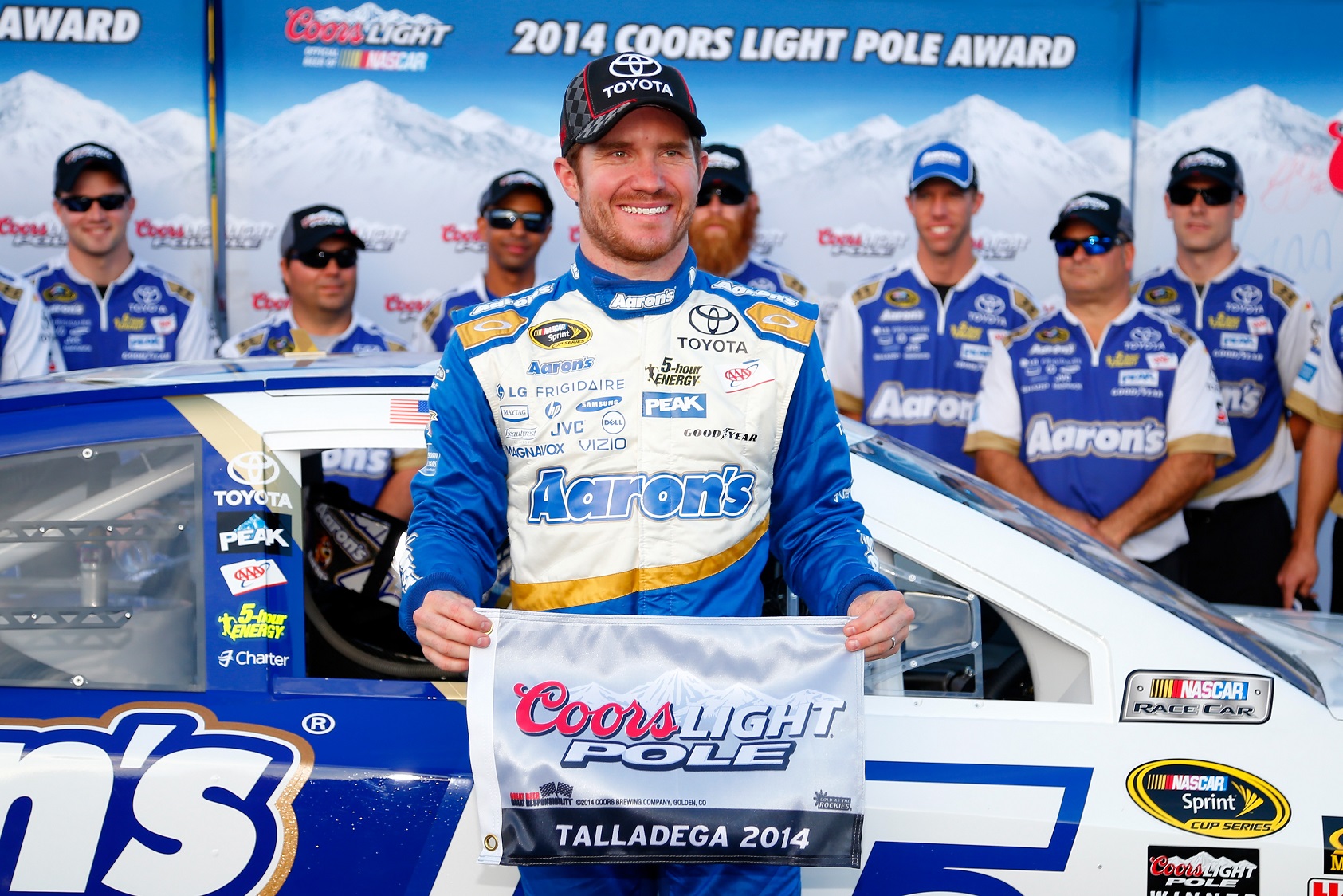 Brian Vickers grabs the top spot at Talladega Superspeedway for the Geico 500 NASCAR Sprint Cup Series race. Vickers lap of 196.129 mph edged out Jimmie Johnson who posted a lap of 195.732 mph.
NASCAR announced a change to the qualifying format for the 2.66 mile superspeedway last month. Drivers would now be split into two groups for the first round. The groups to be decided by random draw.
Because of the change, teams began to strategize how best to approach the first round of qualifying. It was rather an odd sight. As the clock started and teams were allowed to hit the track, no one did. Cars moved down to the end of pit road and parked. Denny Hamlin finally headed out and no one went with him making it impossible for him to get a fast lap with no drafting partner.
Finally, as time began to run out, teams hit the track. Some were heading out fast, some go in the track and ran rather slowly. Some teams did not even make it to the line before time expired, leading to those cars not getting a time that included a full speed lap.
The most notable for those cars was Roush-Fenway Racing driver, Ricky Stenhouse Jr. who did not make the field. Other drivers turned in laps that were almost twenty mph off the pace. Jeff Gordon, Kyle Busch, and Joey Logano posted laps in the 170's.
Though some top teams had trouble, several teams not normally at the top of the qualifying sheets will start near the top of the field. Travis Kvapil, was fastest in the second round of qualifying and ended up seventh in the final round driving the No. 33 Little Joe's Autos Chevrolet.
Michael McDowell, Michael Annett and Terry Labonte, and rookie Ryan Blaney all made race final round appearances.
AJ Allmendinger will start third, with Blaney fourth, and Brad Keselowski rounded out the top five.
The green flag will fall on the Geico 500 at 2pm EST.