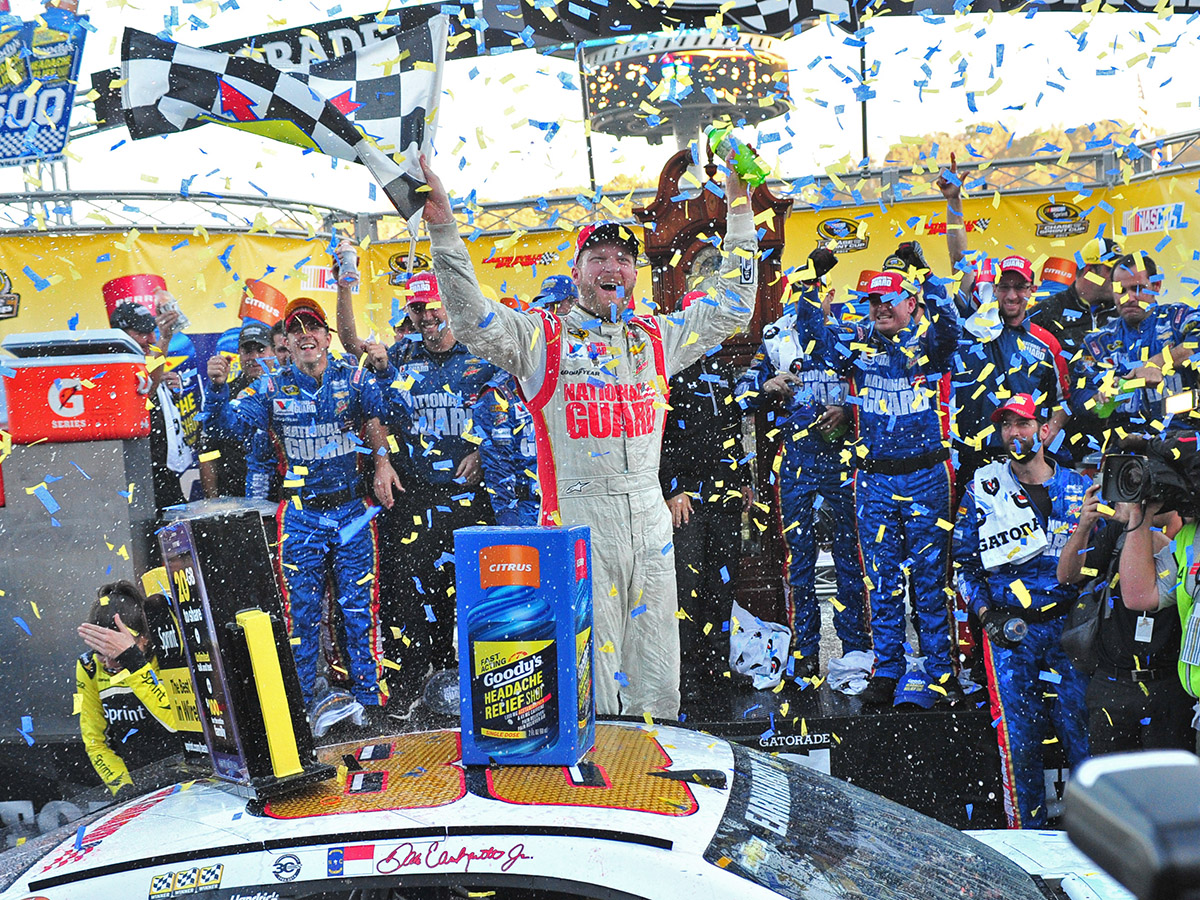 MARTINSVILLE, Va.— On a day that saw two of the Chase for the NASCAR Sprint Cup favorites suffer potentially catastrophic problems, Dale Earnhardt Jr. stole a victory from the title contenders on Sunday, passing Tony Stewart for the lead with less than four laps left in the Goody's Headache Relief Shot 500 at Martinsville Speedway and pulling away for his fourth victory of the season.
Ten years and one day removed from the tragic Hendrick Motorsports plane crash that claimed the lives of 10 people, including owner Rick Hendrick's son Ricky, Earnhardt took the checkered flag for the first time at the .526-mile short track, earning for the first time the grandfather clock trophy he has coveted throughout his career.
In fifth position for a restart on Lap 495, Earnhardt made short work of Clint Bowyer (restarting fourth on the outside) and three drivers who had stayed out on old tires, including Stewart, and arrived at the finish line .344 seconds ahead of teammate Jeff Gordon, who took second place and the lead in the Eliminator Round of the Chase.
"Oh, man, we've been trying to win here for so many years," said Earnhardt, who collected his 23rd victory in his 538th start. "And this place is so special to me. I've wanted to win here so bad. We brought the good cars. I'm out of breath from celebrating more than driving. It's a real emotional win.
"This team on pit road was great, and (crew chief) Steve (Letarte) and the guys did a real good job all day. They gave me a great shot at it there with the call at the end to take tires (under the 15th caution on Lap 492 of 500). I can't believe we won here. This means so much to all of us."
Adding to the intense emotion of the moment were thoughts of the tragedy of a decade earlier.
"I lost my daddy (seven-time Cup champion Dale Earnhardt Sr.) a long time ago, and I know how hard that is," said Earnhardt, who was eliminated from the Chase a week earlier at Talladega. "I can't imagine losing the magnitude of people that Rick lost. My heart goes out to him during this weekend.
"I love that his cars are good (enough) here to get the victory. So this honors them. I'm just real proud to be able to win at Martinsville in a Hendrick car. They always win here."
Behind Hendrick teammates Earnhardt and Gordon, Chase driver Ryan Newman came home third, posting his fifth straight top 10 in the Chase and climbing to second in the standings, three points behind Gordon.
Stewart held fourth place, and Joey Logano ran fifth, his sixth top-five result in seven Chase races this year.
Kevin Harvick and Brad Keselowski weren't as fortunate. On Lap 228, Matt Kenseth wheel-hopped into Turn 1, spun and knocked Kevin Harvick's Chevrolet hard into the outside wall near the apex of Turns 1 and 2.
After extensive time in the garage for repairs, Harvick finished 33rd, 43 laps off the pace, and fell to eighth in the Chase standings, 33 points behind Gordon, who led the most laps on Sunday (130). After the next two races, at Texas and Phoenix, the Chase field will be cut from eight drivers to four.
A week after preserving his place in the Chase with a victory at Talladega, Keselowski suffered a mechanical issue that put him right back into a deep hole. Moments after a restart on Lap 434, the rear differential in Keselowski's No. 2 Team Penske Ford failed.
Ultimately, Keselowski finished 31st after repairs and trails Gordon by 31 points. With five Chase drivers within seven points of the lead after Martinsville, Keselowski and Harvick likely will have to win one of the next two races to advance to the season finale at Homestead-Miami Speedway.
Harvick, for one, wasn't about to take his misfortune lightly.
"Yeah, he (Kenseth) won't win this championship," Harvick promised. "If we don't, he won't."
Kenseth, who finished sixth despite all the extracurricular activity, took full responsibility for the wreck.
"I don't blame him for feeling that way, honestly," said Kenseth, who trails Gordon by five points. "It was a mistake—he was an innocent bystander and was in the wrong place at the wrong time. I totally understand how he feels and I totally understand why he would say that. 
"I totally get it. He knows it was a mistake, too, but that doesn't really help him. I don't really blame him. He got taken out of the race for being in the wrong place at the wrong time."
NASCAR Sprint Cup Series Race – Goody's Headache Relief Shot 500
Martinsville Speedway
Martinsville, Virginia
Sunday, October 26, 2014
1. (23) Dale Earnhardt Jr., Chevrolet, 500, $155125.
2. (13) Jeff Gordon, Chevrolet, 500, $169671.
3. (9) Ryan Newman, Chevrolet, 500, $113785.
4. (4) Tony Stewart, Chevrolet, 500, $143418.
5. (2) Joey Logano, Ford, 500, $137491.
6. (3) Matt Kenseth, Toyota, 500, $138326.
7. (12) Clint Bowyer, Toyota, 500, $123881.
8. (5) Denny Hamlin, Toyota, 500, $97140.
9. (15) AJ Allmendinger, Chevrolet, 500, $111298.
10. (29) David Ragan, Ford, 500, $112898.
11. (8) Kyle Busch, Toyota, 500, $129931.
12. (19) Austin Dillon #, Chevrolet, 500, $131801.
13. (21) Greg Biffle, Ford, 500, $125940.
14. (14) Paul Menard, Chevrolet, 500, $112329.
15. (18) Ricky Stenhouse Jr., Ford, 500, $122340.
16. (1) Jamie McMurray, Chevrolet, 500, $135029.
17. (22) Justin Allgaier #, Chevrolet, 500, $106373.
18. (36) Cole Whitt #, Toyota, 500, $83590.
19. (28) Landon Cassill(i), Chevrolet, 500, $82865.
20. (11) Carl Edwards, Ford, 500, $99315.
21. (27) Aric Almirola, Ford, 500, $119201.
22. (34) David Gilliland, Ford, 500, $101648.
23. (25) Marcos Ambrose, Ford, 499, $108060.
24. (37) Michael Annett #, Chevrolet, 499, $91012.
25. (35) Josh Wise, Chevrolet, 499, $81790.
26. (43) Mike Wallace(i), Toyota, 499, $89015.
27. (17) Brian Vickers, Toyota, 496, $112415.
28. (42) Kyle Fowler(i), Ford, 491, $77690.
29. (32) Alex Bowman #, Toyota, 490, $77565.
30. (16) Kyle Larson #, Chevrolet, Accident, 487, $105335.
31. (6) Brad Keselowski, Ford, 472, $122773.
32. (7) Jimmie Johnson, Chevrolet, 459, $131201.
33. (33) Kevin Harvick, Chevrolet, 457, $118173.
34. (30) Danica Patrick, Chevrolet, Accident, 451, $85090.
35. (31) Reed Sorenson, Chevrolet, 442, $77040.
36. (10) Kurt Busch, Chevrolet, 438, $76990.
37. (20) Casey Mears, Chevrolet, Accident, 436, $84923.
38. (26) Martin Truex Jr., Chevrolet, Accident, 436, $100138.
39. (40) JJ Yeley(i), Toyota, 436, $68230.
40. (24) Kasey Kahne, Chevrolet, Accident, 403, $83630.
41. (39) Travis Kvapil, Chevrolet, Engine, 280, $60230.
42. (41) Timmy Hill, Chevrolet, Brakes, 30, $56230.
43. (38) Clay Rogers, Toyota, Overheating, 25, $52730.
Average Speed of Race Winner: 70.725 mph.
Time of Race: 03 Hrs, 43 Mins, 07 Secs. Margin of Victory: 0.344 Seconds.
Caution Flags: 15 for 105 laps.
Lead Changes: 24 among 11 drivers.
Lap Leaders: J. McMurray 1-8; M. Kenseth 9; J. McMurray 10-77; D. Gilliland 78; J. McMurray 79-84; J. Gordon 85-167; J. McMurray 168-169; J. Gordon 170-191; D. Earnhardt Jr. 192-204; M. Kenseth 205; D. Earnhardt Jr. 206-212; J. Logano 213-256; J. Allgaier # 257-260; T. Stewart 261-274; J. Logano 275-290; D. Hamlin 291-296; D. Earnhardt Jr. 297-313; Kurt Busch 314-334; J. Gordon 335-358; D. Hamlin 359-420; C. Bowyer 421-453; D. Earnhardt Jr. 454-491; J. Gordon 492; T. Stewart 493-496; D. Earnhardt Jr. 497-500.
Leaders Summary (Driver, Times Lead, Laps Led): J. Gordon 4 times for 130 laps; J. McMurray 4 times for 84 laps; D. Earnhardt Jr. 5 times for 79 laps; D. Hamlin 2 times for 68 laps; J. Logano 2 times for 60 laps; C. Bowyer 1 time for 33 laps; Kurt Busch 1 time for 21 laps; T. Stewart 2 times for 18 laps; J. Allgaier # 1 time for 4 laps; M. Kenseth 2 times for 2 laps; D. Gilliland 1 time for 1 lap.
Top 16 in Points: J. Gordon – 4,044; R. Newman – 4,041; J. Logano – 4,040; M. Kenseth – 4,039; D. Hamlin – 4,037; C. Edwards – 4,024; B. Keselowski – 4,013; K. Harvick – 4,011; Kyle Busch – 2,230; A. Allmendinger – 2,198; D. Earnhardt Jr. – 2,196; J. Johnson – 2,186; G. Biffle – 2,178; K. Kahne – 2,173; Kurt Busch – 2,155; A. Almirola – 2,124