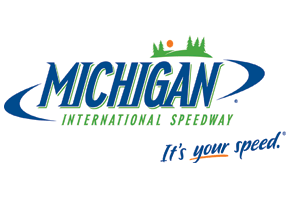 BROOKLYN, Mich. (Nov. 6, 2014) – The holiday season is quickly approaching. There's no better way to get into the holiday spirit than taking a lap around the fastest track in NASCAR and donating to two local charities
MIS Cares, the non-profit arm of Michigan International Speedway, will host the sixth annual Charity Track and Toy Drive on Saturday, Dec. 6. The event will run from 9 a.m. to 3 p.m., weather dependent.
Guests may take a lap in their personal automobile around the track in exchange for a new, unwrapped toy or a bag of nonperishable food. All items will be donated to the Brooklyn Food Bank in Brooklyn, Michigan, and the U.S. Marines Toys for Tots.
In addition, guests will have the opportunity to visit with Santa in the Michigan Room, so don't forget your list. Photos with Santa will be available from Cori B Photography for $10.
The speedway has even thought about the children to make it a true family day. Children are invited to color a holiday card that will be sent to active military members.
"We are happy to be part of this great event and help the local community," MIS President Roger Curtis said. "We don't just work here; we live here and we're happy to be part of this community. We invite all our race fans and friends to help us support this event as we look to make the holiday season better for those who need it."
The event has been an overwhelming success in its first five years and continues to grow, thanks to the support of the community.
"The Charity Track and Toy Drive has been very successful and has benefitted some great organizations," said Jayme Bicknell, fan services manager at MIS. "It has provided a significant impact for a number of families for the holiday season. We hope our efforts provide a lift to those that need it and make their holidays more festive."
In 2013, the Charity Track and Toy Drive helped numerous families throughout the area. The overwhelming support from fans near and far allowed the track to fill a 15-foot truck twice with food for the Brooklyn Food Bank and a 26-foot truck with items for Toys for Tots.
Are you looking for a unique holiday gift for the special someone? MIS Cares is selling a holiday edition "I Drove the Track" t-shirt. In addition, stocking stuffers for that special race fan in your life will be available.
Track drive participants should enter the speedway through the tunnel gate off of Brooklyn Highway and follow the signs to the infield entry point. Guests will be directed to enter the racetrack via the Pit Road Suite Building underpass, where they will take a lap at 25 MPH around the two-mile oval.
The track laps are limited to passenger vehicles only, no motorcycles. No passing of other vehicles will be allowed at anytime. The driver of the vehicle must be 18 years of age and provide a valid driver's license. All participants will need to sign a waiver before driving on the track. Seatbelts and headlights must be on at all times.
Toy and food donations will also be accepted at MIS during regular business hours, 8:30 a.m. to 5 p.m. Monday through Friday starting on December 1. Toys for Tots and Food Bank collection boxes will be located in the speedway lobby.
All donated toys must be unwrapped and new. Donated food items should be nonperishable. The Food Bank is also seeking soap products, paper goods, canned fruits and juices.
Competition Tire will donate a Goodyear vehicle for storage and transportation of all donations collected during the event.
The employees of the speedway and Americrown Corp. will provide support for the event and also make a donation to the two organizations with personal support.
MIS Cares is a donor advised fund of the NASCAR Foundation, a 501(c)(3) non-profit entity. MIS Cares' mission is to create a lasting, positive impact on our community through charitable giving and volunteer efforts that cultivate community growth and advances quality of life.
Nestled in the lush Irish Hills of Southeastern Michigan, Michigan International Speedway is NASCAR's fastest track and the Great Escape, a venerable NASCAR national park where fans can get away and enjoy the very best in racing and camaraderie. It's the love of racing and the thrill of a great time for race fans and drivers alike.
Keep up with Michigan International Speedway via Twitter @MISpeedway or on Facebook at www.facebook.com/MISpeedway. Android and iPhone can now download Discover MIS, the official app of MIS, on Google Play and iTunes.
2015 Michigan International Speedway Schedule:
Saturday, May 9               Michigan Wine and Beer Fest presented by Experience Jackson
Friday, June 12                  ARCA Racing Series presented by Menards Corrigan Oil 200 and Sprint Cup Qualifying
Saturday, June 13            NASCAR XFINITY Series
Sunday, June 14               NASCAR Sprint Cup Series Quicken Loans 400
July 17-19                            Faster Horses Festival
Friday, Aug. 14                  NASCAR Sprint Cup Series Practice and Qualifying
Saturday, Aug. 15             NASCAR Camping World Truck Series Careers for Veterans 200 presented by The Cooper Standard Foundation & Brad Keselowski's Checkered Flag Foundation
Sunday, Aug. 16                NASCAR Sprint Cup Series Pure Michigan 400