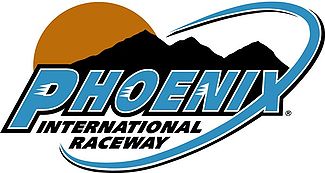 Avondale, Ariz. (November 8, 2014) – Jeb Burton, driver of the No. 13 Estes Express Toyota Tundra, qualified a track-best 13th for the Lucas Oil 150 at Phoenix (Ariz.) International Raceway

on Friday

. The ThorSport Racing driver showed speed early, but was relegated to a 25th-place finish after making contact with another competitor, forcing him behind the wall for numerous laps in the race-delayed, caution-plagued event. The result marks Burton's first finish outside the top-20 in 12 races (June, 2014).

Burton, who showed speed in both NASCAR Camping World Truck Series (NCWTS) practice sessions on Thursday, maintained a top-12 position through the races first 27 laps, but made contact with the 23 machine in Turn 3 on lap 28, bringing out the races third caution. Crew chief Jeriod Prince brought the Estes Express Tundra to pit road four times under the six-lap caution, in an effort not to lose a lap to the race leader, to repair damage on the nose and take four tires. When racing resumed on lap 33, Burton was scored 23rd.

In the preceding laps, Burton complained that his Toyota Tundra was, "plowing so bad that it wouldn't turn." By lap 62 the ThorSport Racing driver lost a lap on the race track to the race leader and at lap 83, Prince brought the No. 13 machine to pit road and eventually to the garage to make repairs to the radiator and oil cooler. Burton would spend 24 laps behind the wall and return to the race track in the 25th position, which is where he crossed the stripe when NASCAR waved the seventh caution flag, and eventually called the race shy of the 150-lap mark, due to a second power outage at the Arizona track.

Notes:
Jeb Burton's 13th-place qualifying effort was a track-best in two starts at the 1-mile oval
Burton ran as high as 11th and as low as 28th, but crossed the stripe in the 25th position, 24 laps down to the race winner
The ThorSport Racing driver's 25th-place result was his first finish outside the top-20 in 12 races
In 21 starts in 2014, Burton has two top-five and seven top-10 finishes
The Estes driver lost one position in the 2014 NCWTS driver point standings following a 25th-place finish at PIR. Burton is now ninth in the standings, a mere four markers behind eighth-place and 11 points out of sixth
Up next: The NCWTS heads to Homestead-Miami Speedway for the series final on Friday, November 14
Jeb Burton Quote:
"That was definitely not the night we were hoping for, especially after showing so much speed in practice on Thursday. The contact with the 23 was just one of those deals – there was nowhere for me to go. I hate that happened to us, this could have been a really good point's night. We will regroup and head to Homestead next week. We tested there a few weeks ago, and I'm looking forward to it. Hopefully, we can make up some points and finish out the year strong."
Practice: 5th; 27.5459 seconds/131.105mph
Final Practice: 2nd; 26.836 seconds/134.148mph
Qualifying: 13th; 27.012 seconds/133.274mph
ABOUT ESTES EXPRESS LINES:
Headquartered in Richmond, Virginia, Estes is a leading, full-service freight transportation provider offering a complete range of shipping solutions including LTL, time critical, volume & truckload, global and custom solutions. Founded in 1931 by W.W. Estes and still owned by the Estes family, today's Estes is the largest, privately-held LTL carrier in the nation. With more than 210 terminals across the country and a global service footprint, Estes has grown into one of the most respected total-solutions providers in the industry.
ABOUT THE CAROLINA NUT CO.:
Using unique handcrafted family recipes, The Carolina Nut Co. creates gourmet snacks and flavored nuts that are sure to please every nut lover. The Carolina Nut Co. is family-owned and located in Henderson, N.C. We have been creating delicious gourmet nuts and flavored nuts for more than 60 years. Our unique flavors and high-quality products are making their way across the country. Please keep an eye out for us at your local retailer and ask them about our nuts! For information go towww.carolinanut.com .
ABOUT THORSPORT RACING:
ThorSport Racing, based in a state-of-the-art 100,000-square-foot facility in Sandusky, Ohio, is the longest-tenured NASCAR Camping World Truck Series team. ThorSport, which has run in the Truck Series since 1996, in 2014 runs the No. 88 Menards Toyota Tundra driven by 2013 drivers' champion Matt Crafton, the No. 98 Nextant Aerospace/Smokey Mountain Herbal Snuff/Carolina Nut Co./Curb Records Toyota Tundra driven by Johnny Sauter and the No. 13 Estes Toyota Tundra driven by Jeb Burton in the Truck Series.