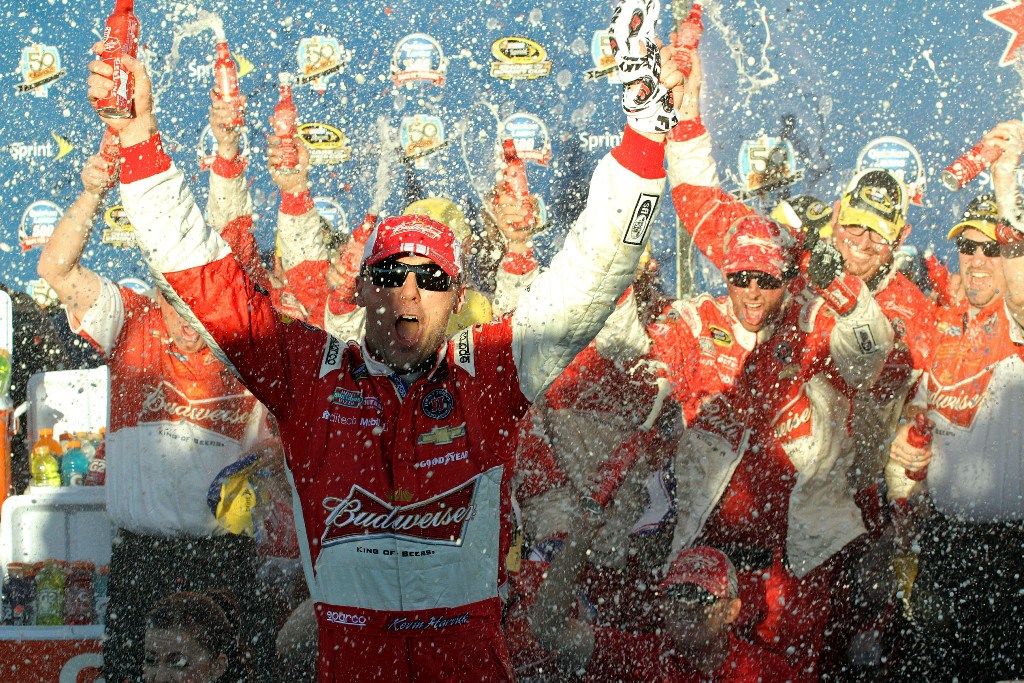 Rather than wait and see how the points would play out, Kevin Harvick drove every lap as hard as he could. The result would be domination as Harvick would lead 264 of 312 laps en route to scoring victory in the Quickens Loans Race for Heroes 500 at Phoenix International Raceway.
"I guess that's what it feels like to hit a walk-off in the final stages there," he commented. "This thing, both races here, has been bad to bone. Everybody has done a good job and here we come homestead."
Harvick took the lead for the first time at lap 45, and from then on would be hard to pass as nobody would find their way around the No. 4 Budweiser Chevrolet. Harvick lost the lead once through strategy, but quickly got it back on the first lap after the restart. With his 27th career victory and fourth of the season, Harvick clinches his spot as one of the final four for the championship at Homestead-Miami Speedway.
"I could tell that we would have to win with everyone running at the front of the pack that we were racing against," Harvick commented. "This place has just been phenomenal, for me personally and all these guys. To win in front of all tehe people who have been rooting for me since the mid 90s, it mean a lot. I think this performance says a lot about this team."
Along with Harvick, Denny Hamlin, Joey Logano and Ryan Newman will move on to Homestead-Miami Speedway as the final four for the championship. Hamlin fought back from an early race flat tire to finish fifth while Logano fought back from a pit road penalty for taking equipment out of his stall to finish sixth.
"We deserve to be in the final four," Logano said. "We've proved it all Chase and all year."
"What a crazy day. You just think about everything that went on and think it's not meant to be. But we just kept fighting," Hamlin commented. "I'm proud of our team. This is redemption. Hopefully we capitalize next week."
Newman, meanwhile, made a last lap pass on Kyle Larson after pushing Larson up into the outside turn four wall to finish 11th, making it in by one point.
"I just gave it my all and they paved it down there for a reason, and they didn't make rules that we couldn't use it," Newman commented. "We had a solid car all day, and just didn't have the track position throughout. In the end, we fought back hard – as clean as we could possibly. I did what I had to do, and I'm not proud of it. That little boy has a lot going for him in this sport and he roughed me up at Eldora so I call us even."
Newman's move would result in Jeff Gordon being left on the outside looking in by one single point, after finishing second at Phoenix. The second place finish for Gordon marks his 22nd top-10 finish of 2014.
"I couldn't be more proud of this team for the season that we've put together," he commented. "I hope we taught somebody that you can race clean and do your best. That makes last week hurt that much more. I'm not happy about it. But at the same time I'm really proud of what we've done this year."
Gordon would add that he was okay with Newman's move on Logano, saying people should expect a championship contender to do that given the situation. "That's the system we have," he added. "Wait until what you see next week."
Matt Kenseth and Brad Keselowski will also be on the outside looking in with Gordon, as they both entered with a shot but failed to score the points necessary, despite finishing third and fourth.
"I'm pleasantly surprised with how we ran today … we never gave up," Kenseth commented. "We just need some more speed out of our cars."
"We were just a little bit short. Kevin was really strong all day long. We have a lot to be proud of, just not enough," Keselowski said. "At the end of the day, we've won six races. We'll be in the top five or six in points and that's a lot to be proud of."
Kurt Busch finished seventh, followed by Dale Earnhardt Jr., Greg Biffle and Marcos Ambrose. Carl Edwards would finish 15th in his effort to try and move forward to Homestead with a shot.
Six-time Champion Jimmie Johnson would not have the day he wanted, finishing 39th after getting nose damage early, experiencing battery issues and slamming the wall after a problem heading into turn two on lap 237. Kyle Busch also didn't have the day he wanted, getting loose and going around in turn two, before clipping Clint Bowyer, resulting in heavy front end damage to both Toyotas.