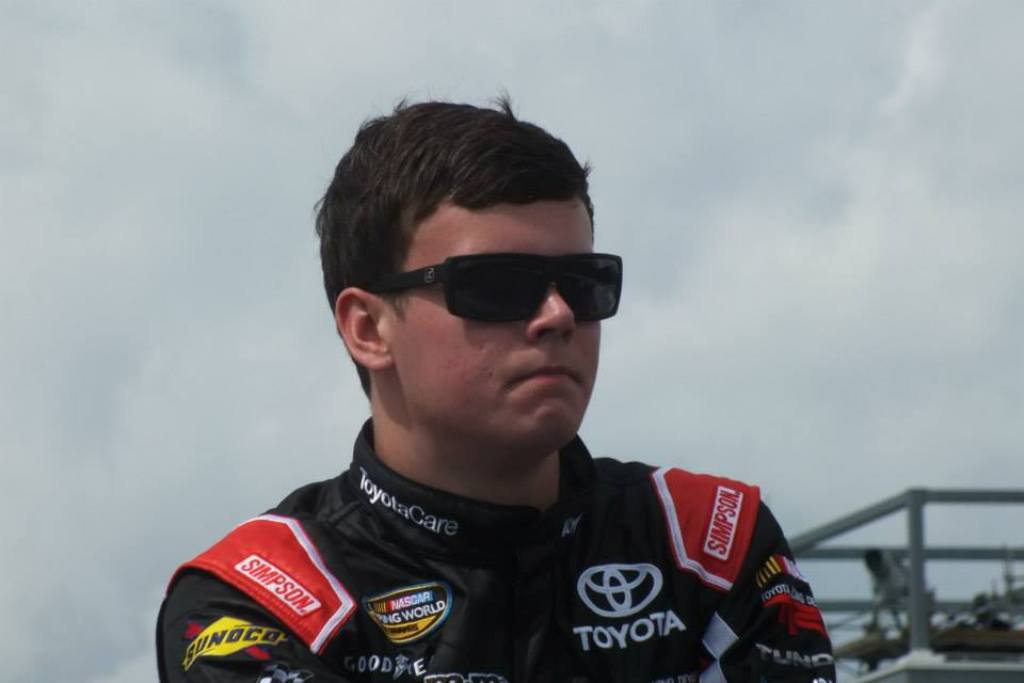 On Thursday, November 7th, it was announced that Erik Jones will run the full NASCAR Camping World Truck Series schedule for Kyle Busch Motorsports in 2015.
The announcement was something many forecasted in NASCAR based on Jones' success throughout his career to date with three wins, six top-fives and seven top-10s in 16 career starts. Jones commented on Thursday that he and KBM have been working together over the past three months trying to get the deal done, with the pieces finally coming together.
"Definitely an exciting year ahead for me," he commented. "It's been a long time — I felt like it was coming, but we all worked hard for it and to finally have it come together and get to run a full season in one of the NASCAR series is pretty special for me. Happy to see it all come together and really looking forward to it."
Jones added that its a huge opportunity for him and a big step in his racing career as it will mark his first time racing for a championship in one of NASCAR's three main divisions.
"Obviously it's a new challenge, not one that I've had before and I'm looking forward to learning from it," he continued. "I've got a great position at KBM and I feel like I'm in the best position I've been in my career. Just looking forward to it all, it's going to be fun and I'm looking forward to chasing down a championship."
For Jones, it will mark the first time that he has ran for a points championship in anything since 2011, where he raced for a Late Model Championship. He added that racing for points versus just trying to win will bring forth a whole different mindset for both him and team around him.
"I feel like now we really have the one goal of winning the race, especially I do. That's not going to change," he explained. "We're still going to come to the race track and try to win the race every week, but maybe some of the calls we make and some other things we do on the race track may be more conservative at times depending on the way the points are looking. It's obviously a little different mindset, but at the end of the day we're still going to show up at the race track and try to pick up a win and try to bring home the trophy."
KBM also announced that Jones will work with Rudy Fugle as Eric Phillips, his current crew chief, will be moving up to the XFINITY Series next year with Joe Gibbs Racing. Jones has worked with Fugle before, as Fugle crew chiefed the No. 51 truck during 2013 when Jones won his first career race at Phoenix, and scored five top-10s in five starts.
"We have a great relationship and definitely looking forward to working with him again as a crew chief," Jones said.
Beyond racing in truck next year, he will also run a partial XFINITY Series schedule. The exact races he will run has yet to be announced but Jones says it will be in the double digits.
"We haven't really worked everything out yet," he cited. "We're still trying to figure all that out, but hopefully we'll be able to announce that in the next few months — the entirety of the plans over there. Definitely going to be double digit races and looking forward to that. It's a pretty great aspect for me along with the truck season. Definitely will be a busy schedule, but I'm really looking forward to being in a car multiple weeks in a row and having a shot at it all."
Jones may also find himself in the driver's seat on other weekends, as he has driven KBM's late models the past two years and had success. As to whether that will continue in 2015, there hasn't been discussion about that yet.
"It's going to be a lot tougher next year to get Late Model races in, but hopefully there's still some open weekends I can go out and run," he said. "I don't know about the Snowball Derby. I've run there quite a few times now, we've won a couple of times and we'll go run this year and try to pick up another win so whether or not I go back there I'm still trying to figure that all out and if I want to continue to run that race.
"I like going Late Model racing, it's just kind of a fun side of the sport where there's no pressure and we're just going out to win a race and have fun. I'd love to keep doing it and hopefully there's some open weekends next year when I can go out and win some races. We'll run it this year, but we're not sure about next year."
The sponsor and number for Jones' truck will be announced at a late date and while Jones says the number doesn't make the difference, he likes the 51.
"I think it looks better than the 54. Hopefully we can stick with that one, but it's whatever they throw on it at the end of the day," he commented.