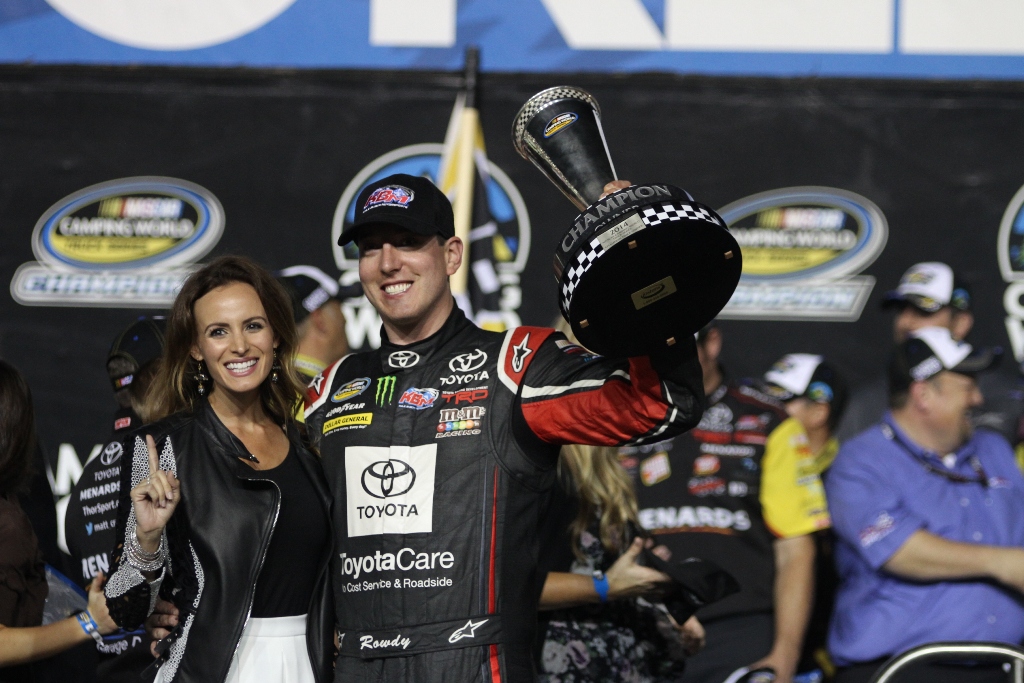 For the second straight year in a row, Kyle Busch Motorsports has won the owner's championship. With Erik Jones and Kyle Busch splitting the schedule, the pair scored 10 victories, 14 top-fives and 17 top-10s in the 22 races this season.
"It's a great milestone for us and a great accomplishment just on the fact that it's what we can race for," Busch commented. "Being able to compete in the Camping World Truck Series, the years that we have, obviously it wouldn't be possible without our partners like Toyota, Toyota Care and Dollar General this year and over all of our partners from years past.  But it's a true testament to all the hard work and dedication from guys like Eric Phillips here that does a phenomenal job at KBM being a leader and being able to lead a group of people to stay, and we've had a lot of people that have come to KBM to work that have stayed there a long time, some that have moved on to other things, but really that's what the Truck Series is all about is a proving ground and a growing series, which we're able to do that with mechanics and people, engineers, crew chiefs, drivers, and it's been fun to capture all those moments."
The championship not only means a lot to Busch, but also to crew chief Eric Phillips, whom balanced working with the pair throughout the season.
"It's a big deal to win as many races as we did for both trucks," Phillips said. "I look more at both of them, the position I was in this year, I was a crew chief on the 51, but with some of the changes we made in the off-season, I was responsible for a lot of the competition stuff on both side."
Now after sharing the owner's championship with Busch over the past two years, Erik Jones will move into a full-time ride in 2015, searching for the driver's championship.
"My time at KBM has been great so far, to be a part of two owner's championships and especially this one with having a bigger part," Jones said. "It's been a great year not only for KBM but Toyota and everybody involved.  Just cool to be a part of it all, having a lot of fun, and really looking forward to getting going next year."
Busch feels moving into next year that Jones should do well, basing off of Jones' three wins and eight top-10s in his 12 starts this season. The transition to Jones continuing to move through the system began with Jones' win last year at Phoenix, and grew as he continued to gain more experience and run stronger.
"I'm really optimistic and really looking forward to next year and hoping that he has the same composure and mentality and everything that he had this year, and he'll be a series champion no doubt," Busch said. "I think that the opportunity is there, and if the races present themselves well and he does a good job, then he'll be able to be up here or where Matt Crafton is next year, and hopefully we're owner champions and driver champions in the same team, and we don't have to split it anymore."
Next year will bring change to KBM as Darrell Wallace Jr. moves on to future endeavors, while Erik Jones and Justin Boston run the full schedule. Busch will also return, splitting the schedule with Daniel Suarez and Matt Tiff in an effort to win the owner's championship once again. The key for KBM over the off-season – maintaining their level of success.
"Our biggest challenge over the off-season I feel like as an organization is just going to be able to get our new group of people and the chemistry and the cohesiveness to mesh together to be able to work amongst one another to where we can go in the right direction competition-wise," Busch explained. "Like Eric said, he was sort of ahead of the competition stuff this year.  I had him sort of oversee both.  Jerry was still his own separate team, but Eric was really in charge of everybody around in the shop, and they all went to him to ask questions or to get answers.
"Next year there's going to be more people to go to to ask questions or get answers.  Just maybe a little bit more maybe confusing at first, but that's why you've got to have good leadership skills and to be able to get in there and get your people lined up right."