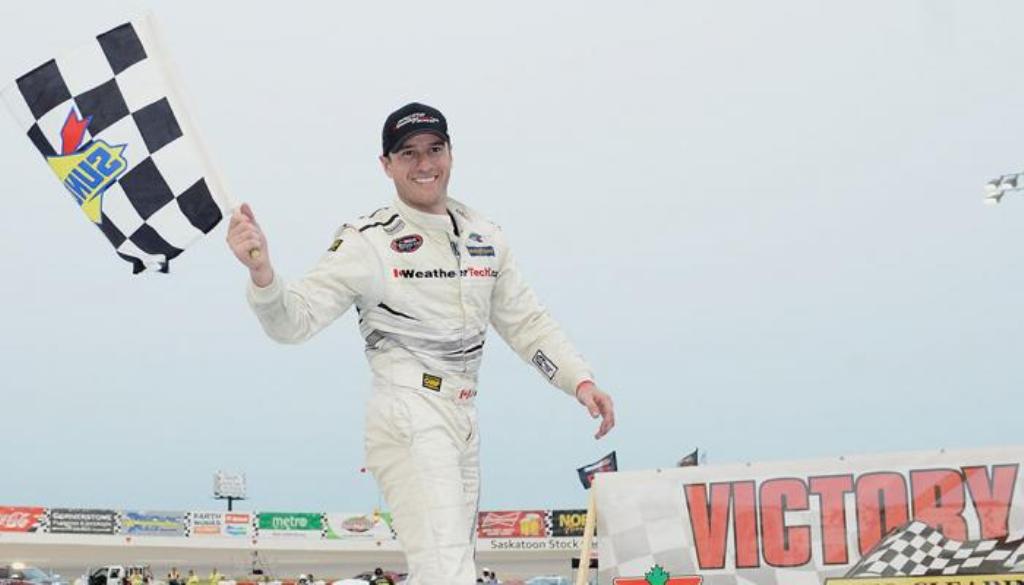 TROIS-RIVIERES, Quebec – On September 20th, Louis-Philippe Dumoulin was consecrated the 2014 champion of the NASCAR Canadian Tire Series. Since then, he has been giving a series of interviews and participating in various trial sessions throughout North America. Back in Quebec for a short amount of time, it is with great honor that the driver of the #47 Dodge WeatherTech Canada / Bellemare Group has received today the Gilles-Villeneuve trophy. Annually awarded by Auto Sport Quebec since 1982, this trophy symbolizes the fighting spirit and on-track excellence of a Quebec-native driver throughout the season that most recently ended. This is the first time that a driver receives this award twice in his career (2001 and 2014).
"Since 2001, I am proud to be associated with this trophy. At the time, we had achieved multiple podiums in Fomula Ford. Getting this trophy once again is like a familiar conquest. It's very fun to win it for the second time in my career. Gilles Villeneuve is part of our idols and we are always inspired by his passion, his way of showing his dedication to motorsport. Winning this trophy means a lot to me, we are very proud to be Quebecers, Canadians, everywhere my brother and I go in the world, and the name Villeneuve inspires respect," shares a grateful Louis-Philippe Dumoulin.
The nominations have to take into account the level of performance, as well as results obtained by all Quebec-native competitors in their discipline and at their respective level. "This year, we've chosen to appeal to the motorsport-specialized media, first-class collaborators, in order to decide on the recipients of those special mentions," adds Mr. Villeneuve, counsellor for Auto Sport Quebec, the sanctioning body of amateur motorsport in Quebec.
With the distribution these awards, Auto Sport Quebec is proud to be able to highlight the contributions of such athletes and to recognize the example they set for future generations. As the representative of the FIA in Quebec, the mission of Auto Sport Quebec is to promote all disciplines in motorsport, all while promoting the development of driving abilities in order to improve road security.
Auto Sport Quebec sends its congratulations to Louis-Philippe Dumoulin, winner of the 2014 Gilles-Villeneuve trophy.