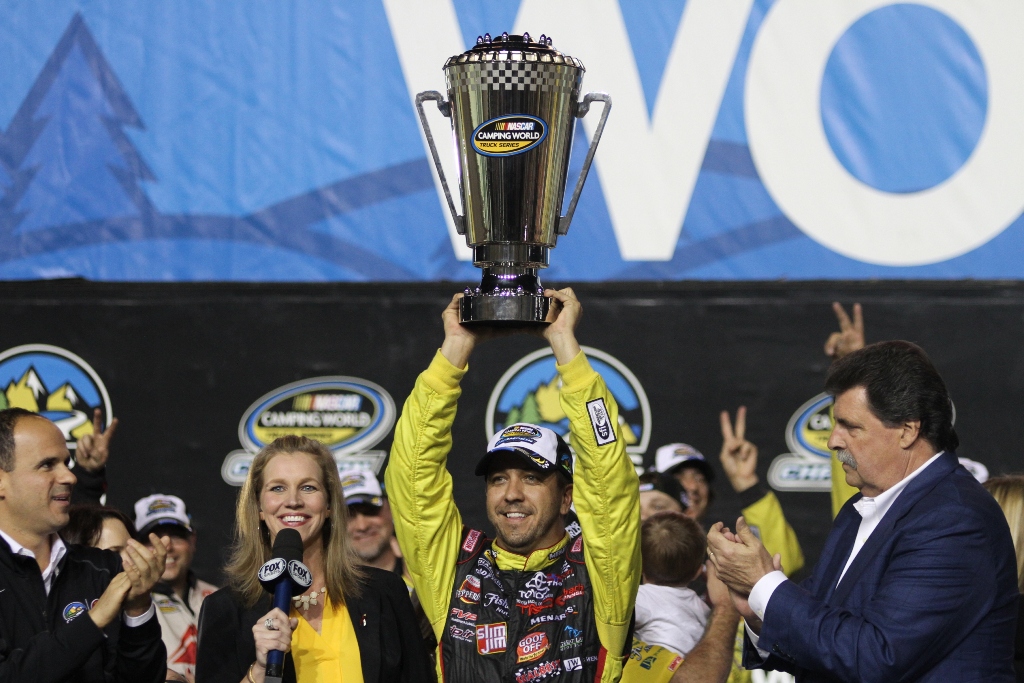 Each NASCAR Camping World Truck Series season brings forth memories that live in the hearts of fans for years. This year was no exception as there are certain moments that will live on in the minds of the fans moving forward. Here are some of the memorable moments of the season, with some of OnPitRoad.com's readers thoughts in bold and italics throughout.
Quiet and consistent, Matt Crafton avoided trouble most of the year and solidly drove his way to the history books in scoring his second straight championship, becoming the first back-to-back champ. Matt is a great champion as he knows how to be composed, well-spoken and represent the truck series from a veteran standpoint with the media. It's also nice to see Crafton win the championship with ThorSport Racing once again after the journey that they've taken to get to being champions.
The Trucks have become known for close competition on track through the years – and at times referred to the closest competition in the three main series. With close finishes and some bumping and banging along the way, is it a surprise? This fact was on display in 2014 once again at Canadian Tire Motorsports Park. After a thrilling finish last year between Chase Elliott and Ty Dillon, this year's race delivered once again. The finish between Ryan Blaney and German Quiroga was real close, and that only highlighted the battling back and forth through the final corners. While CTMP has only been on the schedule for two years, man has both years been fun. 
The Truck Series also brings forth a unique element – dirt racing with the Mid-Summer Classic at Eldora Speedway. Added last year, the event is meant to allow the drivers to get back to their dirt roots. The event was great once again in watching them slip and slide. The overall intensity and joy of watching the event was only heightened by the thrilling finish between Darrell Wallace Jr. and Kyle Larson for the win. Larson pushed himself as hard he could late in that race, sliding that truck as hard as he could in, doing whatever he could as he tried to catch Wallace late in the race. Ultimately, he ran out of equipment before the end as a slam into the wall cut the tire, resulting in Larson failing to finish. Wallace would claim victory that night as part of his solid season en route to finishing third in points.
Though Bubba's season also had another thrilling highlight en route to the end as he scored the victory at Martinsville Speedway to take home the famed clock. Though Bubba winning wasn't the whole story, but rather the paint scheme that he drove en route to winning. In honor of Wendall Scott being inducted into the hall of fame, Bubba's truck was renumbered 34 and painted the light blue to match Scott's car. The victory was great and special for everybody watching, especially when he hugged Wendall's family members in Victory Lane. As one fans points out, the special tribute paint scheme and having them there in attendance made the win even sweeter. 
On the flip side, Larson also experienced success throughout the year in all three of NASCAR's series with solid performances and victories, while earning new fans in the process. Taking the role of showman at Eldora, his attempts at chasing down Darrell Wallace Jr. was simply entertaining. It was a shame it didn't work out. Post race Larson kept his cool , spoke with the media and carried on. The character that he showed – and especially being so young – earns respect with those young and old, while being a solid role model.
Though it didn't end there for Larson as he showed his ability to handle situations well, post-race at Homestead-Miami Speedway. Larson dominated the entire race, led a lot of laps but would lose time in the pits versus the Kyle Busch Motorsports teams. Rather than complain and vent on the radios like other drivers, Larson would suck it up and keep battling hard. Things would come to a head, though, on the last pit stop as it was a disaster. Larson came out further than ever. Rather than vent, Larson didn't blink and just calmly said on the radio, "What happened there?". Wasn't mad, didn't throw tantrum (publicly), and focused all efforts on getting back to the front. Unfortunately, Larson would fall short of his charge – finishing third while Wallace took the victory. Despite being disappointed in the performance, Larson kept his cool and thanked them for giving him a winning truck rather than throwing the blame game.
While we always seem focused on who wins, runs well and doesn't run well – there's also the importance of keeping character as that is what brings you respect and fans, and keeps sponsors backing you through thick and thin. In the midst of heavy competition, Larson was able to teach us the solid lesson and continue being a great role model for young up-and-coming drivers. 
A Journalist's Perspective……..
On top of sharing things from the fan's perspective, I wanted to share a thought of my own after going to Canadian Tire Motorsports Park this year for the Chevrolet Silverado 250. First of all, before I get into this, I want to thank you – the readers – for your support all year long. Your continued support and readership of the website allows us to be able to continue to bring you the great coverage all year long. It's your support that helps makes this possible as without you, there'd be no sense in writing because it'd be just be worst lost in space.
Now being at the track is an experience in itself. If you haven't yet, get yourself to a NASCAR race – whether Cup, Xfinity or Truck – because the experience live doesn't compare to watching it on television. Some of you who watch the truck race from Canada on TV may not realize how much speed the trucks carry down the front stretch and backstretch before heading into the tight corners at the end.
Beyond that, you don't realize how loud they are till you're there live. Of course, being in the experience, I want to share it with you and the only way that I can do that is by writing stories that portray the thoughts, or take photos that help tell the story.
Now when I'm taking photos, I always try to get awesome photos of the action on-track to showcase that – but also like to get good, candid photos of the drivers and others involved, as well. Most shots turn out good with a smile or a concentrated face. However, sometimes, you get that perfect candid photo that you can't help but enjoy.
The two photos featured here as two of my favourites from this past year. The first photo is of Elladee Crafton – pure cuteness. By the way, she's more adorable in person than anything. For me, though, getting her in that element sitting in her dad's truck before the race, looking at the camera all cute – perfect. Couldn't be more proud myself. The other photo that I loved from that afternoon was Darrell Wallace Jr. looking straight forward. Beyond a good straight on shot of Bubba, the photo also captures the coke bottle with "Bubba" on it as they were doing their campaign at that time. Talk about perfect framing!