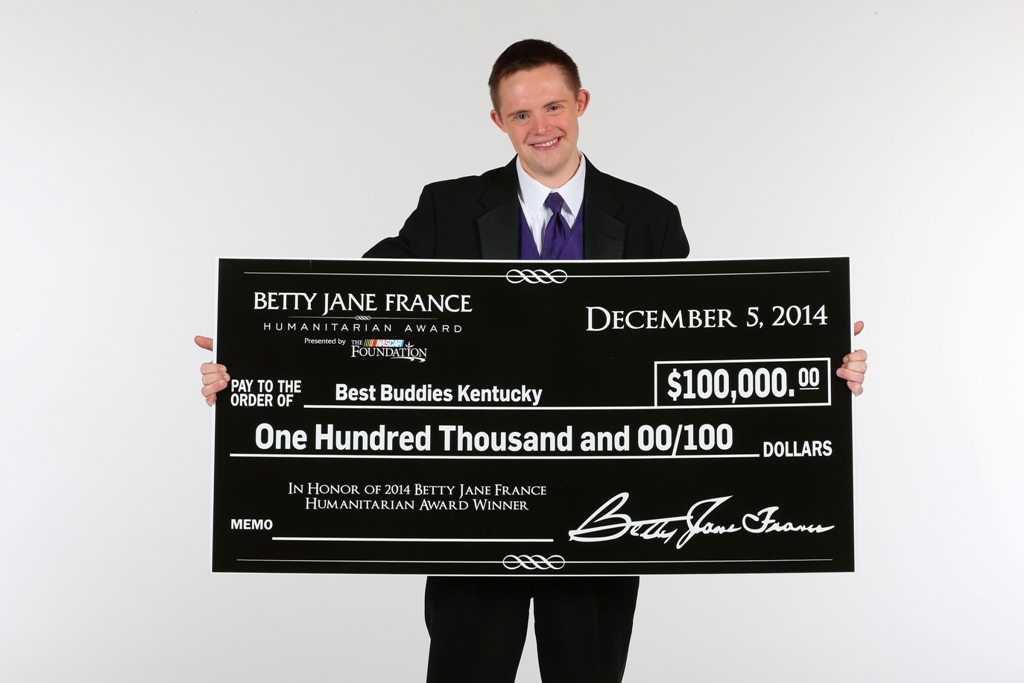 Receives $100,000 Donation For Best Buddies, 2015 Toyota Camry

Other Finalists Receive $25,000 For Their Respective Charities
DAYTONA BEACH, Fla. (Dec. 5, 2014) – Daniel Noltemeyer of Louisville, Kentucky, representing Best Buddies Kentucky, was presented with the fourth annual Betty Jane France Humanitarian Award on Friday night, during the NASCAR Sprint Cup Series Awards at Wynn Las Vegas.
Noltemeyer, one of four national finalists for the award, will receive a $100,000 donation for Best Buddies Kentucky from The NASCAR Foundation, in addition to a 2015 Toyota Camry provided by Toyota, the award's 2014 Official Car Sponsor. The other finalists will receive $25,000 donations for their respective charitable causes.
Noltemeyer, 32, was chosen via an online vote conducted on NASCAR.com. He is a founder of Best Buddies Kentucky, an organization committed to facilitating social inclusion for people with intellectual and developmental disabilities (IDD). Noltemeyer, who has Down syndrome, has become a renowned Best Buddies spokesman – and not only in his home state. He also is an ambassador for Best Buddies International via an appointment by Best Buddies International founder Anthony Kennedy Shriver.
"I am so honored [by this award]," Noltemeyer said. "I helped found Best Buddies Kentucky five years ago [and] I want to give back to an organization that has changed my life. I have learned to be a strong advocate for myself and others with disabilities, but most of all, I have made special friendships.
"I want to expand programs to make friendships possible for everyone. It's like a dream come true to win this award to show the world how much someone with intellectual and developmental disabilities can accomplish."
The Betty Jane France Humanitarian Award honors the commitment that the foundation's Chairwoman, Betty Jane France, has demonstrated throughout her life to philanthropy and community service. The award is presented annually to a dedicated NASCAR fan that has made a profound impact on the lives of children in their community.
"Daniel says he is honored by winning the award; I want to emphasize that the feeling is mutual," France said. "He is a remarkable young man, an inspiration to not only people with IDD, but everyone.
"Daniel was part of a very elite group of finalists this year, a group that NASCAR fans really responded to, as we had the closest voting in the award's four years of existence."
In addition to Noltemeyer, the list of finalists included:


Tammy Anderson-Lee

, representing the Autism Society San Diego where she has developed adaptive swimming programs for children with Autism.
Amber Larkin

of Windermere, Florida, founder of the Noah's Light Foundation, which is involved in the fight against pediatric brain cancer.



Chris McElwee

of Fort Washington, Pennsylvania, founder of Michael's Way, which provides financial assistance to families dealing with expenses resulting from children's cancer.
About The NASCAR Foundation
The National Association for Stock Car Auto Racing Inc., (NASCAR) launched The NASCAR Foundation in January 2006. The NASCAR Foundation is a 501(c) (3) non-profit entity that embodies the compassion of the NASCAR industry and its commitment to serving communities. The NASCAR Foundation is dedicated to helping children learn how to win, both inside and outside of the classroom, through a variety of educational opportunities. For more information on The NASCAR Foundation, please visit the website: www.NASCARfoundation.org. Follow The NASCAR Foundation on www.Facebook.com/NASCARFoundation or on Twitter: @NASCAR_FDN.
About NASCAR
The National Association for Stock Car Auto Racing, Inc. (NASCAR) is the sanctioning body for the No. 1 form of motorsports in the United States. NASCAR consists of three national series (the NASCAR Sprint Cup Series, NASCAR Nationwide Series, and NASCAR Camping World Truck Series), four regional series, one local grassroots series, three international series and GRAND-AM Road Racing and the American Le Mans Series, both known for competition on road courses. Based in Daytona Beach, Fla., with offices in eight cities across North America, NASCAR sanctions more than 1,200 races in more than 30 U.S. states, Canada, Mexico and Europe. For more information, visit www.nascar.com and follow NASCAR at www.facebook.com/NASCAR and Twitter: @NASCAR.