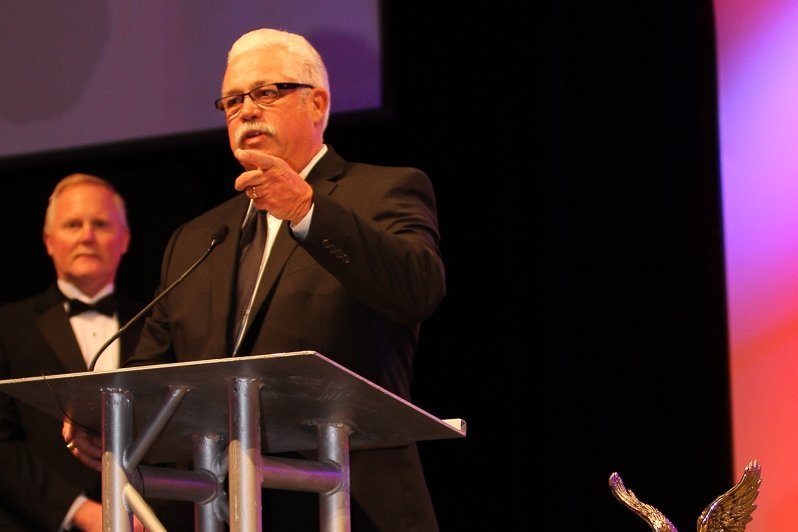 (INDIANAPOLIS, Ind. – December 14, 2014) – Nick Ramey didn't necessarily think about manufacturer's or teams when someone asked for help – he responded. It's that dedication in the ARCA Racing Series presented by Menards that earned Ramey the ARCA Spirit Award during Saturday's ARCA national championship banquet.
The Spirit Award is given annually to an individual for their dedication and support of ARCA and who is uplifting to those around by example.
Ramey was presented by the award by ARCA Vice President and Chief Financial Officer Jeff Brehmer, who credited his "unwavering spirit" as one of the reasons he was chosen.
Ramey recently completed his final year in the series, working for Roush Yates and intends to spend more time with his wife and grandchild. He will also become the lead instructor at the Roush Yates School of Technology, teaching the art and science of engine building.
In accepting the honor, Ramey called ARCA his family.
"This is my family," he said. "I'm really going to miss you all."
He thanked his wife for her continued support, saying he was looking forward to "spending time with her."
Ramey spent eight years in the ARCA garage as a Roush Yates engine builder. He served as the engine builder for Mason Mitchell, crowned the 2014 ARCA Racing Series champion Saturday. Ramey won the ARCA Sportsmanship award in 2011.
The surprise award was one of three handed out by ARCA officials that weren't decided during the season by a point system. It is chosen by ARCA.
Here is the complete list of ARCA Spirit Award winners:
2014       Nick Ramey
2013       Steve York
2012       Bill Kimmel
2011       Darrell Basham
2010       Kerry Scherer
2009       Dave Jamison
2008       Andy Hillenburg
2007       Shawn Umphries
2006       Steve Motzinger
2005       Dennis Pulte
2004       Jack Bowsher
2003       Mike Buckley
2002       Darrell Basham
2001       Joe Rhyne
2000       Don Stanley