NWMT: Whelen Modified 2015 Schedules Announced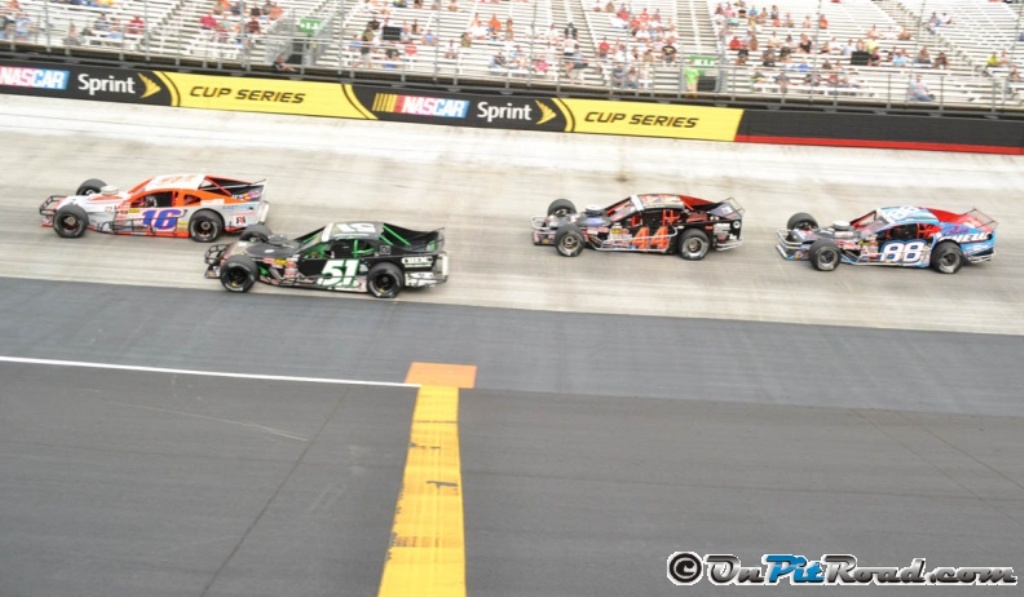 DAYTONA BEACH, Fla. – NASCAR announced today its 2015 schedules for the NASCAR Whelen Modified Tour and NASCAR Whelen Southern Modified Tour.
The 30th anniversary season of the Whelen Modified Tour will feature 14 points races and an all-star event across six distinguished facilities while the Whelen Southern Modified Tour campaign will include 11 championship events at seven popular southeastern short tracks.
The 2015 schedules feature a new event for each tour. Connecticut's Thompson Speedway Motorsports Park will once again welcome the Whelen Modified Tour for an early summer event on June 10 under the lights while the Whelen Southern Modified Tour will make its first visit in four years to North Carolina's famed Hickory Motor Speedway on Oct. 3.
"The combination of new and traditional events, and national series companion weekends are sure to provide NASCAR modified fans with the wheel-to-wheel action they've come to know and love once again in 2015," said George Silbermann, NASCAR vice president for regional and touring series. "We are very excited that historic Hickory Motor Speedway will showcase the Whelen Southern Modified Tour and that Thompson Speedway Motorsports Park has returned its popular June date to the schedule."
There will be four Sprint Cup Series companion dates between the two tours, which will once again come together at Tennessee's Bristol Motor Speedway (Aug. 19) for the seventh annual combination. The Whelen Modified Tour is set to join the Sprint Cup Series for both weekends at New Hampshire Motor Speedway (July 18, Sept. 26). New Hampshire, which will celebrate its 25th anniversary in 2015, will also play host to the non-points Whelen All-Star Shootout (July 17) following the event's successful debut in 2014. Additionally, Charlotte Motor Speedway's quarter mile will showcase the Whelen Southern Modified Tour for the sixth season in a row for the season finale (Oct. 8).
Next year's slate for the northeast-based Whelen Modified Tour includes the traditional season-opening and season-closing events at famed Connecticut circuits Thompson (Icebreaker – April 12, World Series – Oct. 18) and Stafford Motor Speedway (Spring Sizzler – April 26, Fall Final – Oct. 24) as well as a pair of mid-season night races at each track (Thompson – June 10, Aug. 12; Stafford – June 5, Aug. 7). Long Island bullring Riverhead Raceway returns with two dates (June 27, Aug. 29) while New Hampshire quarter-mile Monadnock Speedway (July 25) will welcome the tour for the sixth consecutive season.
The 11th season of Whelen Southern Modified Tour competition will once again commence at Caraway Speedway (March 14), and the venerable track will have a pair of subsequent engagements (March 28, July 4). Another celebrated North Carolina oval, Bowman Gray Stadium, has its staple date (Aug. 1) while popular Virginia short tracks Langley Speedway (April 11, Sept. 5) and South Boston Speedway (April 4, Sept. 19) return with two events apiece.
The 2014 Whelen Modified and Whelen Southern Modified Tour seasons concluded in mid-October with Doug Coby and Andy Seuss the respective titlists. Their accomplishments were recognized as part of the NASCAR Touring Series Awards this past Saturday in the Charlotte (North Carolina) Convention Center at the NASCAR Hall of Fame.
2015 NASCAR WHELEN MODIFIED TOUR SCHEDULE
| Date | Track | Location |
| --- | --- | --- |
| 4/12 | Thompson Speedway Motorsports Park | Thompson, Conn. |
| 4/26 | Stafford Motor Speedway | Stafford, Conn. |
| 6/5 | Stafford Motor Speedway | Stafford, Conn. |
| 6/10 | Thompson Speedway Motorsports Park | Thompson, Conn. |
| 6/27 | Riverhead Raceway | Riverhead, N.Y. |
| 7/17 | New Hampshire Motor Speedway (All-Star Shootout) | Loudon, N.H. |
| 7/18 | New Hampshire Motor Speedway | Loudon, N.H. |
| 7/25 | Monadnock Speedway | Winchester, N.H. |
| 8/7 | Stafford Motor Speedway | Stafford, Conn. |
| 8/12 | Thompson Speedway Motorsports Park | Thompson, Conn. |
| 8/19 | Bristol Motor Speedway (combination with NWSMT) | Bristol, Tenn. |
| 8/29 | Riverhead Raceway | Riverhead, N.Y. |
| 9/26 | New Hampshire Motor Speedway | Loudon, N.H. |
| 10/4 | Stafford Motor Speedway | Stafford, Conn. |
| 10/18 | Thompson Speedway Motorsports Park | Thompson, Conn. |
2015 NASCAR WHELEN SOUTHERN MODIFIED TOUR SCHEDULE
| Date | Track | Location |
| --- | --- | --- |
| 3/14 | Caraway Speedway | Sophia, N.C. |
| 3/28 | Caraway Speedway | Sophia, N.C. |
| 4/4 | South Boston Speedway | South Boston, Va. |
| 4/11 | Langley Speedway | Hampton, Va. |
| 7/4 | Caraway Speedway | Sophia, N.C. |
| 8/1 | Bowman Gray Stadium | Winston-Salem, N.C. |
| 8/19 | Bristol Motor Speedway (combination with NWMT) | Bristol, Tenn. |
| 9/5 | Langley Speedway | Hampton, Va. |
| 9/19 | South Boston Speedway | South Boston, Va. |
| 10/3 | Hickory Motor Speedway | Newton, N.C. |
| 10/8 | Charlotte Motor Speedway (.25-mile) | Concord, N.C. |
SCHEDULES SUBJECT TO CHANGE