NSCS: If I was a NASCAR Team Owner, this would be my dream team….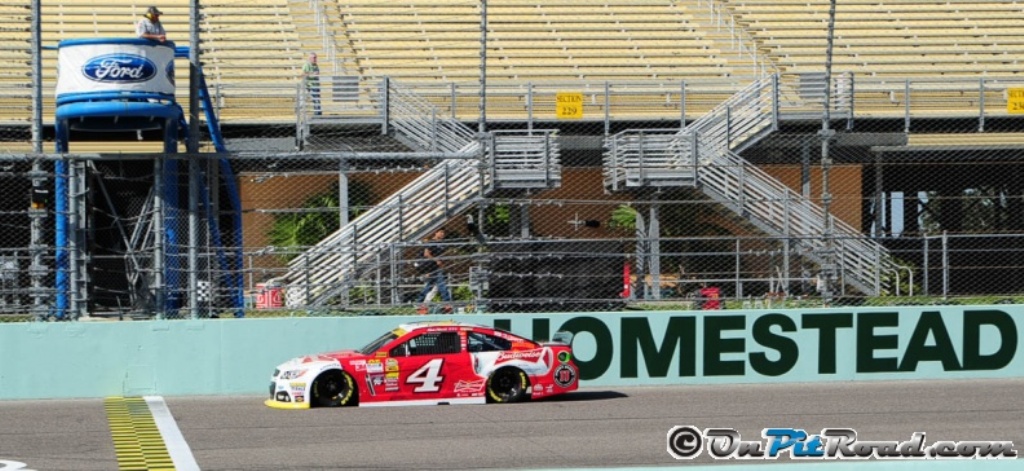 If I was a NASCAR team owner and could have any four drivers on my NASCAR Sprint Cup Series team, this would be my dream team. The following four drivers and the reasons stated would make up the group that I'd want to have on my side.
Kevin Harvick
The talent behind the wheel is evident for Kevin Harvick  as he is your 2014 Sprint Cup Series Champion. He has proven it time and time again by visiting victory lane multiple times over the course of his career. If you give him a quick car, he will go out and lead the most amount of laps possible en route to scoring the victory. How often did we see that in 2014? Sure, some weeks he turned that domination into DNFs, but those were mechanical issues – which I wouldn't have.
'Happy' also has a good attitude, fun guy approach, that is easily marketable so there would be no issue finding a sponsor to put on his ride of domination. He also isn't afraid to put himself in the middle of a situation, but yet takes a sensible approach. Who remembers Charlotte this past year? Making Brad Keselowski stand up for himself, stiring the pot of controversy – played the cards perfectly.
If I was a team owner, I'd certainly want Harvick on my team.
Jimmie Johnson
Seven-time Sprint Cup Series Champion. 70 victories. 193 top-fives. 292 top-10s. Need I say more? The numbers speak for themselves in what Jimmie Johnson has been able to do over the course of his 13 full seasons to date. Beyond that, he has only failed to finish in the top-five in points once – this year. But hey, he had some bad luck along the way and every driver is bound to have a bad season over the course of their career. If sixth in points is your worst season, that's not too shabby.
Johnson also is a PR dream as you never see him in the midst of controversy, while being very well-spoken and representing his sponsors well. Why do you think Lowe's has been partnership with him since his rookie year? Sure, sometimes that can be called the 'vanilla' approach to life, but I'd rather be winning races and staying out of trouble with a nice attitude versus having my name brought up in a circus all the time.
Though if I was to have Johnson on my team, I'd make sure that I'd have Chad Knaus partnered with him. Knaus is the type of crew chief that is always pushing the envelope, taking a chance in finding whatever advantage necessary. Sure, sometimes he has crossed the line and got caught, but that'll happen when you're looking for the advantage at every turn. Atleast I would know that my team would be on the cutting edge of each advantage at all times.
If I was a team owner, I'd certainly want Johnson on my team.
Dale Earnhardt Jr.
The sport's most popular driver, selling merchandise left, right and center. Easily sponsor-able for the team and brings forth attention to make sure that the money is spread throughout to give the team money to contend at all fronts.
Though he's not all hype and discussion – he can also deliver on the track. While that has been questionable at times throughout his career, it can no longer be questioned by the haters since the time that he has spent with Steve LeTarte. This past season was one of his best with four victories, highlighted by the Daytona 500. He also put himself into solid contention for the championship, as well. Losing LeTarte brings forth some nerves in that department, but Earnhardt's change of attitude behind the wheel (courtesy of LeTarte) and the crew chiefing ability of Greg Ives should keep Earnhardt headed in the right direction. He is right now at the best spot to possibly win a championship, taking the lessons that he has learned to date.
If I was a team owner, I'd certainly want Earnhardt on my team.
Chase Elliott
If you're going to be a team owner, you need to look at the future of the sport. Chase Elliott proved that he is going to be part of the NASCAR discussion throughout the years to come this past season. In his rookie year in the NASCAR Nationwide Series at the age of 18, Elliott won three races en route to winning the championship. Say hello to your youngest series champion and first rookie champion. There has been a lot of hype behind Elliott since he started in the NASCAR ranks and the young man has lived up to it. The future is now – and he is your leader.
Beyond having a ton of talent on track, he is also well-spoken and mature off the track. He never found himself in the midst of controversy last year, continuing to do his own thing. He gave the media solid, clear, concise answers to whatever question they asked. Sure, sometimes he was perhaps a little hard on himself with a poor finishing spot, but that was only due to wanting to be the best, knowing the mistake that he made and looking for the solution. You can't fault someone for that because it only means they'll be stronger the next time around.
If I was a team owner, I'd certainly want Elliott on my team.
But wait? The Hendrick Puzzle Piece.
If you look at each driver that I have listed here, you'll notice that they each have a Hendrick Motorsports affiliation. It's no wonder why Rick Hendrick is one of the, if not the, top team owner in NASCAR right now. He always knows how to keep talented drivers behind the wheel of his cars, and winning races. Each of his drivers made the Chase for the Sprint Cup last year and won at least one race. Certainly improvement can come on some fronts, but isn't that always the case anyway?
So…..
If you want a driver that I'd have on my dream team that isn't currently Hendrick Motorsports affiliated, that would be Kyle Busch. He has proven time and time again that he can out drive most of the drivers on the track, driving the most out of control cars with total control and making some insane saves. He also knows how to push his equipment to the limit and do what it takes to win. Certainly his attitude gets in the way sometimes, but that's something that can be worked on and improved en route to becoming a championship worthy driver. That attitude has improved over the course of recent years as you're not always talking about him – now the focus is on Brad Keselowski.
So if you won't let me have those four listed above, I'd certainly want Kyle Busch as the back-up.