NSCS: 2015 NASCAR Sprint Cup Series Season Preview – Trevor Bayne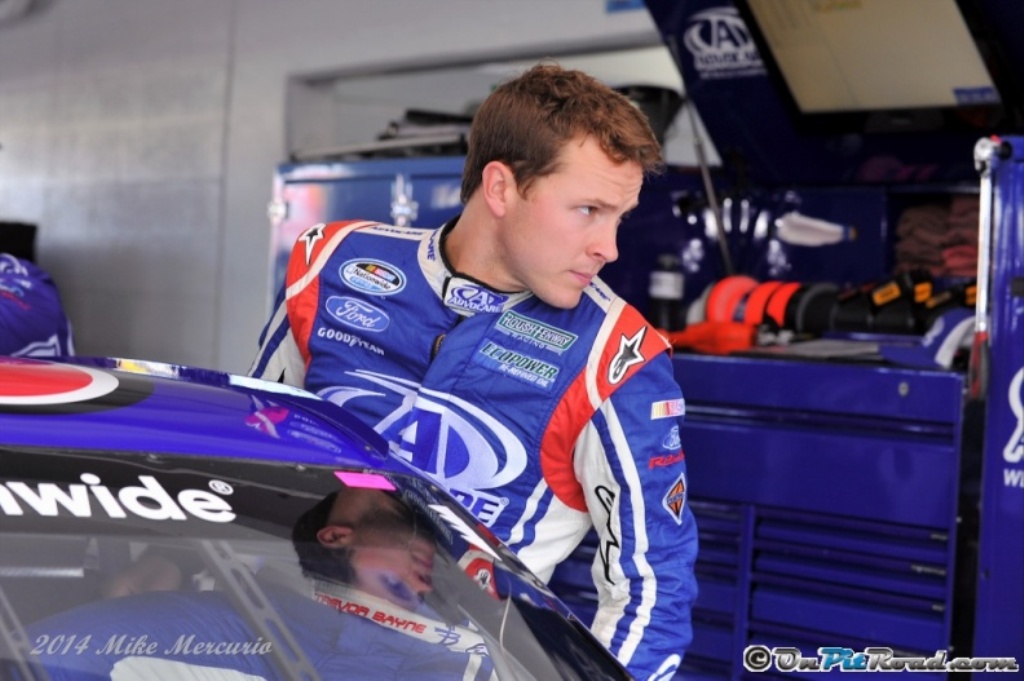 After a couple successful seasons in the NASCAR Xfinity Series, Trevor Bayne is set to make the move up to the NASCAR Sprint Cup Series, driving full-time for Roush Fenway Racing.
Looking back at 2014….
Bayne had a solid season last year in the NASCAR Xfinity Series, finishing sixth in points with five top-fives and 21 top-10s in the 33 races. He had started out the year, though, as a top-five points contender, but seemed to fall off into the mid-summer and end of the year with bad luck resulting in crashes, and performance not equaling that of the competition. It is no secret, as acknowledged in the previous Xfinity Season Previews for Chris Buescher and Darrell Wallace Jr., that RFR needs to improve their Xfinity program and evidence was shown by Bayne.
Though throughout his career, Bayne has been just that in the Xfinity Series – solid, but not championship contending worthy. His statistics for this past season mirror last year's win, seven top-fives and 21 top-10s. While he has been boasted as being a young guy to watch, thanks to his surprise Daytona 500 victory with the Wood Brothers in 2011, meeting those expectations is something that he continues to come just shy of.
On top of racing the full Xfinity schedule for RFR, he also ran a limited Sprint Cup Series schedule consisting of 12 races for the Wood Brothers Racing in 2014. None of the races turned out too strongly, with Bayne only having a pair of top 20 finishes over the course of the season. Wood Brothers aren't known for being a top notch organization right now, though, given limited funding and schedule, but having the backing from RFR last year you'd think that they'd produce something more inside of the top 20. Oh wait – perhaps that's why the Wood Brothers are closely aligning themselves with Team Penske in 2015 now.
Bayne also attempted to qualify for a 13th Sprint Cup Series – Charlotte – with Roush Fenway Racing, but failed to qualify as his speed wasn't quick enough to make the field. Needless to say that, it doesn't send the most promising signals heading into the new year.
Looking ahead at 2015….
Given the decent yet solid Xfinity Series success, partnered with the sub-par performances in the Sprint Cup Series, Bayne may be in trouble heading into teh new year as he may find himself struggling over the course of the season in the 20s, just fighting to get a top-15 finish. If he can manage a couple top-five performances with maybe five or six top-10 finishes, that would be considered a solid accomplishment given what we've seen so far.
However, there are thoughts of being even doubtful of that happening due to one reason – Roush Fenway Racing's organization as it stands right now. The organization didn't have the strongest 2014 season in the Sprint Cup Series, with Carl Edwards boosting the best results in two wins, seven top-fives and 14 top-10s en route to finishing ninth in points. However, Edwards left the organization at season's end to head over to Joe Gibbs Racing. Will losing Edwards create a blow in the team's sails? It could very well hurt performance, as Greg Biffle finished 14th in points last year with three top-fives, while Ricky Stenhouse Jr. finished 27th in points with a single top-five. If Bayne wants to have success, he better hope that the team he drives for turns their own sails around.