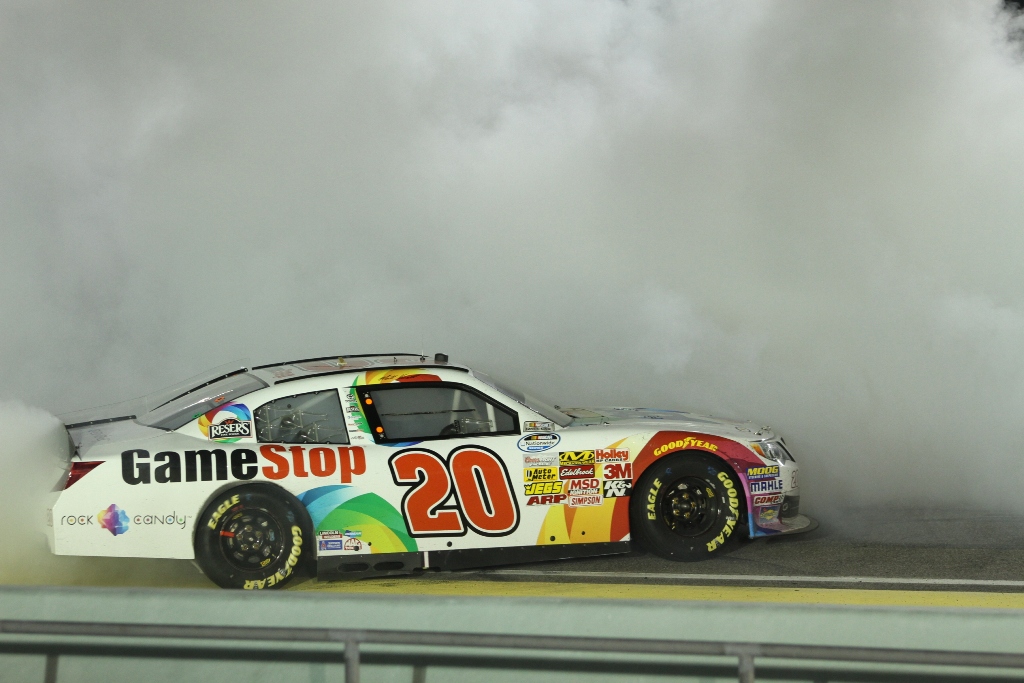 With a line-up of talented drivers expected for both rides over the course of 2015, it seems at though Joe Gibbs Racing is setting themselves up for another successful season of NASCAR XFINITY Series Competition.
Looking back at 2014….
Leading the No. 54 Monster Energy team, crew chief Adams Stevens would bring home eight wins and 29 top-fives across the season to finish second in the owner's standings to the No. 22 of Team Penske. Kyle Busch scored seven of those wins, while Sam Hornish Jr. picked up the eighth.
Meanwhile, a combination of eight drivers would take turns behind the wheel of the No. 18 and No. 20 cars, scoring respective victories along the way and gaining valuable experience. Justin Boston made a pair of starts, posting a ninth place finish at Kentucky Speedway and a 12th place finish at Dover International Speedway; the positive runs, as well as his ARCA success with Venturini Motorsports, have propelled him to a full season deal in the trucks with Kyle Busch Motorsports for 2015.  Unfortunately, Denny Hamlin and Kenny Habul didn't have any luck in their starts, as Hamlin blew the motor in his lone start, while Habul couldn't find his footing on the road courses. Erik Jones would run three races, scoring three top-10s, as he continues to climb the ladder with success each step of the way as that matched up with his victory in the NASCAR Camping World Truck Series and solid finishes there. Michael McDowell and Darrel Wallace Jr. were also able to score top-10s, while Matt Kenseth had a bunch of success in scoring 10 top-fives, highlighted by a victory in the season finale at Homestead-Miami Speedway. Daniel Suarez also made his debut, finishing 19th.
Looking ahead at 2015….
They're quick, they have a lot of talented drivers in their ladder and they have quick cars. In other words, expect the success to continue, if not be greater in the upcoming season.
At the beginning of December, the organization announced their crew chief line-up for the new season. Chris Gayle will crew chief for the No. 54 Toyota after working with Elliott Sadler last season, as Sadler moves to Roush Fenway Racing in 2015. Meanwhile, Mike Wheeler will crew chief for the No. 20 Toyota after serving as the No. 11 Sprint Cup team's race engineer since 2005.
It has already announced that Jones will run a partial schedule on top of the full truck schedule he is running for KBM. Expect Jones to do well in each of his starts, based on those three top-10s last year. Kyle Busch, Matt Kenseth and Denny Hamlin are also expected to run races and well, when they step behind the wheel of he XFINITY cars with their Cup talent, it certainly equals the perfect match for success.
Combine those mentioned with some other young guns and certainly it will be a promising year of success and driver training for JGR. If they can perfect that success each week and match Team Penske, though, they could find themselves as the owner's champions.